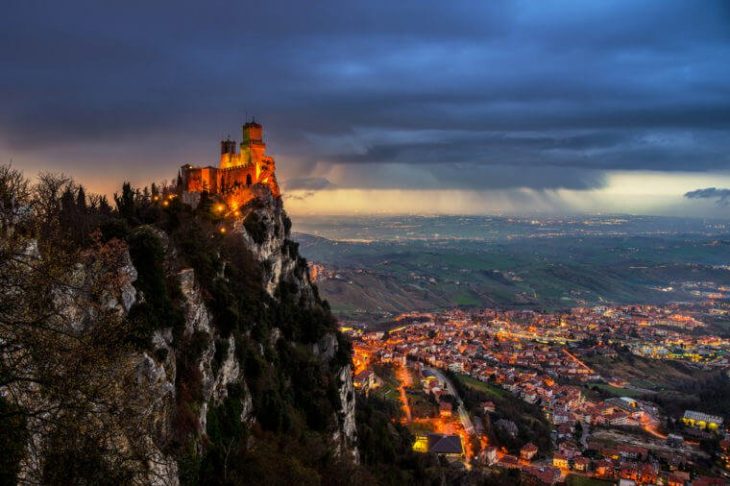 [:es]
La Serenissima Reppublica di San Marino es el estado soberano más antiguo del mundo. Es uno de los varios microestados que hay por Europa, concretamente el tercero más pequeño, detrás de Ciudad del Vaticano y Mónaco. Cuenta con una población de 33.000 habitantes aproximadamente encuadrada en poco más de 60 kilometros cuadrados.
La cultura de San Marino, debido a su situación, es muy similar a la italiana y más aún a la de sus regiones contiguas: Emilia-Romañan y Las Marcas. Las tres torres de San Marino, son el punto de interés más conocido del país y están situadas en el Monte Titano, el cual preside la capital. El paseo en teleférico recorriendo los picos más altos de la zona es una de las grandes experiencias de las que podrás disfrutar.
Otros de los puntos claves que puedes visitar es la Piazza della Libertà, conocida como el corazón del pueblo. En el centro de esta plaza, se alza una obra conocida como la «Estatua de la libertad». La iglesia de San Francisco es otro de los sitios que no te puedes perder, así como Las Fortalezas, conocidas como La Guaita, la Cesta y el Montale. Estas tres torres protegían antiguamente a los aldeanos que vivían dentro de sus fronteras.
No te puedes ir de San Marino sin degustar algunos de sus platos más tradicionales y exquisitos, la Torta Tre Monti, que representa las tres torres mencionadas antes. Para los amantes del vino, San Marino cuenta con una pequeña industria dedicada a estos caldos.
Para los amantes del automovilismo, en el circuito de Imola, situado en San Marino, puedes rendir homenaje a una de las grandes leyendas en la historia de la Fórmula 1: Ayrton Senna, tristemente fallecido en el asfalto del circuito en el año 1994.
[:en]
The Serenissima Reppublica di San Marino is the oldest sovereign state in the world. It is one of the several microstates in Europe, specifically the third smallest, behind Vatican City and Monaco. Account with a population of 33,000 inhabitants approximately framed in little more than 60 square kilometers.
The culture of San Marino, due to its situation, is very similar to that of Italy and even more so to that of its contiguous regions: Emilia-Romagnán and Marche. The three towers of San Marino, are the most known point of interest in the country and are located on Mount Titano, which presides over the capital. The cable car ride through the highest peaks in the area is one of the great experiences that you can enjoy.
Other key points you can visit is the Piazza della Libertà, known as the heart of the town. In the center of this square stands a work known as the «Statue of Liberty». The church of San Francisco is another place you can not miss, as well as Las Fortalezas, known as La Guaita, Cesta and Montale. These three towers formerly protected the villagers living within their borders.
You can not leave San Marino without tasting some of its most traditional and exquisite dishes, the Torta Tre Monti, which represents the three towers mentioned above. For wine lovers, San Marino has a small industry dedicated to these wines.
For fans of motoring, at the Imola circuit, located in San Marino, you can pay tribute to one of the great legends in the history of Formula 1: Ayrton Senna, sadly died on the asphalt circuit in 1994.
[:]