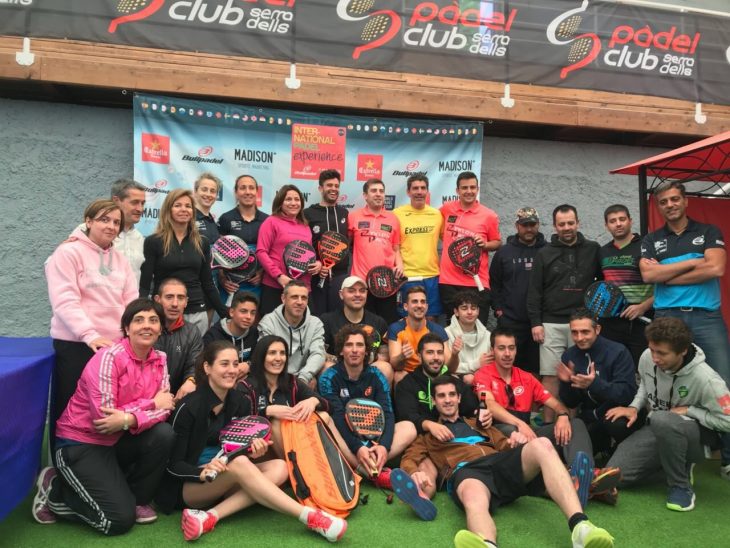 [:es]
Las pistas del Padel Serradells acogieron una jornada de infarto durante la mañana del domingo en el Andorra Open. Desde las 9 de la mañana se jugaron todas las finales en todas las categorías, por lo que las primeras horas del domingo no defraudaron en Andorra. Además, el día estuvo acompañado por un buen número de fans que se pasaron por las instalaciones para disfrutar el espectáculo.
Los grandes triunfadores de la cita fueron Meri Ros y Cati Cerdá en el cuadro femenino A y Víctor Bassols y Enzo Giuigni, en la categoría masculina A, estas dos parejas obtienen el billete para el Máster Final de Elvas, donde se juntarán todos los campeones de las distintas sedes del IPE by Madison.
Otro éxito más en esta quinta parada del International Padel Experience, en un fin de semana en el que se pudo disfrutar de nuestro deporte favorito y de una grata convivencia. La siguiente prueba del circuito viajará hasta San Marino, del 18 al 20 de mayo.
[:en]
The courts of the Padel Serradells hosted a day of infarction during the morning of Sunday at the Andorra Open. From 9 in the morning all the finals were played in all the categories, so the first hours of Sunday did not disappoint in Andorra. In addition, the day was accompanied by a good number of fans who went through the facilities to enjoy the show.
The big winners of the event were Meri Ros and Cati Cerdá in the women's box A and Víctor Bassols and Enzo Giuigni, in the men's category A, these two couples get the ticket for the Elvas Final Master, where all the champions of the different offices of the IPE by Madison.
Another success in this fifth stop of the International Padel Experience, in a weekend in which you could enjoy our favorite sport and a pleasant coexistence. The next test of the circuit will travel to San Marino, from May 18 to 20.
[:]