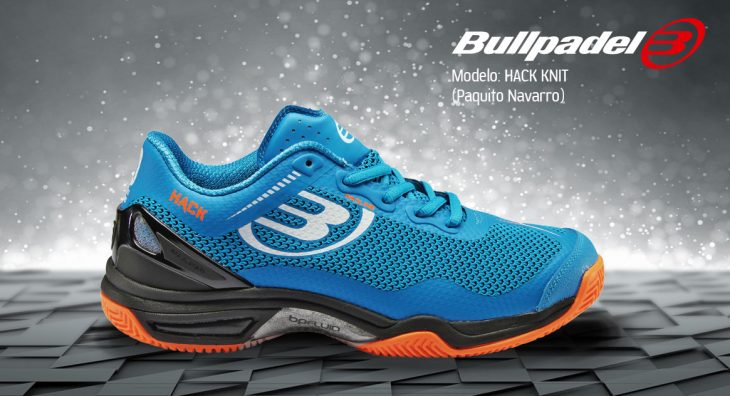 [:es]
Hace unos días, desde el International Padel Experience by Madison, te hablábamos de la importancia de usar un buen calzado para evitar lesiones en la práctica del pádel.
Un ejemplo de calidad es el calzado de Bullpadel que, dentro de su nueva colección, presenta cuatro nuevos modelos pensados para el hombre y otros dos modelos pensados para la mujer, que ofrecen varias posibilidades de color y tipo de suela.
Pensada para responder a las exigencias de cada tipo de jugador, esta nueva colección dejará su huella en el pádel.
Uno de estos nuevos calzados es el modelo HACK KNIT, la zapatilla de Paquito Navarro.
Una zapatilla que combina materiales que la dotan de flexibilidad y resistencia y ha sido pensada para aquellos que buscan el máximo en cuanto a tecnicidad se refiere.
Su amortiguación en el talón con cápsula de gel "BP Fluid" y una suela cuyo diseño ofrece el máximo agarre y la flexión del pie. Además, gracias a su plantilla ORTHOLITE favorece la circulación del aire y ayuda a la expulsión del sudor.
Por su parte, el modelo VERTEX, la zapatilla usada por Maxi Sánchez, comparte todas las características de la HACK KNIT.
Los modelos BITOR y BITOR W ofrecen grandes prestaciones a un precio más competitivo y es usada en su versión femenina por las jugadoras Cata Tenorio y Victoria Iglesias.
Con corte en piel sintética de alta densidad y un estabilizador central fabricado en TPU que mejora el equilibrio, esta zapatilla cuenta, además, con mediasuela de philon inyectado de baja densidad.
Su suela ofrece mayor durabilidad y estabilidad gracias a su mayor altura en laterales y puntera.
El modelo BETAX, fabricado tanto en versión de hombre como de mujer, ha sido creado para aquellos jugadores que se inician en el deporte de la pala, así como para aquellos que, con un nivel medio de juego, buscan una mejor relación calidad-precio.
Su plantilla de Eva junto a la mediasuela de phylon proporcionan confort y amortiguación.
Una zapatilla pensada para ofrecer el máximo rendimiento para cada tipo de jugador.
[:en]
A few days ago, the International Padel Experience by Madison talked to you about the importance of wearing good shoes to avoid injuries in the practice of padel.
An example of quality is the Bullpadel footwear that, within its new collection, presents four new models designed for men and two other models designed for women, offering several possibilities of color and type of sole.
Designed to respond to the demands of each type of player, this new collection will leave its mark on padel.
One of these new shoes is the HACK KNIT model, Paquito Navarro's padel shoes.
A shoe that combines materials that provide flexibility and resistance and has been designed for those who seek the maximum in terms of technicality.
Its cushioning in the heel with gel capsule «BP Fluid» and a sole whose design offers maximum grip and flexion of the foot. In addition, thanks to its ORTHOLITE template, it favors the circulation of air and helps to expel sweat.
For its part, the VERTEX model, the shoe used by Maxi Sánchez, shares all the characteristics of the HACK KNIT.
The BITOR and BITOR W models offer great features at a more competitive price and are used in their female version by Cata Tenorio and Victoria Iglesias players.
With cut in high density synthetic leather and a central stabilizer made of TPU that improves balance, this shoe also has a low density injected philon midsole.
Its sole offers greater durability and stability thanks to its greater height on the sides and toe.
The BETAX model, manufactured in both men's and women's versions, has been created for those players who start in the sport of padel, as well as for those who, with an average level of play, seek a better value for money.
Its Eva insole along with phylon midsole provide comfort and cushioning.
A shoe designed to offer maximum performance for each type of player.[:]