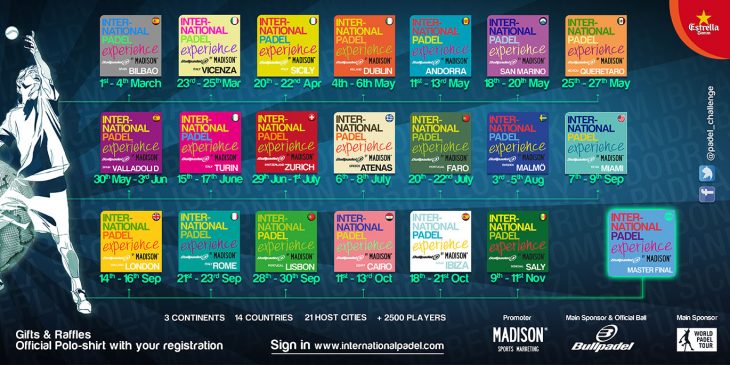 [:es]
Destinos como Miami, Bilbao, San Marino, Atenas, Vincenza, El Cairo, Faro y Querétaro se unen al circuito, que arrancará el 1 de marzo en la capital vizcaína y concluirá el con la disputa del Máster Final
El International Padel Experience by Madison sube el telón de su séptima temporada con un calendario, al que se asoman ocho nuevos destinos para completar una gira que volverá a convertirse en el mejor nexo entre el deporte amateur y el turismo de calidad. 21 sedes, Máster Final incluido, y 14 países dibujan una gira que tendrá su punto de partida en Bilbao, una ciudad que representa la primera de las novedades del calendario. La capital vizcaína abrirá el espectáculo con un torneo que se disputará del 1 al 4 de marzo. La inscripción para este primer episodio ya está abierta tanto en la web del circuito como en el club sede Pádel Bizkaia.
Además de Bilbao, el circuito contará en sus filas con nuevos destinos tan atractivos como Miami, El Cairo, Querétaro (México), Faro (Portugal), San Marino, Vincenza (Italia) o Atenas, donde los jugadores que se desplacen de otros países podrán disfrutar de los valores históricos que destila la capital griega al tiempo que disputan uno de los torneos más singulares del curso.
Desde su nacimiento, en 2012, el International Padel Experience by Madison no ha detenido su crecimiento y cada año son más las ciudades y países que quieren sumarse a la gran familia que representa el único circuito internacional de pádel amateur que existe. En este sentido, Madison comunicará en los próximos días algunas citas que se añadirán al calendario 2018 para redondear una temporada de récord.
El curso 2018 supondrá un nuevo salto de calidad para un circuito que cuenta con un gran reconocimiento y relevancia a nivel internacional. En 2017, el International Padel Experience by Madison presentó unas cifras que dan muestra de su enorme entidad. Más de 62.000 kilómetros recorridos, más de una veintena de nacionalidades en liza y más de 2.500 participantes son datos que reflejan el impacto mundial que supone el circuito para un deporte en plena expansión como es el pádel.
Además de presentar de forma oficial su calendario, el International Padel Experience by Madison también ha lanzado su nueva página web, un remozado punto de encuentro en el que los aficionados al mejor pádel del mundo encontrarán toda la información relativa a los torneos de 2018, los vídeos resumen de cada prueba, así como un contenido diferencial que tendrá un notable atractivo tanto para los participantes como para los seguidores del deporte de moda en España.
Junto con las ciudades que se incorporan al circuito, el International Padel Experience by Madison repetirá destinos que ya son un clásico dentro de la gira. De esta forma, Andorra, Zurich, Dublín, Saly (Senegal) o Roma, entre otros, completan este calendario 2018 que se presenta en sociedad con 20 citas pero que en los próximos días sumará nuevos e imperdibles destinos para todos los aficionados al mejor pádel amateur del planeta.
Como viene siendo habitual, las dos primeras parejas clasificadas de cada categoría en las distintas paradas de la temporada serán premiadas con material deportivo de Bullpadel y producto de Estrella Damm, dos de los patrocinadores principales del proyecto. Además, los vencedores de la máxima categoría se harán con dos noches de hotel y una plaza para el Máster Final, así como dos entradas para disfrutar del Estrella Damm Master Final de World Padel Tour.
Un año más, el circuito contará con el apoyo de Estrella Damm, Bullpadel y World Padel Tour como patrocinadores principales y de Padel Spain y Padel TV como medios oficiales que acompañarán al circuito durante toda la temporada.
Ver calendario
[:en]
Destinations like Miami, Bilbao, San Marino, Athens, Vincenza, Cairo, Faro and Queretaro join the circuit, which will start on March 1 in the Biscayan capital and conclude with the Final Master dispute
The International Padel Experience by Madison raises the curtain of its seventh season with a calendar, to which eight new destinations appear to complete a tour that will once again become the best link between amateur sports and quality tourism. 21 venues, Final Master included, and 14 countries draw a tour that will have its starting point in Bilbao, a city that represents the first of the novelties of the calendar. The Biscayan capital will open the show with a tournament that will be held from March 1 to 4. The registration for this first episode is already open both on the website and in the club headquarters Pádel Bizkaia.
In addition to Bilbao, the circuit will feature new destinations as attractive as Miami, Cairo, Querétaro (Mexico), Faro (Portugal), San Marino, Vincenza (Italy) or Athens, where players traveling from other countries they will be able to enjoy the historical values ​​that distill the Greek capital while they dispute one of the most singular tournaments of the course.
Since its birth, in 2012, the International Padel Experience by Madison has not stopped growing and every year there are more cities and countries that want to join the great family that represents the only international amateur padel circuit that exists. In this sense, Madison will communicate in the coming days some appointments that will be added to the 2018 calendar to round off a record season.



The 2018 course will mean a new leap in quality for a circuit that has great recognition and relevance at an international level. In 2017, the International Padel Experience by Madison presented figures that show its enormous entity. More than 62,000 kilometers traveled, more than a score of nationalities in play and more than 2,500 participants are data that reflect the global impact of the circuit for a sport in full expansion such as padel.
In addition to officially presenting its calendar, the International Padel Experience by Madison has also launched its new website, a renewed meeting point where the fans of the best padel in the world will find all the information related to the 2018 tournaments, the summary videos of each tournament, as well as a differential content that will have a remarkable appeal for both participants and fans of the coolest sport in Spain.
Along with the cities that join the circuit, the International Padel Experience by Madison will repeat destinations that are already a classic in the tour. In this way, Andorra, Zurich, Dublin, Saly (Senegal) or Rome, among others, complete this 2018 calendar that is presented in partnership with 20 appointments but in the coming days will add new and unmissable destinations for all fans of the best padel amateur of the planet.
As usual, the first two couples classified in each category in the different stops of the season will be awarded with Bullpadel sports equipment and product of Estrella Damm, two of the main sponsors of the project. In addition, the winners of the highest category will be made with two hotel nights and a place for the Final Master, as well as two tickets to enjoy the Estrella Damm Master Final of World Padel Tour.
One more year, the circuit will have the support of Estrella Damm, Bullpadel and World Padel Tour as main sponsors and Padel Spain and Padel TV as official media that will accompany the circuit throughout the season.
View calendario
[:]