International Padel Challenge by Madison, in MARCA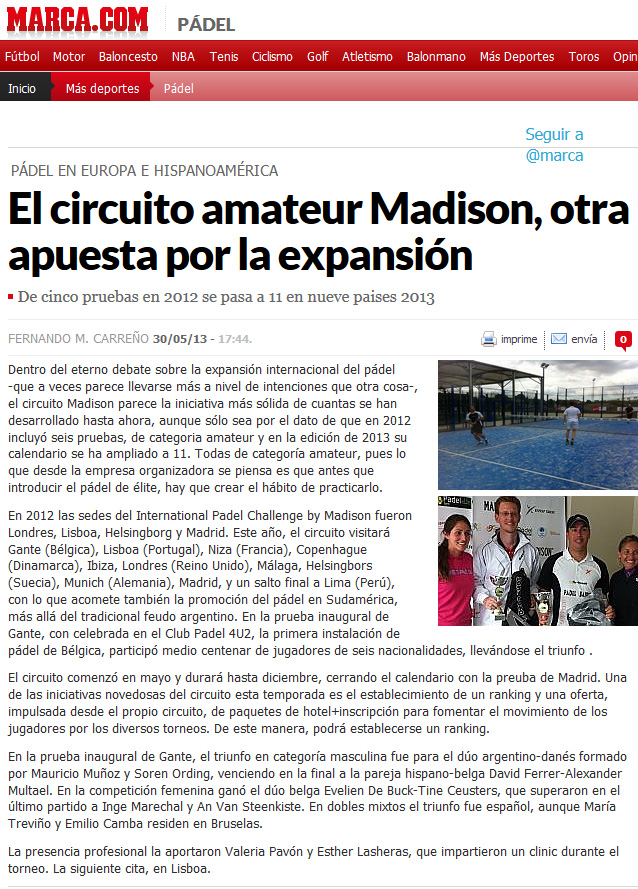 MARCA, the media most widely and shot in Spain, both in print and digital, also echoes the outstanding success of International Paddle Challenge by Madison, the only paddle amateur circuit in the world. The paper highlights the virtues of a project, the first international, which this year has eleven stages confirmed (in the near future will join other city circuit), which in 2013 has taken a huge quantum leap.
MARCA, through the pen of Fernando M. Carreño, praises the commitment made to internationalize Madison paddle. "In the eternal debate about the international expansion of paddle-which sometimes seems to be more on the level of intent than anything else, the circuit seems Madison strongest initiative few have developed so far, if only for the fact of in 2012 included six tests of amateur category and the 2013 edition has expanded its schedule to 11. All amateur category, for what organizers from thought is that before entering the elite paddle, you must create the habit of practicing "explains sports daily.
MARCA Inside article about the International Padel Challenge by Madison also reflected success in the first chapter of the season, the OPEN GENT, and summons players to the next appointment, the OPEN LISBON, which meet in the capital Portuguese players from different nationalities, who will fight for points for the ranking of the circuit.
From these lines we appreciate the coverage MARCA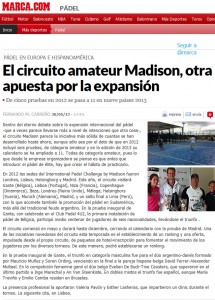 , informative reference in the world that, how could it be otherwise, supports the internationalization of the paddle that has launched Madison.