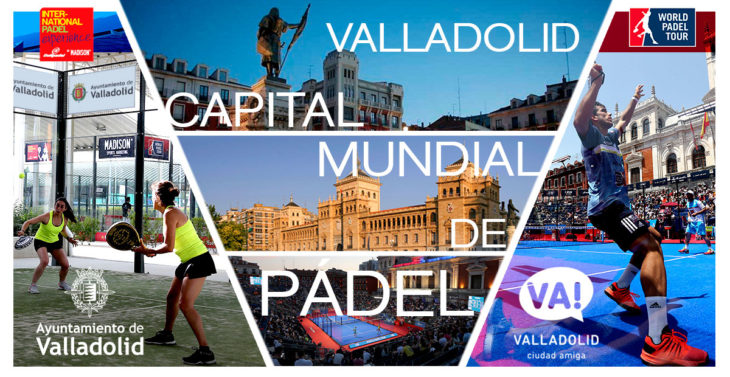 [:es]
Valladolid continúa firme con su apuesta por el pádel. La localidad vallisoletana, con una de las aficiones más padeleras de nuestro país, seguirá siendo un año más la capital del pádel. Los mejores jugadores del mundo y los mejores torneos harán disfrutar a los vecinos de Valladolid de su actividad favorita en unas semanas llenas de emoción y diversión.
Los vecinos vallisoletanos recibieron hace unos días la gran noticia de World Padel Tour. Su ciudad dará el salto a sede de un Master del circuito profesional de pádel. Esta es una recompensa merecida para una de las ciudades más fieles a este deporte. La pista central volverá a la Plaza Mayor de Valladolid en uno de los escenarios más espectaculares de la temporada.
El deporte de la pala se encuentra muy arraigado desde hace años en la ciudad. Además de la disputa del Master de Valladolid, la localidad volverá a acoger un año más una de las pruebas del International Padel Experience by Madison. El mejor circuito internacional de pádel amateur volverá por tercer año consecutivo a la localidad para disputar una de las pruebas más emocionantes del año. La parada de Valladolid es una de las fechas marcadas en rojo en el calendario del International Padel Experience by Madison. Un cita especial que en la temporada pasada culminó con la coronación de Belén Castrillo y Eva Diez, vencedoras absolutas en el gran Master Final disputado en la ciudad portuguesa de Elvas.
Valladolid continúa con su apuesta por el mejor pádel mundial, una labor que le ha convertido en la auténtica Capital Mundial de Pádel. Este es un título que se ha ganado a pulso, aunando los esfuerzos de los organismos locales con el entusiasmo de una afición que colma las gradas en cada prueba padelera disputada en la ciudad.
[:en]
Valladolid continues its commitment to paddle. The town of Valladolid, with one of the most affluent hobbies in our country, will remain the padel capital for another year. The best players in the world and the best tournaments will make Valladolid's neighbors enjoy their favorite activity in a few weeks full of excitement and fun.
The residents of Valladolid received a few days ago the great news of World Padel Tour. Your city will make the leap to the headquarters of a Master of the professional circuit of paddle. This is a deserved reward for one of the most loyal cities in this sport. The central court will return to the Plaza Mayor of Valladolid in one of the most spectacular stages of the season.
The sport of the shovel is deeply rooted for years in the city. In addition to the dispute of the Master of Valladolid, the town will once again host one of the tests of the International Padel Experience by Madison. The best international circuit of amateur paddle will return for the third consecutive year to the town to play one of the most exciting events of the year. The Valladolid stop is one of the dates marked in red in the International Padel Experience by Madison calendar. A special appointment that last season culminated with the coronation of Belen Castrillo and Eva Diez, absolute winners in the Grand Final Master played in the Portuguese city of Elvas.
Valladolid continues its commitment to the best padel in the world, a task that has made it the true Padel World Capital. This is a title that has been won by striking, combining the efforts of local agencies with the enthusiasm of a hobby that fills the stands in every test carried out in the city.
[:]