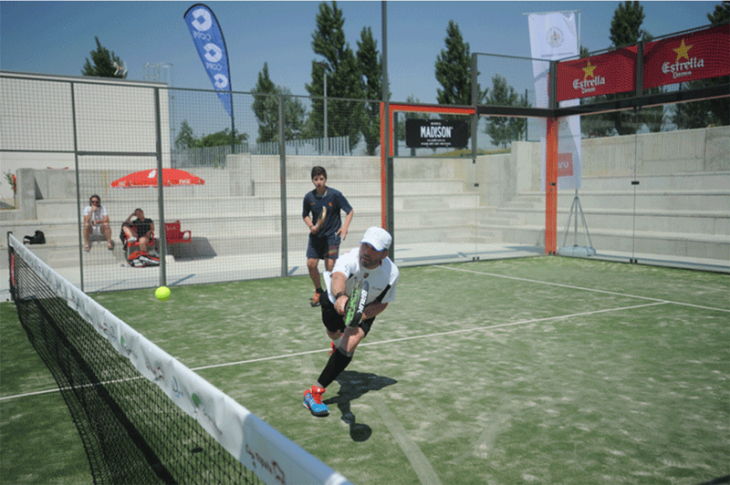 [:es]El International Padel Experience by Madison, patrocinado por Estrella Damm, hará su quinta parada en el Club Raqueta Valladolid, de 29 de junio al 3 de julio.  Valladolid acogerá por segunda vez una prueba del único circuito internacional de pádel amateur en una ciudad que vive en la actualidad un gran crecimiento del deporte de la paleta, por lo que la expectación es máxima.
Para que vayáis abriendo boca de esta gran cita, hoy echamos la vista atrás para recordar cómo fue la prueba en 2015:
El Valladolid Open fue sin duda, un fin de semana muy intenso de buen pádel amateur. La segunda prueba del International Padel Experience by Madison 2015 patrocinado por Estrella Damm, celebrado en las magníficas instalaciones como son las del Club Raqueta Valladolid, coronó a las parejas Roberto San Juan- Manuel Prado, en categoría A masculina, y Vanesa Díez-Arancha Rivas, en la competición A femenina.
La final masculina de la máxima categoría resultó trepidante. Roberto San Juan y Manuel Prado se medían a Rafael Vázquez y Juan Gutiérrez, que vendieron muy cara su derrota. Ambos sets resultaron un calco y los vallisoletanos se llevaron la gloria tras un doble 7-5.
En medio de un sol implacable y con el termómetro desbocado en la central del Club Raqueta, las últimas en salir de la pista fueron Vanesa Díez y Arancha Rivas, que levantaron el título ante la combativa pareja formada por Marta Velilla y Nieves Jiménez. 6-3 y 6-4 para las vallisoletanas.
Olga Fernández y Carol Blanco se impusieron a Sonia Alcalde y Pilar Pino en la competición B femenina (6-3 y 6-1), mientras que Fernanzo Alcalde y Quique Lezcano hicieron lo propio ante Miguel González y Francisco Tomillo en la categoría C masculina (6-3 y 7-6).
La segunda categoría masculina tuvo como grandes protagonistas a Ángel Gómez y Gerardo Sánchez que dictaron su ley como un rodillo frente a Marino Martín y Arturo Menduiña, en un encuentro que se resolvió con la victoria de los vallisoletanos por un contundente 6-0 y 6-1.
Si quieres participar en la prueba de Valladolid del International Padel Experience by Madison 2016, aún estás a tiempo. Las inscripciones siguen abiertas y pueden participar todos los jugadores y jugadoras que lo deseen, sea cual sea su nivel, ya que el circuito es amateur.
http://internationalpadel.com/valladolid2016/[:en]The International Padel Experience by Madison, sponsored by Estrella Damm, will make its fifth stop at the Racquet Club Valladolid, from 29 June to 3 July. Valladolid will host for the second time a test of the only international amateur circuit paddle in a city that is currently experiencing a great growth of paddle sport, so the expectation is maximum.
For you to see them in this great event, today we look back to remember how was the test in 2015:
Valladolid Open was definitely a very intense weekend of good amateur paddle. The second test of the International Padel Experience 2015 Madison sponsored by Estrella Damm, held in the magnificent facilities such as the Racquet Club Valladolid, crowned couples Roberto San Juan Manuel Prado, in category A male, and Vanessa Rivas Diez-Arancha , in competition female a.
The men's final of the top flight was exciting. Roberto San Juan and Manuel Prado were measured Rafael Vazquez and Juan Gutierrez, who sold very expensive defeat. Both sets were a carbon copy vallisoletanos glory and took after a double 7-5.
Amid a relentless sun and pounding thermometer in the central Racquet Club, the last to leave the track were Vanessa Díez and Arancha Rivas, who lifted the title with the combative duo of Marta and Nieves Jiménez Velilla. 6-3, 6-4 for vallisoletanas.
Olga Fernandez and Carol were imposed on Sonia Blanco and Mayor Pilar Pino in competition B female (6-3, 6-1), while Quique Lezcano Fernanzo Mayor and did the same against Miguel Gonzalez and Francisco Tomillo in the male category C ( 6-3, 7-6).
The second male category had as protagonists Angel Gomez and Gerardo Sánchez who delivered his law as a roll against Martin and Arturo Menduiña Marino, in a meeting that ended with the victory of the vallisoletanos by a convincing 6-0, 6- 1.
If you want to participate in the test Valladolid International Padel Experience Madison by 2016, there's still time. Registrations are still open and can participate all players and players who wish, whatever their level, as the circuit is amateur.