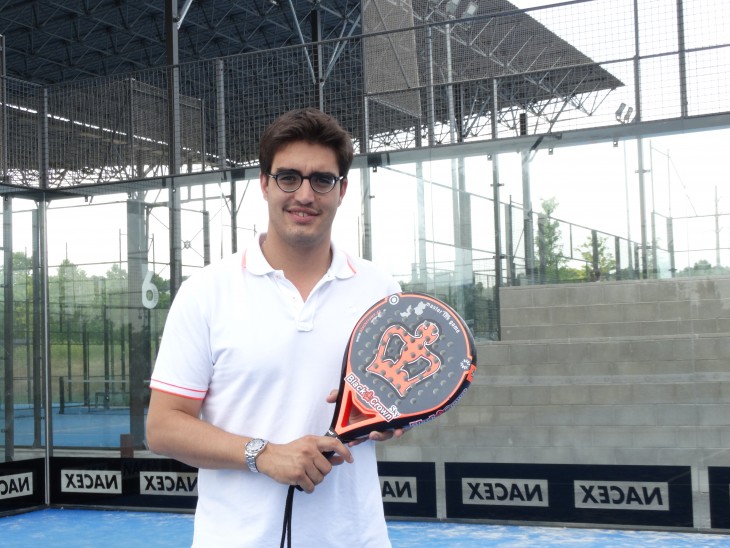 [:es]El International Padel Experience by Madison, patrocinado por Estrella Damm, hará su sexta parada con el Barcelona Open en el Club Augusta Padel, del 15 al 17 de julio.
El proceso de inscripción sigue abierto, así que apúntate cuanto antes para no perderte este atractivo torneo. Pueden participar todos los jugadores y jugadoras que lo deseen, sea cual sea su nivel, ya que el circuito es amateur:
http://internationalpadel.com/barcelona2016/
Juan Muro, director del Club Augusta Padel, ha analizado el momento de auge que vive este deporte en una ciudad como Barcelona y la repercusión que tiene organizar una prueba del único circuito internacional de pádel amateur:
-¿Cómo nace el club Augusta Padel?
Augusta Padel surge de la necesidad de crear un producto diferente en Sant Cugat, debido a la falta de pistas de pádel de pago por uso. Al principio, pensamos en crear un club muy sencillo, prácticamente autónomo sin recepción, sin bar, con vestuarios muy sencillos. Pero nos animamos y el proyecto técnico fue cogiendo fuerza de tal manera que tenemos un club con muchos servicios y con materiales de primera calidad.
-¿Cómo está evolucionando el pádel en Barcelona?
A una velocidad vertiginosa. La frase de que "el pádel está de moda" deberíamos irla dejando de lado. Ya no es una moda, es una realidad. En Augusta Padel contamos con la Escuela de Pádel Marta Marrero con más de 200 alumnos y más de 150 jugadores que dan al menos una clase a la semana, convirtiéndonos en uno de los clubes de Cataluña con más alumnos apuntados. Parece que hay una gran parte de niños que antes hacían tenis que ahora se están pasando al pádel.
-¿Qué nivel hay y qué tipo de perfil recibe su club?
El nivel del club es alto. Hemos conseguido atraer a jugadores que jugaban en otros clubes del alrededor y a los que les seduce la oferta de pago por uso. Es más justo para el jugador ya que sólo le cobras por su utilización y no está atado a cuotas de ningún tipo. Nuestro perfil entre semana es muy corporativo ya que estamos rodeados de un parque empresarial con más de 6.000 trabajadores en menos de 1 km a la redonda. En cambio, los fines de semana pasa todo lo contrario y somos el club de familias que vienen a jugar y a pasar un buen rato.
-¿Qué tipo de iniciativas o medidas de promoción están desarrollando en su club para atraer jugadores?
No paramos de trabajar en este aspecto. Para empezar contamos con muchos torneos amateurs de mucho nivel como el International Padel Experience by Madison. También hemos acogido un Challenger de World Padel Tour, previas de la Federación Catalana de Pádel, torneos privados para IESE, Audi España, BMW… Además, hemos apostado por una fuerte campaña en medios locales y promociones atractivas para captar jugadores en franjas de baja ocupación.
-¿Qué importancia y cómo trabaja el club con la cantera?
Los niños son la base de todos. Son los que mantienen un club vivo, un deporte con vida… El pádel y los clubes que lo potenciamos debemos dirigir nuestros esfuerzos a la enseñanza de este deporte desde la diversión y el dinamismo. Si los más pequeños se divierten y mejoran, se engancharán y podrán jugar con sus padres. ¡Qué mejor que practicar deporte en familia!
-¿Qué valores se transmiten a través del pádel?
Principalmente desde la escuela y gracias a la figura de Marta Marrero, que se implica al máximo, intentamos trasmitir valores como la deportividad, el compañerismo, la educación en pista, el fair play… Pensamos que todas estas conductas te abren muchas puertas en todos los aspectos de la vida y queremos que los jugadores de Augusta Padel transmitan estos valores.
-¿Qué repercusión tiene organizar una prueba del International Padel Experience by Madison?
Entendemos que muy alta. Acoger el único circuito internacional de pádel amateur ya te posiciona y sólo puede aportar cosas positivas. Por un lado te otorga prestigio y por el otro, haces que te conozcan como instalación.
-¿Qué objetivos tiene a corto y medio plazo el club?
A corto plazo consolidar todo lo que hemos trabajado durante este primer año de vida: la escuela, los torneos que organizamos a nivel interno y la idea de fusión entre pádel y gastronomía que ofrecemos. A medio plazo, nos encantaría lanzar un proyecto de pádel social y promocionar actividades que potencien las mañanas de nuestro club.
[:en]The International Padel Experience by Madison, sponsored by Estrella Damm, will make his sixth stop with the Barcelona Open at Club Augusta Padel, from 15 to 17 July.
The registration process is still open, so sign up as soon as possible to not miss this exciting tournament. all players and players who wish can participate, whatever their level, as the circuit is amateur:
http://internationalpadel.com/barcelona2016/
Juan Muro, director of Club Augusta Padel, has analyzed the boom time living this sport in a city like Barcelona and the impact it has organized a test of a test only international amateur circuit padel:
How was born the club Padel Augusta?
Augusta Padel arises from the need to create a different product in Sant Cugat, due to the lack of paddle tennis courts pay per use. At first, we thought of creating a simple club, virtually autonomous without reception, no bar, with very simple costumes. But we encourage and technical project was gaining strength so that we have a club with many services and quality materials.
How is evolving the padel in Barcelona?
At breakneck speed. The phrase «the padel is fashionable» should irla aside. It is no longer a fad, it is a reality. Augusta School Padel we Padel Marta Marrero with more than 200 students and more than 150 players who give at least one class a week, becoming one of the clubs in Catalonia with more students targeted. There seems to be a lot of children before court made now are going to paddle.
What level there and what kind of profile receive in your club?
The club level is high. We have managed to attract players who played in other clubs around and seduces them to offer pay per use. It is fairer to the player as only cobras him for his use and is not tied to quotas of any kind. Our profile is very corporate weekday since we are surrounded by a business park with more than 6,000 workers in less than 1 km radius. Instead, weekends opposite happens and we are the club of families who come to play and have a good time.
What kind of initiatives or promotion measures are developing in your club to attract players?
We don't stop working on this aspect. For starters we have many amateur tournaments as much level by the International Padel Experience Madison. We have also hosted a Challenger World Padel Tour, previews of the Catalan Federation of Padel, private tournaments for IESE, Audi Spain, BMW … In addition, we have opted for a strong campaign in attractive local media and promotions to attract players strips of low occupancy .
How important and how the club works with the quarry?
Children are the basis of all. They are what keep a club alive, a sport alive … The paddle and empower the clubs that we should direct our efforts to teaching the sport for fun and dynamism. If the children have fun and improve, they are hooked and they can play with their parents. What better to practice sport in family!
What values ​​are transmitted through the padel?
Mainly from school and thanks to the figure of Marta Marrero, which means the most, we try to convey values ​​such as sportsmanship, fellowship, education on track, fair play … We think that all these behaviors will open many doors in all aspects of life and we want players to Augusta Padel transmit these values.
What impact has organized a test of International Padel experience by Madison?
We understand that high. Host the only international amateur circuit and you paddle positions and can only bring positive things. On the one hand it gives you prestige and on the other, do you know as installation.
What aims does the short and medium term the club?
In the short term to consolidate all that we have worked during this first year of life: school, tournaments we organize internally and the idea of ​​fusion between paddle and gastronomy offer. In the medium term, we would love to launch a project of social pádel and promote activities that enhance the mornings of our club.[:]