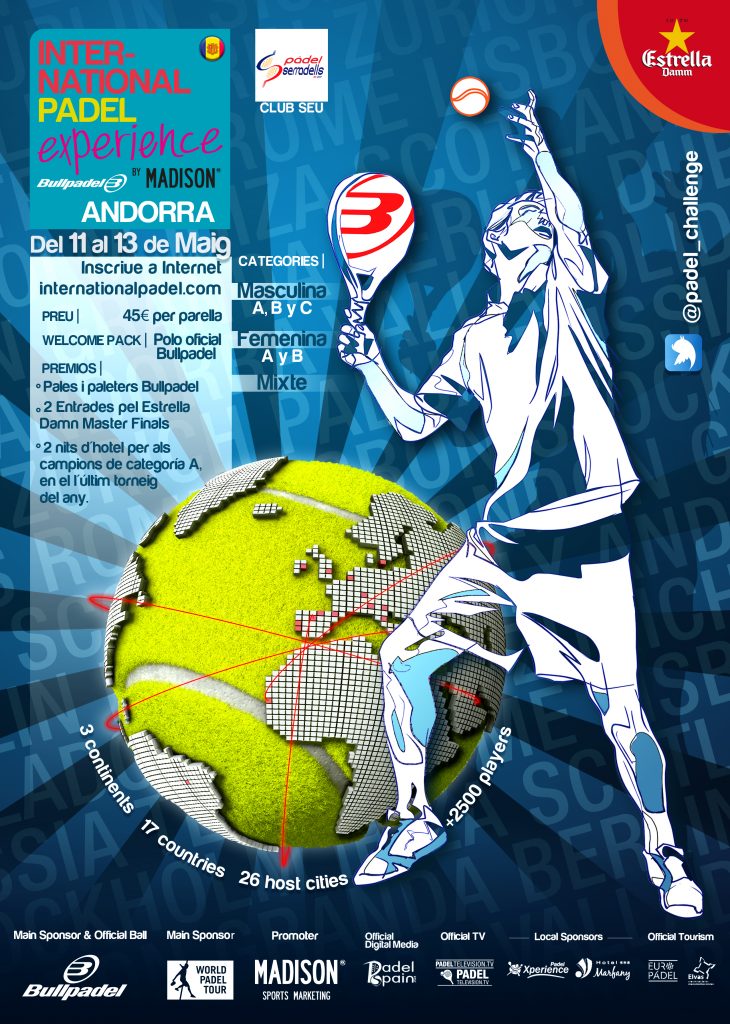 [:es]
La quinta parada del IPE by Madison está a tan solo unas horas de arrancar motores y comenzar a degustar un fin de semana de pádel y convivencia en el Principado. 
52 parejas inscritas, de las cuales el cuadro femenino A y el cuadro masculino A son los grandes atractivos del torneo y donde se espera más emoción. Los ganadores de estas dos categorías, obtendrán un billete para la disputa del Máster Final de Elvas, donde se agruparán todos los campeones de cada sede. 
Hoy habrá cerca de una decena de partidos de todas las categorías, comenzará la jornada a las 20:00 horas y se alargará hasta las 22:00 horas. A partir de mañana, maratón de pádel desde primera hora de la mañana, donde se definirán las rondas finales. Estos partidos se disputarán el domingo, día grande del torneo.
Es el tercer año que Andorra alberga un torneo del International Padel Experience by Madison, se esperan muchas caras ya conocidas y otras que vayan a vivir la experiencia por primera vez. El Principipado se frota las manos.
¡Nos vemos, pádel lovers!
[:en]
The fifth stop of the Andorra Open is just a few hours of starting engines and begin to taste a weekend of paddle and coexistence in the Principality.
52 registered couples, of which 5 will go for the women's draw A and 8 for the men's draw A, the winners of these two categories, will get a ticket for the Elvas Final Master contest, where all the champions of each venue will be grouped.
Today there will be about a dozen matches of all categories, starting the day at 20:00 hours and lengthening until 22:00 hours. Starting tomorrow, paddle marathon from early in the morning, where the final rounds will be defined. These matches will be played all of them in the day of Sunday, big day of the tournament.
Andorra is the third year in a row that it is the headquarters of the International Padel Experience by Madison, many well-known faces are expected and others that will live the experience for the first time. The Principipado rubs his hands.
See you, paddle lovers!
[:]