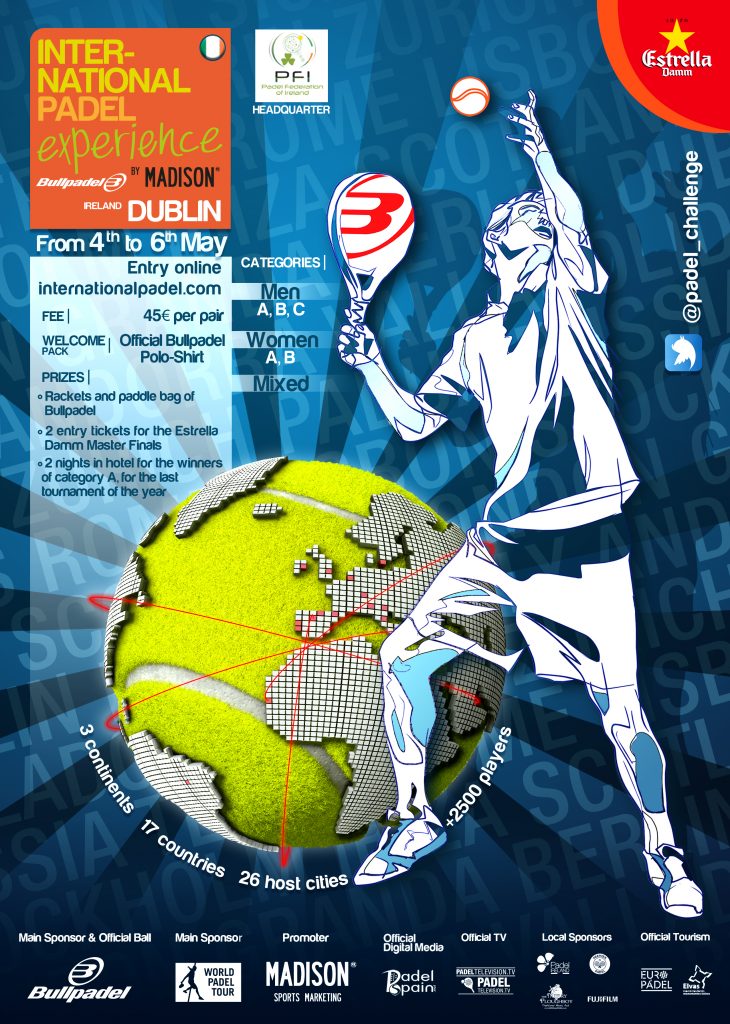 [:es]
La cuarta cita del International Padel Experience está a apenas unas horas de dar el pistoletazo de salida. El circuito viaja en esta ocasión hasta Dublín y se espera que la cita no defraude.
86 jugadores pasaran por las pistas del Bushy Park Paddle, repartidos entre las 5 categorías que tendrá el torneo. El cuadro con más parejas será el masculino A, con un total de 16, seguido por el masculino B, con 12 y por el masculino C, con 4. Por el lado femenino, 5 parejas formarán el cuadro femenino A y 6 el B.
Los jugadores ya pueden conocer los horarios y los cuadros de juego de una competición que se disputará del 4 al 6 de mayo y en la que los campeones de las categorías A obtendrán una plaza para el Máster Final de Elvas, donde se darán cita todos los vencedores de las categorías A en las distintas sedes.
[:en]
The fourth date of the International Padel Experience is just a few hours away from kicking off. The circuit travels this time to Dublin and it is expected that the appointment will not disappoint.
A total of 86 players will pass through the tracks of Bushy Park Paddle, divided among the 5 categories that the tournament will have. The table with the most pairs will be the masculine A, with a total of 16, followed by the masculine B, with 12 and by the masculine C, with 4. For the feminine side, 5 pairs will form the feminine picture A and 6 the feminine B .
The players can already know the schedules and the game tables of a competition that will be held from May 4 to 6 and in which the champions of the A categories will obtain a place for the Final Master of Elvas, where they will meet all the Champions of the different venues.
[:]