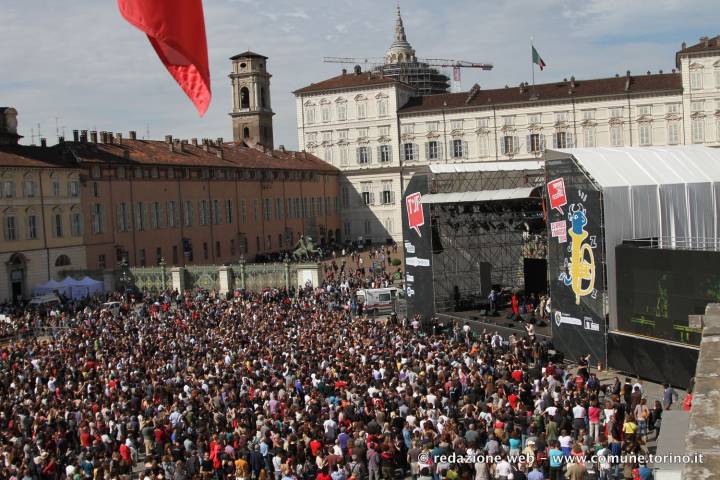 [:es]Estamos ya en la semana de arranque del International Padel Experiencie by Madison, patrocinado por Estrella Damm, que en su edición de 2016  hará su primera parada en la ciudad piamontesa de Turín.
Del 29 de Abril al 1 de mayo el Master Club Torino volverá a acoger una prueba del circuito ante una gran expectación por el crecimiento del pádel en Italia.
Pero el mejor pádel amateur internacional no será el único espectáculo a disfrutar en Turín durante este fin de semana. Son múltiples las actividades que podemos realizar y varios los eventos que se dan cita durante estos días. Para que disfrutes al máximo de tu estancia en la ciudad del Po, hemos seleccionado para ti los cuatro mejores planes de Turín:
Il Nilo a Pompei. Visione d'Egitto nel mondo romano: El espectacular Museo Egipcio de Turín acoge durante el mes de abril y mayo una imperdible exposición que aglutina más de 400 piezas, pinturas, esculturas, herramientas y joyas para reconstruir la trama histórica entre el arte griego-faraónico y el arte romano. 100% recomendable.
Torino Jazz Festival: En Italia, el primer fin de semana de mayo es festivo, al igual que en España y la mayoría de las grandes ciudades celebran un festival de carácter musical. En este caso, Turín lleva a cabo el 'Torino Jazz Festival', instalado en la Piazza della Repubblica , que contará con estrellas internacionales de la talla de Wes Montgomery, Miles Davis, Benny Golson, Sonny Rollins, Eric Alexander o  Daryl Hall.
VAN GOGH Alive: El museo Promotrice delle Belli Arti acoge una fantástica exposición que reúne las principales obras del genial pintor holandés, pero con tecnologia video Sensory4. Toda una experiencia sensorial para que te sumerjas en sus principales cuadros.

Steve McCurry:

Uno de los grandes fotógrafos contemporáneos muestra su galería en el museo Reggia di Venaria.
Gracias al International Padel by Madison podrás descubrir éstos y muchos más planes y por supuesto, practicar tu deporte favorito.
Las plazas son limitadas, por lo que si estás interesado en participar en el Turín Open, inscríbete cuanto antes para no perderte este atractivo torneo. Es tan fácil como pinchar en el siguiente enlace y rellenar los datos.
http://internationalpadel.com/turin2016/
[:en]We are already starting the week of International Padel experiencie by Madison, sponsored by Estrella Damm, which in its 2016 edition will make its first stop in the Piedmontese city of Turin.
From April 29 to May 1 Master Club Torino will host a test circuit to a great expectation for growth padel in Italy.
But the best international amateur pádel not be the only show in Turin to enjoy during this weekend. Are many activities that can be performed and various events that come together during these days. To enjoy the most of your stay in the city of Po, we have selected for you the four best plans Turin:
Pompei Il Nile. Visione d'Egitto nel mondo Roman: The spectacular Egyptian Museum of Turin hosts during April and May an unmissable exhibition brings together more than 400 pieces, paintings, sculptures, tools and jewelry to reconstruct the historical plot between art Greek-Pharaonic and Roman art. 100% recommendable.
Torino Jazz Festival: In Italy, the first weekend of May is festive, as in Spain and most major cities celebrate a festival of musical character. In this case, Turin holds the 'Torino Jazz Festival', installed in Piazza della Repubblica, which will feature international stars like Wes Montgomery, Miles Davis, Benny Golson, Sonny Rollins, Eric Alexander or Daryl Hall.
VAN GOGH Alive: The museum Promotrice delle Belli Arti hosts a fantastic expos451037_1460231440ición that brings together the major works of the great Dutch painter, but with video technology Sensory4. All sensory experience so that you dive into your main tables.
Steve McCurry: One of the great contemporary photographers shows his gallery in the museum Reggia di Venaria.

Thanks to the International Padel by Madison You can find these and many more plans and of course, practice your favorite sport.

Places are limited, so if you are interested in participating in the Turin Open, register as soon as possible to not miss this exciting tournament. It's as easy as clicking on the link below and fill in the details.
[:]