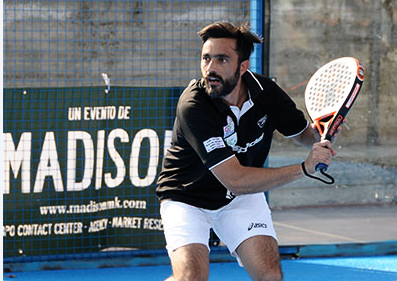 [:es]El tiempo para apuntarse a la primera prueba del International Padel Experiencie by Madison, patrocinado por Estrella Damm ha llegado a su fin.
El Master Club Torino espera ya a los participantes que han elegido el Turin Open para disfrutar del único circuito de pádel amateur internacional. Un club polideportivo que cuenta con dos pistas de pádel, una de ellas cubierta desde el pasado mes de enero,  pistas de tenis, fútbol, gimnasio y piscinas. Las pistas de pádel se encuentran en la zona central del Master Club Torino, entre el jardín y la piscina.
Sin duda, un recinto que presenta las condiciones idóneas para disfrutar de un gran torneo de pádel en una ciudad de la talla de Turín, que vive la cita ante una gran expectación por el crecimiento del pádel en Italia.
Los partidos comenzarán el próximo viernes y hasta el domingo y los premios para los campeones de la máxima categoría serán dos noches de hotel para disputar la final en el DoubleTree by Hilton Resort & Spa Reserva del Higuerón, palas de alta gama de Bullpadel y dos entradas para el Estrella Damm Master Final.
Además, el resto de vencedores recibirán material deportivo de Bullpadel y todos los jugadores podrán saborear las virtudes de la cerveza Estrella Damm, que estará presente en durante todas las jornadas. Y solamente por participar en el Turín Open los jugadores recibirán un magnífico welcome pack, compuesto por cómodo gymsack y el polo oficial del International Padel Experience by Madison 2016. 
Aún así, si te has quedado con las ganas de participar te recordamos que el resto de sedes tienen sus inscripciones abiertas. ¡Elige la tuya!
http://internationalpadel.com/ipe-2016/[:en]The time to sign up for the first race of the International Padel experiencie by Madison, sponsored by Estrella Damm has come to an end.
The Master Club Torino and awaits the participants who have chosen the Turin Open to enjoy the unique international amateur circuit padel. A sports club with two padel courts, one covered since last January, tennis, football, gym and swimming pools. The padel courts are located in the central area of ​​the Master Club Torino, between the garden and pool.
Undoubtedly, a site that presents the ideal place to enjoy a great tournament padel in a city the size of Turin, who lives appointment to great expectations for growth in Italy padel conditions.
The matches will begin next Friday to Sunday and prizes for the champions of the top flight will be two hotel nights for the final at the DoubleTree by Hilton Resort & Spa Higueron, shovels high-end Bullpadel and two tickets for the Estrella Damm Master Final.
In addition, other winners will receive sports equipment Bullpadel and all players can enjoy the virtues of beer Estrella Damm, who will attend for all days. And only for participating in the Turin Open players will receive a great welcome pack, consisting of comfortable Gymsack and the official pole of the International Padel Experience Madison by 2016.
Still, if you are left with the desire to participate remind you that the other sites have their open enrollment. Choose yours!