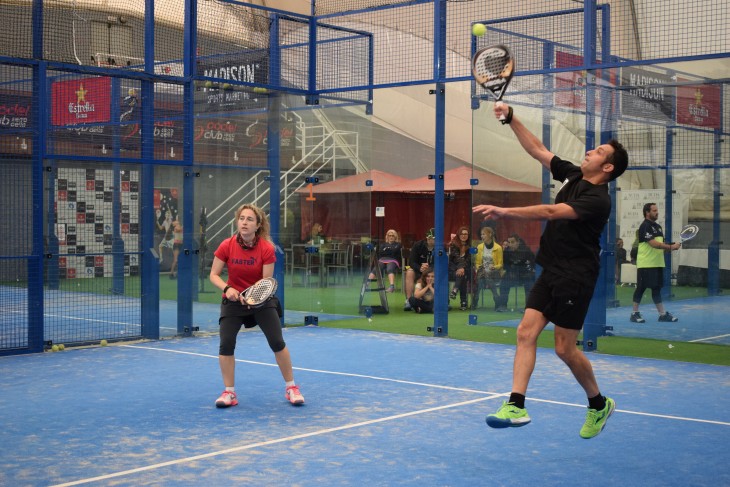 [:es]El International Padel Experience by Madison, patrocinado por Estrella Damm, hará su cuarta parada en el Padel club Berlin International,del 10 al 12 de junio. La capital alemana acogerá de nuevo una prueba del único circuito internacional de pádel amateur en un país que vive en la actualidad un gran crecimiento del deporte de la paleta, por lo que la expectación es máxima.
Ya no es una simple moda. Poco a poco, el pádel comienza a calar en tierras alemanas, un país en el que existe una gran tradición de deportes de raqueta. Sus inicios se remontan a 2003, año en el que se instaló la primera pista del país. Es curioso, pero hasta 2011 no se construyó la segunda pista de pádel en tierras alemanas, dado que hasta dicho momento no generaba ningún interés.
Ya en 2012 el pádel instaló su bandera en la capital del país germano, con la intención de que la gran ciudad disfrutase de los beneficios de este deporte. Cuatro años más tarde la semilla plantada en aquel entonces tardó en dar sus frutos pero en la actualidad goza de una vitalidad y un crecimiento constante.
En 2014 el país bávaro contaba con 17 clubes y 25 pistas; las zonas en las que se ubican estos clubes son: Bavaria (2), Berlín (3), Hesse (1), Köln (1), Baja Sajonia (1), Renania del Norte-Wetsfalia (3), Renania-Palatinado (1), Hamburgo (3) y Schleswig-Holstein (2); ninguno de ellos cuenta con más de dos pistas de pádel dentro de sus instalaciones.
El número de centros ha aumentando a lo largo de este año situándose en los 23 y los alemanes ya pueden practicar pádel en cualquiera de las más de 35 pistas que se encuentran dentro de su territorio.
Fundada en 2013, la DPV (Deutscher Padel Verband) o Federación Alemana de Padel realiza diferentes actividades para la promoción y expansión del pádel. Junto con los clubes y organismos oficiales han organizado varios eventos de exhibición con algunos de los mejores jugadores del mundo, contando con un gran éxito de participación y repercusión en la sociedad alemana. Además cuentan con una liga nacional propia, algo fundamental para el crecimiento del deporte y de su afición.
También llevan a cabo cursos de formación específicos para jugadores de tenis, ya que este deporte de raqueta guarda muchas similitudes con el pádel y de esta forma, se pueden aprovechar los conocimientos y habilidades de los muchos tenistas alemanes de cara a su inclusión en el pádel.
El interés por el pádel en tierras germanas va en aumento y una prueba de ello es la cantidad de medios de comunicación locales y regionales que se hacen eco diariamente de las noticias sobre este deporte.
La organización de pruebas en circuitos internacionales como el IPE by Madison ayudará en gran medida a que el pádel evolucione a mayor velocidad. Y sumado a la pasión que desata este deporte en el país, es bastante probable que en los próximos años estemos hablando de Alemania como un territorio a tener en cuenta en cuanto a pádel se refiere.
Las plazas son limitadas, por lo que si estás interesado en participar en el Berlín Open, inscríbete cuanto antes para no perderte este atractivo torneo. Es tan fácil como pinchar en el siguiente enlace y rellenar los datos.
http://internationalpadel.com/berlin2016/[:en]The International Padel Experience by Madison, sponsored by Estrella Damm, will make his fourth stop at the Berlin International Padel club from 10 to 12 June. The German capital will once again host a test of the only international amateur circuit paddle in a country that is currently experiencing a great growth of padel sport, so the expectation is maximum.
It is no longer a simple fashion. Gradually, the padel starts to sink in German lands, a country in which there is a great tradition of racquet sports. Its beginnings date back to 2003, year in which the first court in the country was installed. It's funny, but until 2011 the second padel court was not built on German soil, because until that time did not generate any interest.
Already in 2012 the pádel installed its flag in the capital of the German country, with the intention that the big city from enjoying the benefits of the sport. Four years later the seed planted back then was slow to bear fruit but now enjoys a steady growth and vitality.
In 2014 the Bavarian country had 17 clubs and 25 courts; the areas where these clubs are located are: Bavaria (2), Berlin (3), Hesse (1), Köln (1), Lower Saxony (1), North Rhine-Wetsfalia (3), Rhineland-Palatinate ( 1) Hamburg (3) and Schleswig-Holstein (2); none of them has more than two padel courts within its facilities.
The number of centers has increased over this year stood at 23 and German and can practice padel in any of the more than 35 courts that are located within their territory.
Founded in 2013, the DPV (Verband Deutscher Padel) or German Federation of Padel performs various activities for the promotion and expansion of the padel.
Along with clubs and government agencies they have organized several events exhibition with some of the best players in the world, with great success of participation and impact on German society. They also have their own domestic league, which is essential for the growth of the sport and its fans.
They also conduct specific training courses for tennis players, as this racquet sport has many similarities with the paddle and thus can use the knowledge and skills of many German players ahead of their inclusion in the pádel .
Interest in the padel in Germanic lands is increasing and proof of this is the amount of local and regional media of communication that echo daily news about this sport.
The testing organization in international circuits such as IPE by Madison help greatly to padel evolve faster. And coupled with the passion that unleashes the sport in the country, it is quite likely that in the coming years we are talking about Germany as a territory to be considered as a paddle tennis is concerned.
Places are limited, so if you are interested in participating in the Berlin Open, register as soon as possible to not miss this exciting tournament. It's as easy as clicking on the link below and fill in the details.