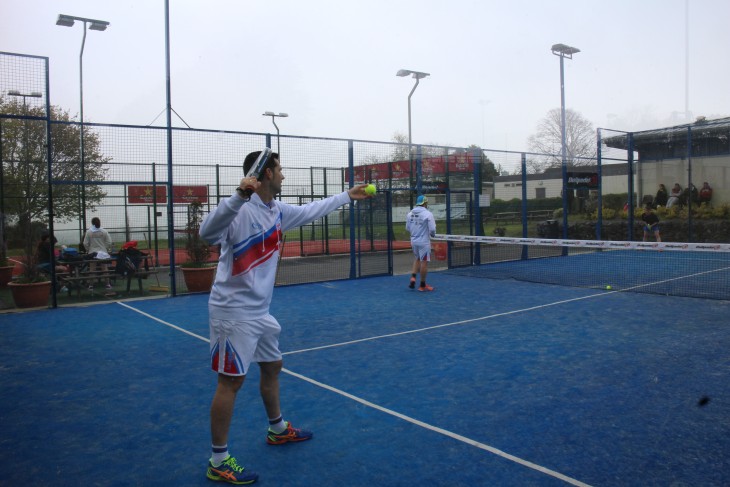 [:es]Se acerca el momento. Berlín espera con ilusión el único circuito internacional de pádel amateur. La cuarta prueba del International Padel Experience by Madison, patrocinado por Estrella Damm, hace parada en el Padel Club Berlin International del 10 al 12 de junio, y las inscripciones se cerrarán en los próximos días, por lo que si estás interesado en disfrutar del mejor pádel amateur y el interesante turismo de Berlín…¡Apúntate ya!Es tan fácil como pinchar en el siguiente enlace y rellenar los datos.
http://internationalpadel.com/berlin2016/
Como en todos los torneos del International Padel Experience by Madison, la inscripción es abierta y pueden participar todos los jugadores y jugadoras que lo deseen, sea cual sea su nivel, ya que el circuito es amateur. 
El Padel Club Berlin International abrió sus puertas como segundo centro de pádel de la capital alemana en septiembre de 2013. Cuenta con dos pistas de pádel complementarias a las pistas de tenis del TC Johannistal y es uno de los centros referencia en cuanto a este deporte se refiere dentro del país germano.
El club berlinés se encuentra en un pequeño oasis recreativo en Sterndamm en Berlín Locust Valley, no muy lejos del barrio tecnológico de Adlershof.Una zona que se encuentra a escasa media hora en transporte público del centro histórico de la ciudad, a la que por supuesto, os invitamos a descubrir.
Sin duda, un recinto que presenta unas condiciones idóneas para disfrutar de un gran torneo de pádel.
Os recordamos que los premios para los campeones de la máxima categoría de todos los torneos serán dos noches de hotel para disputar la final en el DoubleTree by Hilton Resort & Spa Reserva del Higuerón, palas de alta gama de Bullpadel y dos entradas para el Estrella Damm Master Final.
Además, el resto de vencedores recibirán material deportivo de Bullpadel y todos los jugadores podrán saborear las virtudes de la cerveza Estrella Damm, que estará presente en todas las etapas del circuito. Y solamente por participar en el circuito los jugadores recibirán un magnífico welcome pack, compuesto por un cómodo gymsack y el polo oficial del International Padel Experience by Madison 2016.
[:en]The time is coming. Berlin looks forward to the only international amateur circuit padel. The fourth round of the International Padel Experience by Madison, sponsored by Estrella Damm, stops at the Padel Club Berlin International from 10 to 12 June, and registration will close in the next few days, so if you are interested in enjoying the best amateur paddle and interesting tourism Berlin … Sign up now! It's as easy as clicking on the link below and fill in the details.
http://internationalpadel.com/berlin2016/
As in all tournaments Padel International Experience by Madison, registration is open and can participate all players and players who wish, whatever their level, as the circuit is amateur.
The Padel Club Berlin International opened as second paddle center of the German capital in September 2013. It has two complementary courts to tennis courts and padel tennis Johannistal TC is one of the centers reference for this sport German refers in the country.
Berlin club is located in a small recreational oasis in Sterndamm in Berlin Locust Valley, not far from the technological district of Adlershof.Una area is barely half an hour by public transport from the historic center of the city, which of course we invite you to discover.
Undoubtedly, a site that presents ideal to enjoy a great paddle tennis tournament conditions.
We remind you that the prizes for champions of the highest category of all tournaments are two hotel nights for the final at the DoubleTree by Hilton Resort & Spa Higueron, shovels high-end Bullpadel and two tickets to the Estrella Damm Master Final.
In addition, other winners will receive sports equipment Bullpadel and all players can enjoy the virtues of beer Estrella Damm, who will be present at all stages of the circuit. And only for participating in the circuit players will receive a great welcome pack, consisting of a comfortable Gymsack and the official pole of the International Padel Experience Madison by 2016.[:]