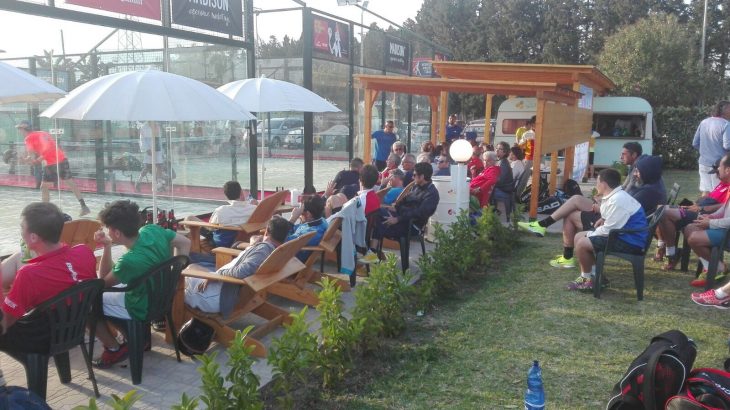 [:es]
La segunda jornada del Sicilia Open ha transcurrido con un gran ambiente y un nivel muy alto de pádel. Las pistas del Pádel Club Sun han estado repletas de participantes y jugadores desde primera hora de la mañana. Para mañana se esperan grandes encuentrosya que se disputarán las rondas finales de todas las categorías.
El plato fuerte del día han sido las dos semifinales de la categoría masculina A, en las que se ha visto un gran nivel de juego y se han decidido los finalistas que buscarán una plaza en el Máster Final de Elvas. La final de esta categoría la disputarán Amore y Torrisi contra Navarro y Zanon. Para mañana se esperan las rondas finales del resto de categorías y todas las finales, por lo que la expectación es máxima. 
Durante toda la jornada los partidos han estado amenizados por un dj y por productos de Estrella Damm. El gran ambiente reinaba en las pistas italianas. ¡Mañana nos vemos en las pistas del Padel Club Sun! Una emocionante jornada nos espera en Siracusa.
Nos vemos, ¡padel lovers!
[:en]
The second day of the Sicilia Open has passed with a great atmosphere and a very high level of paddle tennis. The tracks of the Padel Club Sun have been full of participants and players since the early morning. For tomorrow great meetings are expected since the final rounds of all categories will be played.
The highlight of the day has been the two semifinals of the men's category A, in which a great level of play has been seen and the finalists have been decided who will look for a place in the Elvas Final Master. The final of this category will be disputed by Amore and Torrisi against Navarro and Zanon. For tomorrow the final rounds of the rest of categories and all the final ones are expected, reason why the expectation is maximum.
Throught the day the game have been enlivened by a dj and by Estrella Damm products. The great athmosphere reigned on the Italian slopes of the Padel Club Sun! An exciting day awaits us in Syracuse. 
See you soon, padel lovers!
[:]