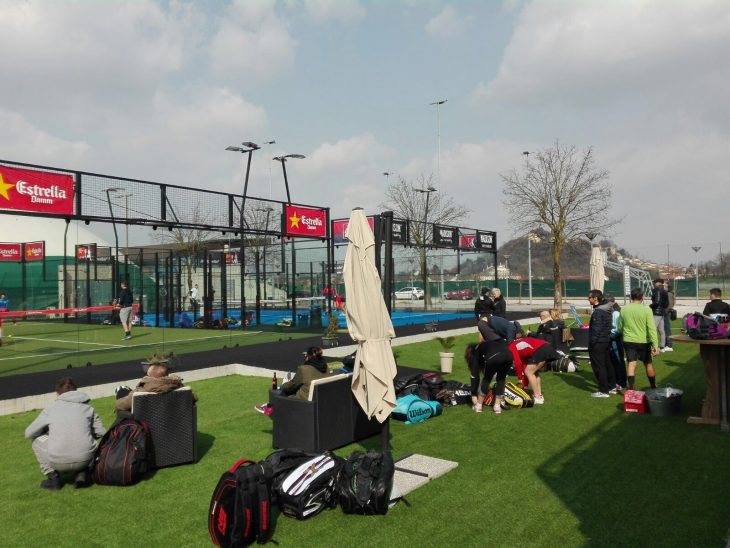 [:es]
La segunda prueba del International Padel Experience by Madison, la única prueba internacional de pádel amateur ha tenido en la jornada de hoy muchos partidos de todas las categorías: masculina, femenina y mixta, además de mucha afluencia de espectadores, lo que consagra al circuito y da una gran bienvenida a Vicenza, que era la primera vez que acogía esta prueba.
Comenzó la mañana con los partidos de la categoría mixta, dando paso luego a la femenina y ya para la tarde, todos los encuentros de la categoría masculina A. En todas ellas, el nivel ha sido muy alto y como era de esperar, a medida que avanza el cuadro el nivel se va elevando e igualando entre participantes.
Todas las parejas provenientes de San Marino ya han realizado su debut y fue al final de la jornada cuando se dio uno de los debuts más esperados, el de Valentina Piccolo, la número uno de este torneo.
El ambiente en las pistas del Padel Club Vicenza ha sido espectacular durante toda la jornada, con una gran afluencia de público a disfrutar del evento, todo ello acompañado con un dj y su música que han amenizado el día, una gran paella para el cierre de la jornada y una fiesta con carácter brasileño en el bar del club.
Gran éxito en la segunda jornada del Open de Vicenza, pero el domingo traerá lo mejor con la disputa de las últimas rondas.
Continuámos, ¡pádel lovers!
[:en]
The second proof of the International Padel Experience by Madison, the only international proof of amateur padel has had on the journey of today a lot matches of all categories: male, female and mixed, besides of a lot of influx of spectators, what he consecrates the circuit and give a great welcome to Vicenza, that was the first time that welcomed this proof. 
The morning began with the matches of the mixed category, giving way to female and already for the afternoon, all the matches of the male category. In all of them, the level has been so high and as expected, as the rounds progresses the level is rising and equaling between the participants.
All the couples coming of San Marino have already made their debut and were at the end of the day when one of the most anticipated debuts was given, Valentina Piccolo, the number one of the tournament. 
The ambient on the courts of the Padel Club Vicenza has been amazing during all the journey, with a great influx of public to enjoy the event, all accompained with a dj an his music that have enlivened the day, with a great paella for the closing of the day and a brasilian party in the bar of the club.
Great sucess of the second journey of the Vicenza Open, but on sunday will bring the best with the dispute of the last rounds.
Keep going, padel lovers!
[:]