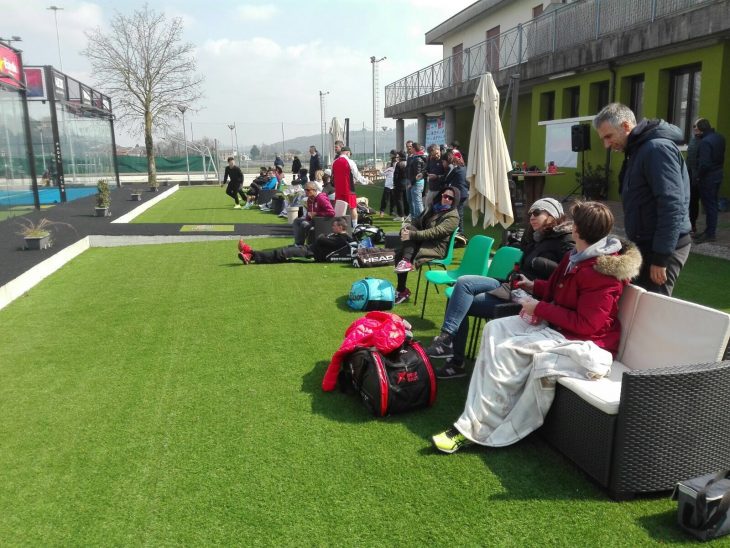 [:es]
La segunda parada del International Padel Experience by Madison, el único torneo internacional de pádel amateur, finalizó ayer con una gran acogida, la cual ha tenido durante todo el fin de semana.
Vicenza debutaba en el circuito y la ciudad italiana estuvo a la altura de lo esperado. Récord de parejas inscritas, gente de nacionalidades distintas disputando el torneo y una jornada de domingo apasionante donde se jugaron las rondas finales de todas las categorías y por supuesto, las esperadas finales.
Los campeones de todas las cateogorías fueron los siguientes: en el cuadro femenino, Lozano y Da Ponte se impusieron en la final a Piccolo y Pollaci en un duelo disputadísimo por un marcador de 7-5 y 7-6.
Por otro lado, en la categoría masculina A, el binomio formado por los Cotto se impuso por 6-4 y 6-3 a Rodríguez y Angilella.
En el cuadro masculino B, Ovando y Carrara obtuvieron el torneo tras vencer por Stefanini y Chiti por 6-2 y 6-3.
Por último, en la categoría mixta, Piccolo y Giardi ganaron su encuentro a Lavezzo y Guerzoni con un electrónico final  de 6-2 y 6-3.
La jornada finalizaba en el Padel Club Vicenza con la entrega de premios compuesta por material deportivo de Bullpadel así como de productos de Estrella Damm. Además, cabe recordar que los ganadores de las categorías masculina A y femenina A han obtenido un billete para la disputa del Máster Final que se disputará en Elvas el próximo mes de noviembre. 
¡Hasta pronto, pádel lovers!
[:en]
The second stop of the International Padel Experience by Madison, the only international tournament of amateur padel, finished yesterday with a great reception, that had during all the weekend.
Vicenza debuted on the circuit and the italian city was up on the expectations. Record of registered couples, people of all different nationalities played the tournament and an exciment sunday where played the final rounds off all categories and of course, the expected finals.
The championsips off all categories were the following ones: in the female frame, Lozano y Da Ponte won the final to Piccolo and Pollaci in a very disputed match by a marker of 7-5 and 7-6.
In the other hand, in de men A frame, the Cotto's couple won for 6-4 and 6-3 to Rodríguez and Angilella.
In the male B frame, Ovando and Carrada got the tournament after won Stefanini and Chiti by 6-2 and 6-3.
By last, in the mixed category, Piccolo and Giardi won their game to Lavezzo and Guerzoni by a final marker of 6-2 and 6-3.
The day finished at the Padel Club Vicenza with the awards made of sport clothes of Bullpadel and Estrella Damm material. Also, it should be remembered that the winners of the female and de men A category will be in the Final Master that will be disputed in Elvas the next month of november.
See you soon, padel lovers!
[:]