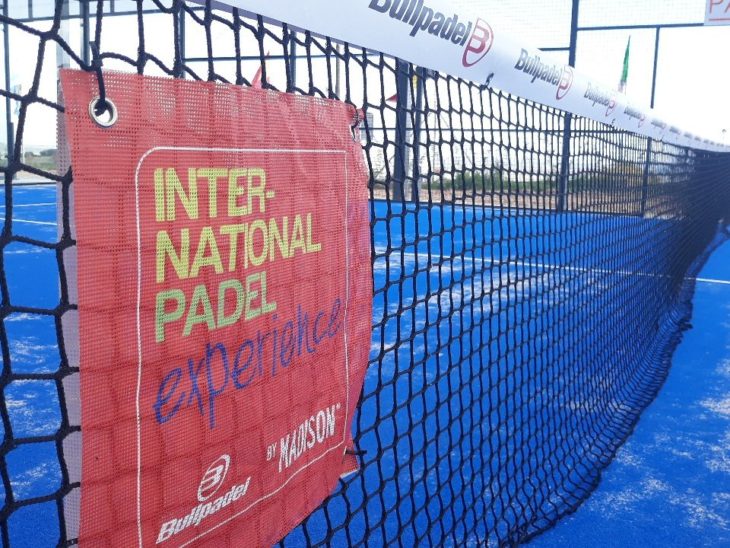 [:es]
Los primeros campeones del International Padel Experience by Madison comenzaron a aterrizar en Elvas. A primera hora de la tarde del viernes, las primeras parejas que entrarán en liza por el Master Final del torneo internacional llegaron a la localidad portuguesa. Jugadores y jugadoras dieron comienzo su aventura de final de temporada en los hoteles oficiales del circuito, el hotel Sao Joao De Deus y el Dom Luis, que se convertirán en sus casas durante los próximos días.
Nada más llegar a sus hoteles, los grandes campeones de cada una de las sedes recibieron en sus habitaciones los welcome packs del Master Final, compuesto de un polo oficial del circuito personalizado, una carta de bienvenida y una botella de cerveza Estrella Damm Inedit. Con los protagonistas instalados en Elvas, tan solo falta que comiencen a volar las primeras bolas del torneo.
El espectacular torneo internacional que reunirá sobre las pistas de pádel portuguesas a jugadores de un gran número de países. Francia, Holanda, España, Porugal, Máxico, Irlanda, Reino Unido, Suecia, Italia… todos ellos y muchos más se verán representados en el último gran torneo del mejor circuito internacional de pádel amateur.
La jornada del sábado dará comienzo a las 8:30 de la mañana con la presentación oficial del torneo. A partir de este momento, dará comienzo una emocionante maratón de partidos que concluirá el domingo dando a conocer a las parejas que se alzarán con el título que les acredite como grandes campeones del International Padel Experience by Madison 2018.
[:en]
The first champions of the International Padel Experience by Madison have landed in Elvas. In the early hours of Friday afternoon, the first couples to enter the competition for the Final Master of the international tournament arrived in the Portuguese city. Players and players began their adventure at the end of the season at the official hotels of the circuit, the hotel Sao Joao De Deus and Dom Luis, which will become their homes in the coming days.
As soon as they arrived at their hotels, the great champions of each of the venues received the welcome packs of the Final Master in their rooms, consisting of an official personalized circuit pole, a welcome letter and a bottle of Estrella Damm Inedit beer. With the protagonists installed in Elvas, all that's left is for the first balls of the tournament to start flying.
The spectacular international tournament that will gather players from a large number of countries on Portuguese padel courts. France, Holland, Spain, Porugal, Mexico, Ireland, United Kingdom, Sweden, Italy … all of them and many more will be represented in the last big tournament of the best international amateur padel circuit.
The day of Saturday will begin at 8:30 in the morning with the official presentation of the tournament. From this moment on, an exciting marathon of matches will begin, which will conclude on Sunday, announcing the couples that will win the title that will accredit them as great champions of the International Padel Experience by Madison 2018.
[:]