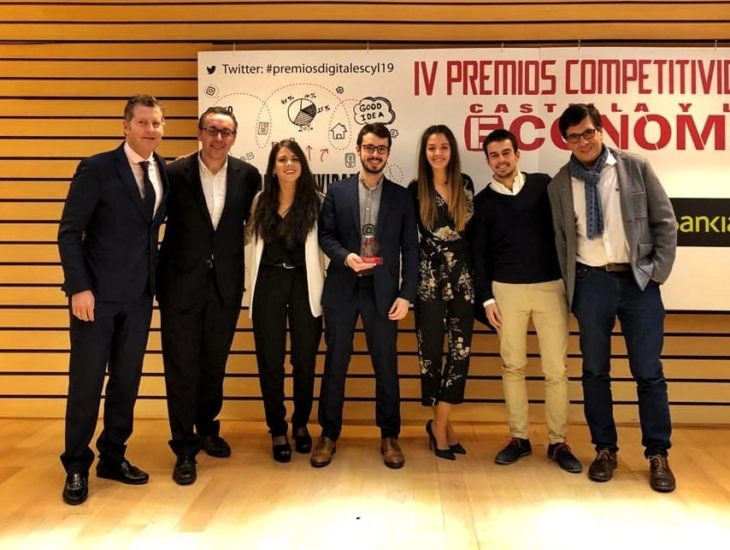 [:es]
La IV Edición de los Premios Competitividad Digital de la revista Castilla y León Económica reunió el 7 de marzo a más de 250 personas en el Auditorio II de la Feria de Valladolid para la entrega de premios que reconocen las mejores iniciativas de empresas e instituciones de Castilla y León en los Medios Sociales.
International Padel Experience by Madison, resultó ganador en la categoría Mejor Agencia de Comunicación en Medios Sociales, debido a la labor comunicativa llevada a cabo durante la pasada temporada, el seguimiento y la retransmisión de cada una de las pruebas de este circuito internacional líder en todo el mundo. Esta labor aúna elementos deportivos y turísticos, ofreciendo a los seguidores una experiencia global para disfrutar tanto de su actividad favorita como del entorno que rodea a cada una de las pruebas de la gira mundial.
Luis García Conde, Director de Marketing de Madison MK, recogió el premio y destacó el reto que supone desde el punto de vista de comunicación generar, desarrollar y hacer crecer durante años una comunidad internacional y multicultural con un nexo en común: el deporte, concretamente el pádel. "Un éxito que ha sido posible gracias a la tecnología, a la digitalización, y el emprendimiento y saber hacer de profesionales formados que se han desarrollado profesionalmente en Valladolid, en Castilla y León, y en concreto en Madison MK", concluyó.
El International Padel Experience by Madison sigue evolucionando y extendiéndose, siempre fiel a su objetivo de continuar derribando fronteras, el circuito contará en 2019 con más de 32 sedes, estando presente en 20 países y extendiendo el deporte de la pala a lo largo de cuatro continentes, todo un hito para el pádel amateur.
Luisa Alcalde, socia fundadora de la revista Castilla y León Económica, fue la encargada de abrir el encuentro que prosiguió con el discurso de José Ángel Torres, director de zona de Valladolid, Burgos y Soria de Bankia, que recordó lo importante que es para las empresas apostar por el proceso de adaptación a la economía digital ya que no hacerlo supone una gran pérdida de oportunidades.
El acto clausuró con la intervención de Milagros Marcos, Consejera de Agricultura y Ganadería de Castilla y León, que valoró la calidad de todas las candidaturas.
Los Premios Competitividad Digital son reconocidos por su prestigio en sectores tan variados como el agroalimentario, comercio, construcción, transporte o turismo. En las cuatro ediciones de estos Premios se han presentado un total de 260 candidaturas pertenecientes tanto a grandes compañías como a pymes e instituciones y colectivos de la sociedad civil.
[:en]
The 4th edition of the Digital Competitiveness Awards of the Castilla y León Economic magazine met on March 7 to more than 250 people in the Auditorium II of the Valladolid Fair for the award of awards that recognize the best initiatives of companies and institutions of Castilla and León in the Social Media.  
International Padel Experience by Madison, was the winner in the category of Best Communication Agency in Social Media, due to the communicative work carried out during the last season, the monitoring and retransmission of each of the tests of this international circuit leader in all the world. This work brings together sports and tourism elements, offering fans a global experience to enjoy both their favorite activity and the environment that surrounds each of the events of the world tour.  
Luis García Conde, Marketing Director of Madison MK, collected the award and highlighted the challenge that from the point of view of communication generates, develops and grow for years an international and multicultural community with a common link: sport, specifically the paddle. «A success that has been possible thanks to technology, digitalization, and the entrepreneurship and know-how of trained professionals who have professionally developed in Valladolid, in Castilla y León, and specifically in Madison MK,» he concluded. 
 The International Padel Experience by Madison continues to evolve and expand, always faithful to its goal of continuing to tear down borders, the circuit will count in 2019 with more than 32 venues, being present in 20 countries and extending the sport of the paddle across four continents , a milestone for the amateur paddle.  Luisa Alcalde, founding partner of the magazine Castilla y León Económica, was in charge of opening the meeting that continued with the speech of José Ángel Torres, area director of Valladolid, Burgos and Soria Bankia, who recalled how important it is for companies betting on the process of adapting to the digital economy since not doing so is a great loss of opportunities.  
The act closed with the intervention of Milagros Marcos, Minister of Agriculture and Livestock of Castilla y León, who assessed the quality of all the applications.  
The Digital Competitiveness Awards are recognized for their prestige in sectors as varied as agri-food, commerce, construction, transport or tourism. In the four editions of these Awards, a total of 260 candidatures have been presented, belonging to both large companies and SMEs and institutions and groups of civil society.
[:]