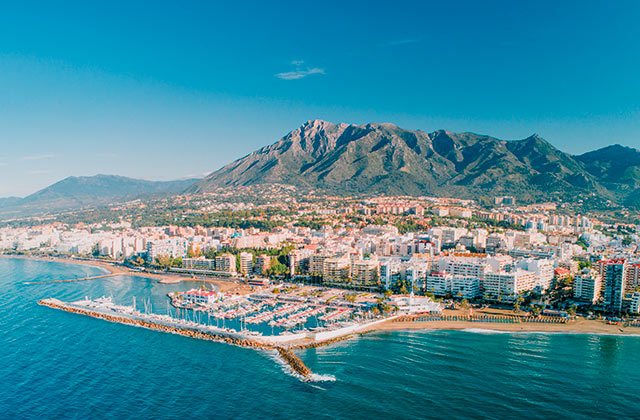 [:es]
El International Padel Experience by Madison está listo para comenzar. La primera parada de la gira será la localidad malagueña de Marbella. El estreno de Marbella dentro del circuito internacional supondrá el descorchamiento a la temporada 2019, un entorno perfecto donde comenzar un año lleno de emoción.
Marbella, ubicada en el sur de la provincia de Málaga, es una de las joyas del sur de España. Bañada por las olas del mar Mediterráneo, esta localidad se ha convertido en los últimos años en el paraíso de los turistas que viajan a nuestro país para conocer España. Desde el International Padel Experience by Madison hemos seleccionado varios lugares y planes que no te puedes perder en esta ciudad: 
Puerto Banús: Espectacular puerto marítimo de lujo con atractivos paseos y gran vida a lo largo de todo el día, pero sobre todo por la noche.
Plaza de los Naranjos: Plaza situada en el centro histórico de la ciudad. Este lugar está plagado de pequeños comercios y cafeterías donde poder disfrutar de la cultura malagueña.
Murallas del Castillo: Uno de los lugares emblemáticos de Marbella. Esta muralla de los siglos XI y XII es el vestigio más importante de la cultura musulmana en la ciudad.
El Juanar: El paraíso para los amantes de la naturaleza. Este mirador concentra todo lo necesario para enamorar a quienes disfrutan del senderismo y de observar la naturaleza. Desde la cima de El Juanar, puede contemplarse Marbella, bañada por la orilla del Mediterráneo.
[:en]
The International Padel Experience by Madison is ready to start. The first stop of the tour will be the Malaga town of Marbella. The premiere of Marbella within the international circuit will mean the uncorking of the 2019 season, a perfect environment to start a year full of excitement.
Marbella, located in the south of the province of Malaga, is one of the jewels of southern Spain. Bathed by the waves of the Mediterranean Sea, this town has become in recent years the paradise of tourists who travel to our country to see Spain. From the International Padel Experience by Madison we have selected several places and plans that you can not miss in this city:
Puerto Banús: Spectacular luxury seaport with attractive walks and great life throughout the day, but especially at night.
Plaza de los Naranjos: Plaza located in the historic center of the city. This place is full of small shops and cafes where you can enjoy the culture of Malaga.
Walls of the Castle: One of the emblematic places of Marbella. This wall of the 11th and 12th centuries is the most important vestige of Muslim culture in the city.
El Juanar: Paradise for nature lovers. This viewpoint concentrates everything necessary to make those who enjoy hiking and observing nature fall in love. From the top of El Juanar, you can contemplate Marbella, bathed by the shore of the Mediterranean.
[:]