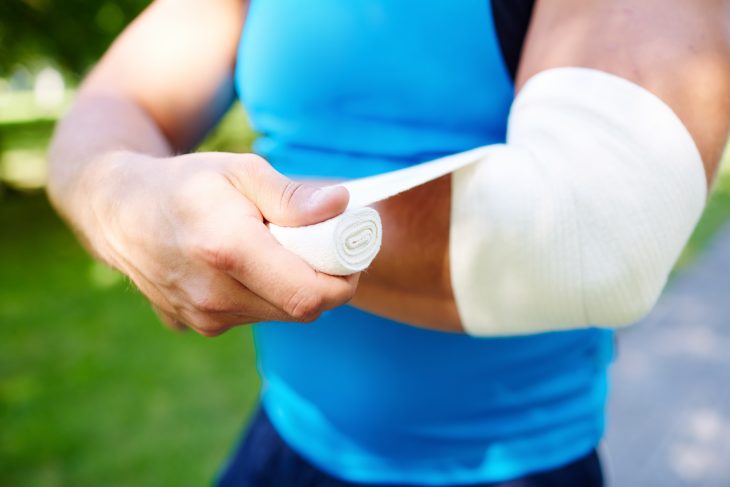 [:es]El International Padel Experience by Madison, único circuito internacional de pádel amateur, es un punto de encuentro para todos aquellos amantes del turismo y el deporte de moda y, a través de nuestra web, queremos ser un punto de información en todo lo relacionado a ambos aspectos.
Por eso, hoy queremos hablar de una de las lesiones más habituales en el mundo del pádel, especialmente entre quienes están empezando y no han adquirido todavía la técnica correcta: la epicondilitis o codo de tenista.
¿Qué es la epincondilitis?
Se trata de una lesión producida como resultado de la repetición continua de un gesto concreto, afectando a la cara lateral externa del codo y produciendo la inflamación de los músculos y tendones de la parte experna del codo.
Síntomas:
• Dolor al sujetar objetos

• Falta de fuerza

• Incapacidad de estrechar la mano

• Dolor en la región en que se insertan los tendones al presionar el codo
Causas del codo de tenista:
Aunque se conoce a la lesión como codo de tenista, son muchos los deportes y profesiones en los que se da con frecuencia esta lesión: golfistas, jugadores de beisbol, pintores, obreros y, en nuestro caso, jugadores de pádel.
En los jugadores de pádel son varias las causas que producen esta lesión, destacando las siguientes sobre las demás:
• Mala técnica: no mover los pies, golpear de frente, no separar el brazo del tronco, errores en el golpe de revés… son muchos los motivos que pueden llevarnos a sufrir esta lesión.

• Pala inadecuada: una pala con la masa inadecuada puede llevar a que el cuerpo asuma parte de la energía que corresponde a la pala. Es importante que juguemos con la pala adecuada a nuestras características y forma de jugar.
Prevención de la epicondilitis:
Como hemos visto, una buena técnica y una pala de calidad adecuada a nuestras características pueden ayudarnos a evitar una de las lesiones más temidas por la mayoría de los deportistas, y especialmente frecuente entre los jugadores de pádel.
Una buena forma de prevenir es contar con una supervisión profesional que nos indique cómo mejorar a fin de garantizar realizar los movimientos de forma adecuada.
Recuerda, cuida tu técnico y live the padel!!
[:en]The International Padel Experience by Madison, the only international amateur padel circuit, is a meeting point for all those who love tourism and sports and, through our website, we want to be an information point in everything related to both aspects.
Therefore, today we want to talk about one of the most common injuries in the world of padel, especially among those who are starting and have not yet acquired the correct technique: epicondylitis or tennis elbow.
What is the tennis elbow?
It is an injury produced as a result of the continuous repetition of a specific gesture, affecting the external lateral aspect of the elbow and producing inflammation of the muscles and tendons of the elbow.
Symptom:
• Pain when holding objects

• Lack of strength

• Inability to shake hands

• Pain in the region where the tendons are inserted when the elbow is pressed
Causes of tennis elbow:
Although the injury is known as tennis elbow, there are many sports and professions in which this injury frequently occurs: golfers, baseball players, painters, workers and, in our case, padel players.
In the players of padel are several the causes that produce this injury, emphasizing the following ones on the others:
• Bad technique: do not move your feet during the moves, hit the front, do not separate the arm from the trunk, mistakes in the backhand stroke… there are many reasons that can lead us to suffer this injury.

• Inadequate shovel: a racket with inadequate mass can lead to the body assuming part of the energy that corresponds to the racket. It is important that we play with the right shovel to our characteristics and way of playing.
Prevention of epicondylitis:
As we have seen, a good technique and a racket of quality appropriate to our characteristics can help us avoid one of the most feared injuries by most athletes, and especially frequent among paddle players.
A good way to prevent is to have a professional supervision that tells us how to improve in order to ensure that the movements are carried out properly.
Remember, take care of your technician and live the padel!![:]