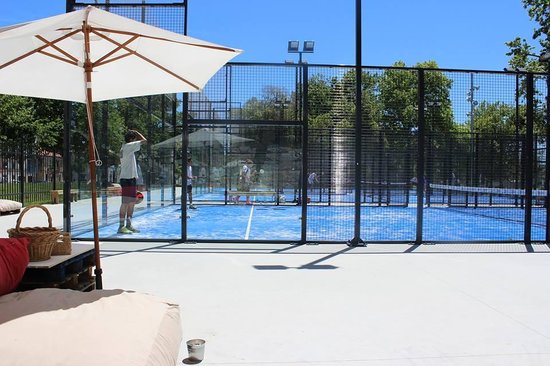 [:es]El tiempo se acaba. Quedan solo dos semanas para que el International Padel Experience by Madison, patrocinado por Estrella Damm, llegue a Lisboa, la siguiente parada del único circuito internacional de pádel amateur.
La capital portuguesa será testigo de nuevo del 9 al 11 de septiembre de una cita del circuito en un ciudad que vive en la actualidad un gran crecimiento del deporte de la paleta, por lo que la expectación es máxima.
Las fantásticas instalaciones del Padel Campo Grande de Lisboa están ya listas para acoger la octava prueba del IPE by Madison 2016 tras el éxito cosechado en años anteriores, donde los buenos números de participación, el nivel sobre la pista, y en definitiva, el espectáculo que ofreció el Lisboa Open confirmaron el buen momento del pádel en esta ciudad.
Os recordamos que los campeones de la máxima categoría serán dos noches de hotel para disputar la final en el DoubleTree by Hilton Resort & Spa Reserva del Higuerón, palas de alta gama de Bullpadel y dos entradas para el Estrella Damm Master Final.
Además, el resto de vencedores recibirán material deportivo de Bullpadel y todos los jugadores podrán saborear las virtudes de la cerveza Estrella Damm, que estará presente en durante todas las jornadas. Y solamente por participar en el Lisboa Open los jugadores recibirán un magnífico welcome pack, compuesto por un cómodo gymsack y el polo oficial del International Padel Experience by Madison 2016. 
En los próximos días se cierra el proceso de inscripción para esta octava prueba, por lo que si estás interesado en participar, inscríbete cuanto antes para no perderte este atractivo torneo. Es tan fácil como pinchar en el siguiente enlace y rellenar los datos.  Pueden participar todos los jugadores y jugadoras que lo deseen, sea cual sea su nivel, ya que el circuito es amateur.
http://internationalpadel.com/lisboa2016/
[:en]Time is running out. There are only two weeks for the International Padel Experience by Madison, sponsored by Estrella Damm, come to Lisbon, the next stop only international amateur circuit paddle.
The Portuguese capital will witness again from 9 to 11 September an appointment circuit in a city that is currently experiencing a great growth of paddle sport, so the expectation is maximum.
The fantastic facilities Padel Campo Grande Lisbon are ready to host the eighth round of IPE by Madison 2016 after the success in previous years, where good numbers of participation, the level on the track, and ultimately, the show that Open offered the Lisbon confirmed the momentum of the paddle in this city.
We remind you that the champions of the top flight will be two hotel nights for the final at the DoubleTree by Hilton Resort & Spa Higueron, high-end blades Bullpadel and two tickets to the Final Master Estrella Damm.
In addition, other winners will receive sports equipment Bullpadel and all players can enjoy the virtues of beer Estrella Damm, who will attend for all days. And only for participating in the Lisbon Open players will receive a great welcome pack, consisting of a comfortable Gymsack and the official pole of the International Padel Experience Madison by 2016.
In the coming days the registration process for this eighth round closes, so if you are interested in participating, please register as soon as possible to not miss this exciting tournament. It's as easy as clicking on the link below and fill in the details. all players and players who wish can participate, whatever their level, as the circuit is amateur.