Después del éxito cosechado en Londres, el adidas International Padel Challenge by Madison ya enfila el camino hacia su desenlace, que tendrá lugar del 21 al 23 de noviembre en Reserva del Higuerón, lugar escogido para echar el telón a la temporada 2015. El adidas Málaga Open concentrará en el prestigioso club andaluz a los campeones de los torneos disputados esta temporada y a los mejores jugadores, tanto locales como nacionales e internacionales, que se inscriban en el torneo.
El plazo de inscripción para el adidas Málaga Open ya está abierto y los jugadores cuentan con cuatro categorías por género para apuntarse a un torneo que será único, ya que significa el punto y final de la temporada 2015, en la que el adidas International Padel Challenge by Madison se ha consolidado como una referencia dentro del pádel amateur en Europa.
Como en el resto de los torneos, los participantes recibirán como regalo de inscripción el polo adidas oficial del circuito y los campeones se repartirán los premios en material que la firma alemana aporta al adidas Málaga Open. Es tan fácil como entrar en este enlace y rellenar los campos: http://internationalpadel.com/inscripcion-malaga/
Para las personas que se desplacen desde diferentes puntos de España o el resto del continente, el hotel THB Reserva del Higuerón ofrecerá un precio especial, que permitirá a los jugadores disfrutar de un hotel espectacular situado en el mejor entorno social y deportivo de la Costa del Sol.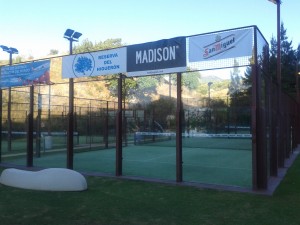 After the success at London, the adidas International Paddle Challenge by Madison and tuck the way to its denouement, which takes place from 21 to 23 November in Higueron, take place chosen for the curtain to the 2015 season adidas Malaga Open concentrate on the prestigious Andalusian club champions tournaments played this season and the best players, both local and national and international, to enroll in the tournament.
The registration period for the adidas Málaga Open is now open and players have four categories by gender for joining a tournament that will be unique because it means an end to the 2015 season, the adidas International Paddle Challenge by Madison has become a reference in the amateur paddle in Europe.
As in the rest of the tournament, participants will receive a gift registration official adidas polo circuit champions prizes German firm material that gives the adidas Málaga Open will split.
For people traveling from different parts of Spain or the rest of the continent, the THB Higueron hotel will offer a special price, that will allow players to enjoy a great hotel in the best sporting and social environment of the Coast Sol.