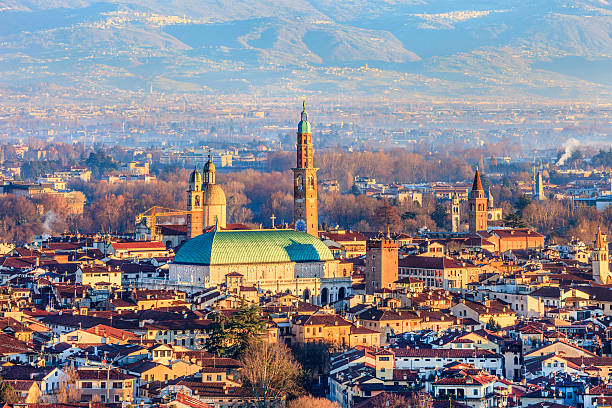 [:es]
Con el dulce sabor del cierre del Bilbao Open aún en el paladar, el International Padel Experience by Madison ya gira su mirada hacia la ciudad italiana de Vicenza, donde el circuito hará escala del 23 al 25 de marzo en las fantásticas instalaciones del Padel Club Vicenza, que se incorpora este año al proyecto. Como viene siendo habitual, Madison pone en marcha una completa oferta de viaje, con salida desde diferentes destinos de toda Europa, para que nadie se pueda perder un torneo que se presenta apasionante.
El perfecto maridaje que firma el IPE by Madison con el mejor turismo tiene una magnífica réplica en las propuestas de viaje que genera el circuito para cada uno de sus torneos y que todos los aficionados al deporte de moda en España pueden consultar en cada una de las áreas que tienen las pruebas dentro de esta web. Los participantes en el Vicenza Open obtendrán con su inscripción el welcome pack que aporta Bullpadel, marca oficial del circuito, y también podrán disfrutar de la calidad de la cerveza Estrella Damm, que degustarán durante todo el fin de semana.
OFERTA DE VIAJE
Avión + Inscripción 1 categoría + 2 noches en habitación doble con desayuno en Hotel Best Western Tre Torri 4*
Roma: desde 370€ por persona
Lisboa: desde 632€ por persona
Zurich: desde 510€ por persona
Madrid: desde 620€ por persona
Barcelona: desde 438€ por persona
---
Coche de alquiler desde 60€/día
Los vuelos son al Aeropuerto más cercano (Verona a 47km de Vicenza)
[:en]
With the sweet taste of the Bilbao Open's closing still on the palate, the International Padel Experience by Madison looks towards the Italian city of Vicenza, where the circuit will be present on March 23th to 25th in the fantastic facilities of the Padel Club Vicenza, which is incorporated into the project this year. As usual, Madison is implementing a complete travel offer, departing from different destinations throughout Europe, so that no one can miss a tournament.
The perfect combination that the International Padel Experience by Madison signs with the best tourism, has a magnificent replica in the travel proposals, generated by the circuit for each tournament that all padel fans in Spain can consult. The Vicenza Open participants will obtain with their registration, a welcome pack that Bullpadel brings, the official brand of the circuit, and the participants also be able to enjoy the quality of the Estrella Damm beer, which they will taste throughout all the weekend.
TRAVEL OFFER
Airplane + Registration 1 category + 2 nights in a double room with breakfast at Hotel Best Western Tre Torri 4 *
Rome: from € 370 per person
Lisbon: from € 632 per person
Zurich: from € 510 per person
Madrid: from € 620 per person
Barcelona: from € 438 per person
Rental car from € 60 / day
The flights are to the nearest Airport (Verona 47km from Vicenza)
[:]