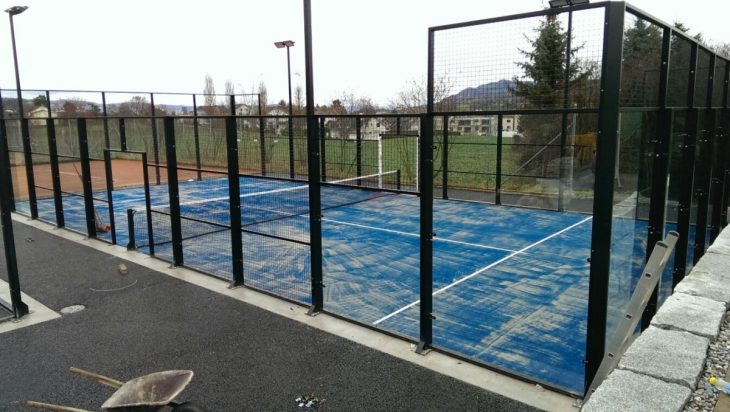 [:es]
El International Padel Experience by Madison viaja a la cuna del pádel en Suiza por tercer año consecutivo. Las primeras pistas en construirse del país centro europeo acogerán el mejor circuito internacional de pádel amateur y se espera que, como en temporadas anteriores, la cita sea todo un éxito. Hemos charlado con Reto Scartazzini, procursor del deporte de pala en Suiza e impaciente por la llegada del circuito a sus pistas. El comienzo del pádel en Suiza, su trabajo diario y su opinión sobre el circuito algunos de los temas que hemos tratado con él. 
¿Cómo está la situación del pádel en Zúrich? ¿Y en Suiza?
El pádel está creciendo verdaderamente rápido en Zúrich. En 2010 construimos la primera pista de pádel en Suiza en el club donde se va a celebrar el próximo IPE by Madison y hasta 2015, seguía siendo la única pista del país. En 2016 construimos otras dos pistas más en el mismo club y inaguraron otro club de pádel en Zúrich con dos pistas. En 2017, otros dos clubes se animaron y abrieron más pistas, un club con 6 pistas indoor y el otro con unicamente una pista. Hoy nosotros tenemos 11 pistas en Zúrich y 26 por toda Suiza y nuevos clubes a la espera de abrir sus puertas.
¿Cómo es el proyecto de tu club y cómo trabajas para crecer día a día?
Volviendo al 2010, la Asociación Suiza de Padel construyó una pista en nuestro club. En 2015 está pista fue reformada con una nueva superficie. En noviembre de 2016, el club construyó otras dos pistas. El último año, acogimos las finales del Swiss Padel Interclub y el campeonato de suiza. Nosotros hacemos muchos eventos para nuestros miembros y también para las empresas que son de la zona. 
¿Por qué decidiste sumarte al International Padel Experience by Madison?
Volviendo al 2016, Madison me preguntó si estaría interesado en formar parte del IPE. Por supuesto nosotros accedimos encantados y hoy en día queremos seguir haciendo el torneo todos los años. Es realmente un gran evento para los jugadores, les encanta el welcome pack de bienvenida, la cerveza gratis y el hecho de formar parte de este gran torneo. 
¿Qué es lo que más te gusta del circuito?
La promoción en redes sociales y en web y la profesionalidad de la organización. 
¿Qué esperas del próximo Zurich Open que se celebrará en las pistas de tu club?
Deseo que podamos ofrecer lo mejor de nuestras instalaciones, utilizar todas las pistas, ¡y hacer de este evento una fiesta cada vez mayor!
[:en]
The International Padel Experience by Madison travels to the cradle of padel in Switzerland for the third year in a row. The first court to be built in the central European country will host the best international amateur padel circuit and it is expected that, as in previous seasons, the event will be a success. We talked with Reto Scartazzini, procursor of the sport of shovel in Switzerland and impatient for the arrival of the circuit to its courts. The beginning of the paddle in Switzerland, his daily work and his opinion on the circuit some of the topics that we have dealt with him.
How is the situation of the padel in Zurich? And in Switzerland?
Padel is growing incredibly fast in zurich. In 2010 the Tennis- und Padelclub Unterengstringen built the first court in Switzerland. In 2015 it was still the only one. In 2016 the Tennis- und Padelclub Unterengstringen built two more courts and also another Padelclub in Zurich opened its doors. In 2017 two more clubs opened in greater Zurich. One with 6 indoor courts, the other one downtown with one court. Today we have 11 courts in Kanton Zurich and 26 courts in Switzerland. New clubs are already in the pipeline.
How is your club's project born and how do you work to grow day by day?
Back in 2010 the Swiss Padel Assocation built a court in our Club. In 2015 this court was refurbished with a new surface. In November 2016 the club built another two courts. Last year the Swiss Padel Interclub Finals and the Swiss Championships were helt in our club. We do a lot of events for our members and also for companies nearby.
Why did you decide to join the International Padel Experience by Madison?
Back in 2016 Madison asked if we are interested in being part of the IPE. Of course we were and until today we do the tournament every year. It's a really great event for the players as they love the generous welcome pack, the free beer and the fact that they are part of this big tournament series.
What do you like most about the circuit?
The promotion on social media and the professional organisation.
Whats do you expect from the next Zurich Open that will be held at your club?
Hopefully we can offer even more courts and make the padel party even bigger!
[:]