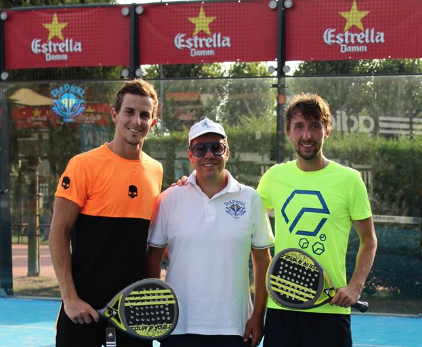 [:es]El International Padel Experiencie by Madison, patrocinado por Estrella Damm, arranca su edición de 2016 en la ciudad piamontesa de Turín del 29 de Abril al 1 de mayo. El Master Club Torino volverá a acoger una parada del circuito como ya hizo el pasado año, ante una gran expectación por el crecimiento del pádel en Italia.
Hoy echamos la vista atrás para recordar cómo fue la prueba italiana en 2015:
La cuarta cita del International Padel Experience by Madison 2015 se disputaba en las instalaciones del ASD PulPádel Torino con un ambiente inmejorable, buena climatología y un público que disfrutaba del único circuito internacional de pádel amateur.
En el cuadro masculino se confirmó el gran nivel que comienza a haber en Italia. A la final llegaron Savoldi-Cattaneo y Delgrosso-De Barros Silva.
La pareja procedente de Milán, Savoldi-Cattaneo, logró superar en la final a la dupla local formada por Delgrosso – De Barros Silva por (6-3 y 6-1), en un partido que dejó detalles de gran nivel y una técnica muy depurada en cada uno de los jugadores, como ya venían demostrando a lo largo de los partidos anteriores.
Los de Milán alcanzaron la final tras superar en semifinales a Leonik Sarabia-Abascià (6-2 y 6-2), mientras que la pareja local formada por Delgrosso-De Barros Silva venció en la penúltima ronda del campeonato a Mogni-Trevisan por (6-4 y 6-4).
En categoría femenina, también hubo emoción hasta el final. Boselli-Maderna y Giffuni-Toso disputaron el último partido del torneo caracterizado por la igualdad y la intensidad, que hicieron acto de presencia en todos los partidos. La victoria final fue para Boselli-Maderna con el resultado de (6-2,4-6,6-4).
Si quieres participar en la prueba de Turín del International Padel Experience by Madison 2016, aún estás a tiempo.Las inscripciones siguen abiertas y pueden participar todos los jugadores y jugadoras que lo deseen, sea cual sea su nivel, ya que el circuito es amateur.
http://internationalpadel.com/turin2016/
[:en]The International Padel experiencie by Madison, sponsored by Estrella Damm, 2016 edition kicks off in the Piedmontese city of Turin from April 29 to May 1. The Master Club Torino will host a stop on the circuit as it did last year amid great expectations for growth pádel in Italy.
Today we look back to remember how was the Italian event in 2015:
The fourth meeting of the International Padel Experience 2015 by Madison upcoming ASD facilities pulp of Torino with an excellent atmosphere, good weather and a public that enjoyed the only international amateur circuit padel.
In the men the great level that begins to be in Italy was confirmed. At the end came Savoldi-Cattaneo and Delgrosso-De Barros Silva.
The couple from Milan, Savoldi-Cattaneo, managed to overcome in the final pairing of the local Delgrosso – De Barros Silva (6-3, 6-1) in a match that left details of high level and a technique very refined in each of the players, as had already been demonstrating over previous games.
The Milan reached the final after beating in the semifinals Leonik Sarabia-Abascià (6-2, 6-2), while the local pairing of Delgrosso-De Barros Silva won the penultimate round of the championship Mogni-Trevisan by ( 6-4, 6-4).
In the women, there was excitement until the end. Boselli-Maderna and Giffuni-Toso played the last match of the tournament characterized by equality and intensity, which made an appearance in every game. The final victory went to Boselli-Maderna with the result (6-2,4-6,6-4).
If you want to participate in the test of Turin International Padel Experience by Madison 2016, there's still time.The inscriptions are still open and can participate all players and players who wish, whatever their level, as the circuit is amateur.