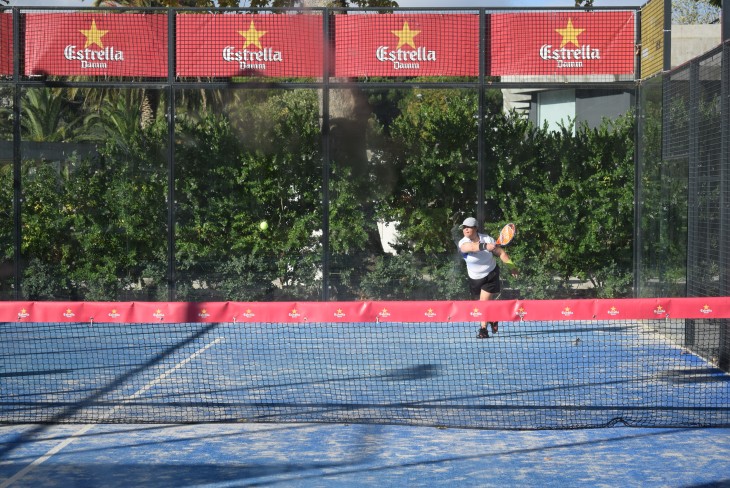 [:es]El Padel Campo Grande de Lisboa vivió con intensidad y emoción la segunda jornada del Lisboa Open con grandes partidos y un ambiente inmejorable para recibir la octava prueba del International Padel Experience by Madison, patrocinado por Estrella Damm.
Fueron muchos los aficionados que se acercaron para disfrutar de la nueva cita del único circuito internacional de pádel amateur, dejando latente el gran momento de auge que vive el deporte de la pala en Portugal.
Desde primera hora de la mañana del sábado, las ocho pistas del club lisboeta acogieron a las cincuenta parejas participantes en esta prueba, repartidas en dos categorías masculinas, dos femeninas y una mixta.
En la máxima categoría masculina se vivieron encuentros de gran emoción y un alto nivel de juego. La pareja procedente de España formada por Jerónimo Cañas- Eduardo Espona lograban su pase a las semifinales del Lisboa Open tras derrotar con seriedad y contundencia a sus rivales de grupo, demostrando ser una de las parejas favoritas al título. Se enfrentarán por una plaza a la final a los jugadores locales Pedro Roque-Joao Faria, una pareja muy fuerte que a pesar de perder su primer partido, levantaron su ánimo y derrocharon un juego muy potente.
Las duplas Francisco Correia – Jorge Fontoura y Rodrigo Maya-Diogo Morgado se disputarán la otra plaza de la final masculina A a partir de las 12 horas.
En categoría masculina B, las duplas compuestas por Durao-Moreira-Gonçalves-Costa, Carvalho-Rosa-Jorge-Matías y Barreto-Varela se pelearán por el cetro de campeón de su cuadro al imponer su buen juego y ganar sin demasiados apuros en los partidos disputados hoy.
Y si en el cuadro masculino hemos tenido emociones fuertes, en el femenino no iba a ser menos. Espectáculo sin pausa sobre las pistas del club referencia en la capital lusa el que ofrecieron las jugadoras de las dos categorías.
En la absoluta,  se disfrutaron unos intensos choques en la que se demostró una gran pasión por el deporte de moda en Portugal, donde el trabajo desde los clubes comienza a dar sus frutos con un nutrido número de practicantes de todas las edades.
Inës Freire-Carenza Ferreira disputarán la primera semifinal por el título ante Rita Lopes – Joana Noronha a partir de las doce, al igual que Mónica Gomes – Madalena Nunes ante Carmo Cleto – Susana Santos.
Y en la categoría femenina B, las parejas formadas por Manuela Graça-Marta Quina, Maria Joäo Vilela-Teresa Vilela, Fátima Ferreira-Maria Joäo Araújo y Ana Alemäo-Ana Rox demostraron ser las más fuertes con un juego muy técnico y compenetrado y mañana disputarán unas semifinales que se vislumbran muy emocionantes.
Por su parte, la categoría mixta despertó un gran interés en el arranque de la prueba portuguesa en la jornada del viernes, en la que se disputaron todos sus partidos de grupo de los que salieron sus semifinalistas.
Madalena Cluny y Sebastiäo Guerra se verán las caras con Raquel Cavaco y Pedro Gomes a partir de las 10:30 de la mañana por un billete a la gran final, al igual que Patricia Moreira y Nuno Galäo, que jugarán contra Maria Sítima y Ricardo Domingos.
Todas las cartas estarán sobre la mesa y Lisboa verá mañana cómo cinco de estas parejas se alzan con el título en la octava prueba del International Padel Experience by Madison.
Puedes consultar los cuadros de juego en el siguiente enlace:
http://internationalpadel.com/lisboa2016/[:en]The Padel Campo Grande lived with intensity and emotion the second day of the Open Lisbon with large parties and an excellent atmosphere for the eighth round of the International Padel Experience by Madison, sponsored by Estrella Damm.
There were many fans who came to enjoy the new appointment of the only international amateur circuit paddle, leaving latent great boom time living paddle sport in Portugal.
From early Saturday morning, the eight tracks of the Lisbon club hosted the fifty couples participating in this test, divided into two categories male, two female and one mixed.
In the top men's encounters great emotion and a high level of game lived. The couple from Spain formed by Jerome Catriel- Eduardo Garcia managed his pass to the semifinals of Lisbon Open after defeating seriously and forcefulness to their group rivals, proving to be one of the favorite couples the title. They will meet for a place in the final to local players Pedro Roque-Joao Faria, a very strong couple who despite losing his first match, lifted his spirits and squandered a powerful game.
The pairings Francisco Correia – Jorge Rodrigo Fontoura and Maya-Diogo Morgado another square of the men's final to be played from 12 o'clock.
In the men's B category, the pairs composed of Durao-Moreira Gonçalves-Costa, Carvalho-Rosa-Jorge-Matias and Barreto-Varela by the scepter of champion of his box to impose their good play and win without too much trouble in will fight matches today.
And if in the men we had strong emotions, women would not be less. Show without pause on the ski club reference in the Portuguese capital which offered the players of the two categories.
In total, some intense clashes in which demonstrated great passion for sports fashion in Portugal, where the work from the clubs begin to bear fruit with a large number of practitioners of all ages enjoyed.
Inês Freire-Carenza Ferreira played the first semifinal for the title to Rita Lopes – Joana Noronha from twelve, like Monica Gomes – Madalena Nunes to Carmo Cleto – Susana Santos.
And in the women's category B, the couples formed by Manuela Graça-Marta Quina, Maria Joao Vilela-Teresa Vilela, Fatima Ferreira-Maria Joao Araujo and Ana Alemao-Ana Rox proved to be the strongest with a very technical and compenetrado game and tomorrow They will contest a semi-final looming very exciting.
Meanwhile, the mixed category aroused great interest at the start of the Portuguese event in the day on Friday, in which all their group matches of those who left their semifinalists were played.
Madalena Cluny and Sebastião Guerra faces with Raquel Cavaco and Pedro Gomes from 10:30 tomorrow will be a ticket to the grand final, like Patricia Moreira and Nuno Galao, who will play against Maria Sitima and Ricardo Domingos .
All the cards are on the table and Lisbon will see tomorrow how five of these couples stand with the title on the eighth round of the International Padel Experience by Madison.
You can see the pictures of play at the following link: