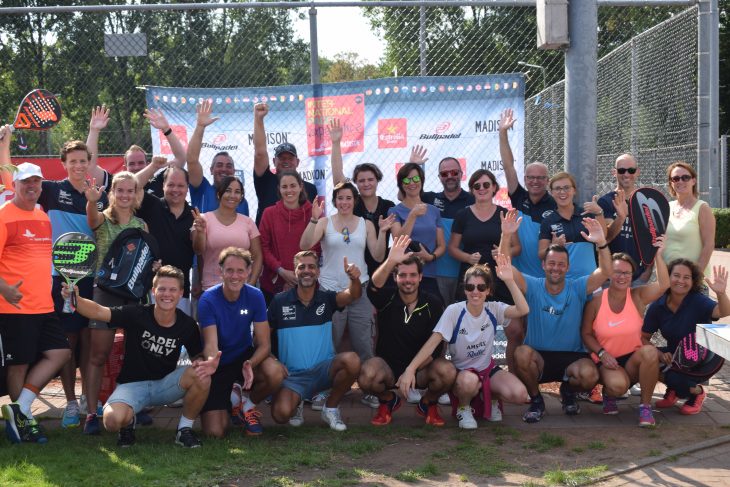 [:es]
El International Padel Experience by Madison Rotterdam Open finalizó el domingo con la disputa de las finales de cada una de las categorías. Los últimos partidos de la cita en la ciudad holandesa llegaron a su fin poniendo el broche final a una maratón de pádel llena de emoción y juego en la que los participantes pudieron disfrutar siendo protagonistas del mejor circuito internacional de pádel amateur.
Los grandes vencedores de la categoría reina de Rotterdam fueron Arwin y Antony, que lograron superar a la pareja formada por Julio y Erik. El dúo culminó con la final del domingo un gran campeonato del que se proclamaron reyes.
Los vencedores de la Categoría Masculina B fueron Marc y Stephan, que lograron imponerse a Remy y Michael en un encuentro que se resolvió en dos sets (6/4, 6/4).
En la Categoría Femenina, las grandes vencedoras de la cita de Rotterdam fueron Danielle y Danielle, que hicieron valer su superioridad frente a la pareja formada por Patricia y Claudia (6/4, 6/4).
El la Categoría Mixta fueron Pim y Violet quienes lograron meterse en el bolsillo el encuentro final ante José y Nieves. Los vencedores consiguieron resolver el último encuentro de su categoría con solvencia, concediendo un solo juego en todo el partido (6/0, 6/1).
Todos los jugadores pudieron disfrutar del ambiente de la entrega de premios acompañados de Estrella Damm y los productos de Bullpadel.
[:en]
The International Padel Experience by Madison Rotterdam Open ended on Sunday with the dispute of the finals of each of the categories. The last matches of the event in the Dutch city came to an end putting the finishing touch to a paddle marathon full of excitement and play in which participants could enjoy being protagonists of the best international circuit of amateur padel. 
The great winners of the queen category of Rotterdam were Arwin and Antony, who managed to overcome the couple formed by Julio and Erik. The duo culminated with the end of Sunday a great championship that proclaimed kings. 
The winners of the Men's Category B were Marc and Stephan, who managed to prevail over Remy and Michael in a match that was resolved in two sets (6/4, 6/4). 
In the Women's Category, the great winners of the Rotterdam event were Danielle and Danielle, who asserted their superiority against the couple formed by Patricia and Claudia (6/4, 6/4). 
In the Mixed Category were Pim and Violet who managed to put in their pocket the final match against José and Nieves. The winners managed to resolve the last match of their category with solvency, conceding only one game in the whole match (6/0, 6/1). 
All players could enjoy the atmosphere of the awards ceremony accompanied by Estrella Damm and Bullpadel products.
[:]