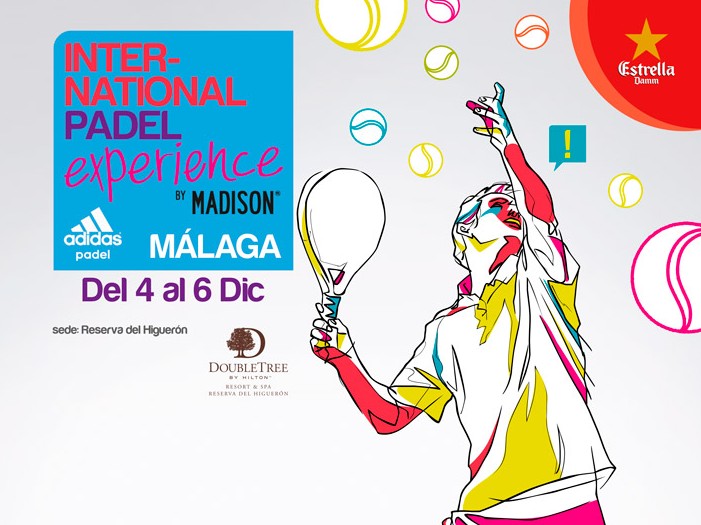 El International Padel Experience adidas by Madison patrocinado por Estrella Damm cerrará su edición de 2015 en el tradicional adidas Málaga Open. El torneo, que se celebrará del 4 al 6 de diciembre, será un escenario especial: allí se reunirán todos los campeones de los torneos del circuito amateur más importante del mundo.
El Sports Club del exclusivo Reserva del Higuerón albergará el torneo de Málaga, en el que no sólo participarán los campeones del resto de paradas del circuito 2015, sino que la inscripción está abierta para que cualquier jugador desafíe y ponga a prueba sus capacidades en el mejor circuito amateur del mundo del pádel.
Situado a un 1 kilómetro de la playa, Reserva del Higuerón ofrece a los jugadores una experiencia única. Naturaleza y pádel para un fin de semana inolvidable. Cuenta con unas instalaciones de lujo, con
pistas de pádel, gimnasio, salas de entrenamiento, espacio arena, piscina cubierta y spa. Un lugar perfecto en el que disfrutar de la naturaleza y del deporte.
El reencuentro con nuestros campeones en Málaga pondrá el broche final a la edición de 2015. ¿De verdad quieres faltar?The International Padel Experience Madison adidas sponsored by Estrella Damm will close its 2015 edition in Malaga traditional adidas Open. The tournament, to be held from 4 to 6 December will be a special stage: there all the champions of the most important tournaments in the world will meet amateur circuit.
The Sports Club's exclusive Higueron Malaga will host the tournament, which involve not only the champions of other stops on the circuit 2015, but registration is open to any player challenge and test their abilities in the best World amateur circuit paddle.
Located just a 1 kilometer from the beach, Higueron offers players a unique experience. Nature and paddle for a memorable weekend. It features luxurious amenities, with paddle tennis courts, gym, workout rooms, space arena, indoor pool and spa. A perfect place to enjoy nature and sport.
The reunion with our champions in Málaga put the finishing touch to the edition of 2015. Do you really want to miss?