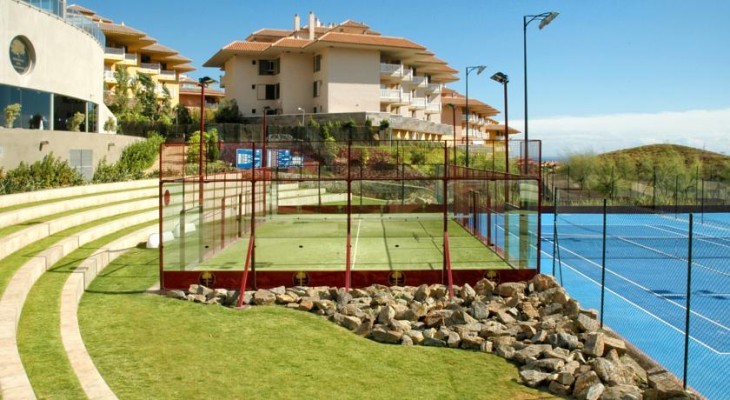 [:es]Apenas quedan unas semanas para que el International Padel Experience by Madison, patrocinado por Estrella Damm, llegue a su etapa final: el Málaga Open,  la última cita del único circuito internacional de pádel amateur que tendrá lugar del 25 al 27 de noviembre.
La sede será el prestigioso club DoubleTree by Hilton Resort & Spa Reserva del Higuerón, uno de los mejores enclaves para la práctica del pádel a lo largo de la malacitana Costa del Sol.
Los campeones tendrán la oportunidad de disfrutar de dos noches con desayuno incluido en el Hotel, a 1 kilómetro de la playa, para poder disfrutar del complejo deportivo en la disputa del adidas Málaga Open. 11 pistas de pádel, gimnasio, salas de entrenamiento, espacio arena, piscina cubierta y spa hacen de Reserva del Higuerón un lugar perfecto en el que jugar al pádel.
DoubleTree by Hilton Resort & Spa Reserva del Higuerón es uno de los lugares marcados en el mapa del pádel andaluz y, cada vez más, su importancia se extiende a nivel nacional. Es por ello que se constituye como el lugar idóneo para poner el broche final al circuito amateur más importante del año.
Este gran club es uno de los grandes reclamos del Málaga Open, al igual que sus fabulosos premios. Los campeones de la máxima categoría recibirán palas de alta gama de Bullpadel y dos entradas para el Estrella Damm Master Final.
Además, el resto de vencedores recibirán material deportivo de Bullpadel y todos los jugadores podrán saborear las virtudes de la cerveza Estrella Damm, que estará presente en durante todas las jornadas. Y solamente por participar en el Málaga Open los jugadores recibirán un magnífico welcome pack, compuesto por un cómodo gymsack y el polo oficial del International Padel Experience by Madison 2016. 
En los próximos días se cierra el proceso de inscripción para esta última prueba, por lo que si estás interesado en participar, inscríbete cuanto antes para no perderte este atractivo torneo. Es tan fácil como pinchar en el siguiente enlace y rellenar los datos.  Pueden participar todos los jugadores y jugadoras que lo deseen, sea cual sea su nivel, ya que el circuito es totalmente amateur:
http://internationalpadel.com/malaga2016/
[:en]Just a few weeks left for the International Padel Experience by Madison, sponsored by Estrella Damm, reaches its final stage: Malaga Open, the last appointment of the only international amateur circuit paddle which will take place from 25 to 27 November.
The venue will be the prestigious club DoubleTree by Hilton Resort & Spa Higueron, one of the best places to practice paddle along the Costa del Sol malacitana.
The champions will have the chance to enjoy two nights with breakfast at the Hotel, 1 kilometer from the beach to enjoy the sports complex in the dispute Malaga adidas Open. 11 tracks of paddle tennis, gym, training rooms, arena space, indoor pool and spa Higueron make a perfect place to play paddle tennis.
DoubleTree by Hilton Resort & Spa Higueron is one of the places marked on the map of the Andalusian paddle and, increasingly, their importance extends nationwide. That is why it is as the ideal place to put the finishing touch to this year's biggest amateur circuit.
This great club is one of the major claims of Malaga Open, like their fabulous prizes. The champions of the highest category receive high-end blades Bullpadel and two tickets to the Final Master Estrella Damm.
In addition, other winners will receive sports equipment Bullpadel and all players can enjoy the virtues of beer Estrella Damm, who will attend for all days. And only for participating in the Open Malaga players will receive a great welcome pack, consisting of a comfortable Gymsack and the official pole of the International Padel Experience Madison by 2016.
In the coming days the registration process is closed for this last test, so if you are interested in participating, please register as soon as possible to not miss this exciting tournament. It's as easy as clicking on the link below and fill in the details. all players and players who wish can participate, whatever their level, as the circuit is completely amateur: