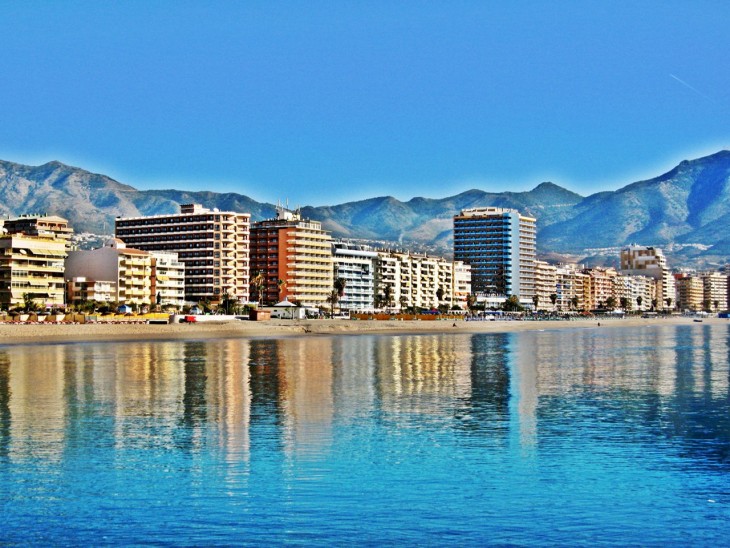 [:es]Fuengirola acoge un año más la gran final del International Padel Experience by Madison en las fantásticas instalaciones de la Reserva del Higuerón Resort.
Tras pasar por las grandes capitales europeas a lo largo de este año, el International Padel Experience reúne a los grandes ganadores de las demás sedes del 25 al 27 de noviembre para poner el broche de oro al circuito.
Para disfrutar de este emocionante deporte y del mejor pádel amateur, junto a la variada oferta turística que puede ofrecer Fuengirola, os proponemos desde el International Padel Experience by Madison los imprescindibles del municipio malagueño:
Castillo Sohail: El castillo Sohail se encuentra en una localización excepcional, ya que se eleva a 38 metros por encima del nivel del mar, lo que permite disfrutar a quienes lo visitan de unas estupendas vistas al mediterráneo y al municipio de Fuengirola. El enclave se sitúa en sus inicios en la época califal, donde posteriormente se edificó el recinto defensivo del que hoy se conservan las murallas y las almenaras. En la actualidad se celebran varios eventos, como el Mercado Medieval o la Fiesta de la Cerveza.
Parque Yacimiento Romano- Finca del Secretario: Este enclave romano está formado por dos áreas diferenciadas: la zona industrial, donde se pueden ver hornos y se ha encontrado cerámica de la época, y la zona termal, donde se encuentran varias estancias aclimatadas, mosaicos y una gran piscina. El conjunto arquitectónico se estima entre los siglos I y V d.C.
Bioparc Fuengirola: Este parque de animales está diseñado con la intención de promover la conservación de los bosques tropicales, la vida animal y vegetal y la protección de las culturas y los pueblos característicos de este hábitat. Podrás disfrutar de la mano de un experto biólogo las maravillas que puede ofrecer este ecosistema situado en el corazón de Fuengirola.
Plaza de los Chinorros: La plaza de los Chinorros es el punto de reunión para todo tipo de encuentros culinarios de Fuengirola. Esta conocida plaza se encuentra rodeada de diversos bares de tapas y de copas.
Puerto Deportivo: Situado en pleno paseo marítimo de Fuengirola, este puerto deportivo ofrece la posibilidad de practicar numerosos deportes náuticos, como buceo, vela o pesca, y de realizar excursiones para el avistamiento de delfines, ballenas o cachalotes.
Gracias al International Padel Experience by Madison podrán disfrutar de Fuengirola y sus encantos. Recorrer sus calles, disfrutar sus playas y la calidez de la costa del sol, conocer su historia y sobre todo disfrutar del mejor pádel amateur.  Las inscripciones para el Málaga Open siguen abiertas, pero son limitadas, así que no dudes en inscribirte en el siguiente enlace: http://internationalpadel.com/malaga2016/[:en]Fuengirola hosts one more time the final of the International Padel Experience by Madison in the fantastic facilities of The Higueron Resort.
After passing through the major European capitals throughout this year, the International Padel Experience brings together the winners from other venues from 25 to 27 November to put the final  point on the circuit.
To enjoy this exciting sport and the best amateur padel along the various tourist attractions that can offer Fuengirola, we propose from the International Padel Experience by Madison's essential the Malaga municipality:
The Sohail Castle: The Sohail Castle is in an exceptional location as it rises to 38 meters above sea level, allowing its visitors enjoy great views of the Mediterranean and the town of Fuengirola. The enclave is in its infancy in the Caliphate, where later the defense enclosure walls to day are preserved and the beacons were built. At present several events like the Medieval Market or the Beer Festival are held.
Roman site – Finca del Secretario: This Roman enclave consists of two distinct areas: the industrial area, where you can see kilns and pottery found the time, and the thermal area, where several acclimated stays, mosaics and a large pool. The architectural complex is estimated between I and V centuries A.D.
Bioparc Fuengirola: This animal park is designed with the intent to promote the conservation of tropical forests, animal and plant life and the protection of cultures and peoples characteristic of this habitat. You can enjoy the hand of an expert biologist wonders that can offer this ecosystem located in the heart of Fuengirola.
Chinorros Square: The square of the Chinorros is the meeting point for all kinds of culinary encounters of Fuengirola. This famous square is surrounded by various tapas bars and drinks.
Puerto Sports: Located on the promenade of Fuengirola, this marina offers the possibility to practice numerous water sports such as diving, sailing or fishing, and excursions for whale dolphins, whales and sperm whales.
Thanks to the International Padel Experience by Madison will enjoy Fuengirola and its charms. Walk its streets, beaches and enjoy the warmth of the Costa del Sol, know its history and especially enjoy the best amateur paddle. Registration for the Open Malaga remain open, but they are limited, so do not hesitate to register at the following link: http://internationalpadel.com/en/malaga2016/[:]