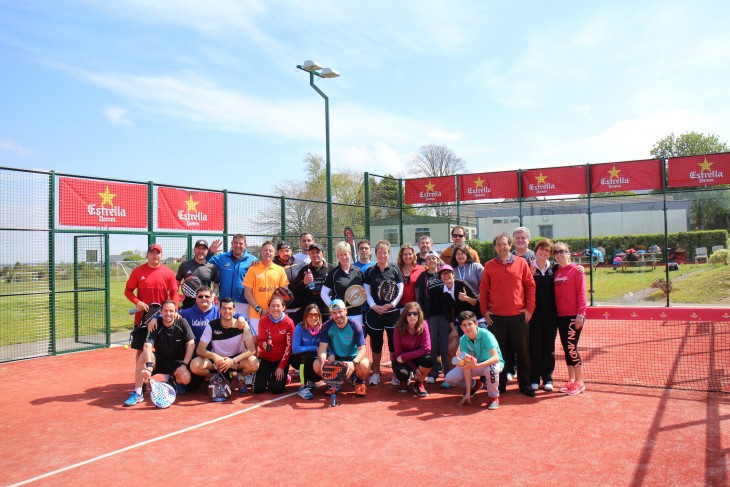 [:es]Continuamos nuestro repaso por las distintas pruebas del International Padel Experience 2016, patrocinado por Estrella Damm, para recordar los grandes momentos vividos a lo largo del único circuito internacional amateur que existe. Hoy es el turno de retroceder en el tiempo y volar hasta tierras irlandesas, en concreto hasta las instalaciones del Rockbrook Padel Club, que debutaba en el circuito con la disputa de un fantástico Dublin Open con un marcado sabor español.
Los hermanos Cabello (Joe -presidente de la Federación-, Jesús y Álvaro) y su equipo demostraron que el deporte de moda en España tiene un futuro muy prometedor en Irlanda, donde el trabajo de la Federación comienza a dar sus frutos con un nutrido número de practicantes de todas las edades. De hecho, uno de los grandes alicientes del fin de semana residió en el torneo júnior que se disputó en la jornada del viernes. Las jóvenes promesas locales exhibieron sus cualidades en el gran escaparate que representa el International Padel Experience by Madison.
Enrique Hidalgo y Javier Aragonés, cordobeses del club La Carlota que viajaron a Dublín para disfrutar del único circuito internacional de pádel amateur que existe, levantaron el título en la competición A masculina, donde se impusieron en la final a Luis Barba y Antonio Saura (6-2 y 6-1), y se hicieron con las entradas para ver en directo el Estrella Damm Máster Final, así como con las palas Bullpadel y las dos noches de hotel para disputar el último torneo del IPE by Madison, en Reserva del Higuerón Resort.
El mismo botín obtuvieron Beatriz y Marta Sainz, quienes consiguieron estampar su sello en la máxima categoría femenina del Dublin Open. Las españolas lograron la machada en las semifinales, donde superaron a las grandes favoritas, Ana Beatriz y Nieves Ríos, en uno de los partidos más equilibrados del fin de semana que se resolvió en un tie break apasionante (6-3, 4-6 y 7-6). En la final, Marta y Beatriz se midieron a Laila y Paula Nevado, que superaron en semifinales a Orla y Debbie Brown (6-2 y 6-3). Y como hicieron en el penúltimo duelo, las andaluzas volvieron a lucir sonrisa en el epílogo y se coronaron como brillantes campeonas del Dublin Open tras finiquitar la batalla en dos mangas (6-3 y 6-4).
En la categoría B masculina, los triunfadores fueron Jesús y Miguel, que doblegaron en dos sets a los también españoles, Jorge y Víctor. Los campeones firmaron un 6-3 y 6-4 que les concede el título en el Dublin Open y certificaron el gran dominio de los jugadores españoles durante todo el torneo.
https://www.youtube.com/watch?v=gkIR0AR_Jxc&t=21s[:en]We continue our review of the various tests of the International Padel Experience 2016, sponsored by Estrella Damm, to remember the great moments lived along the only international amateur circuit that exists. Today it is the turn to go back in time and fly to Irish lands, specifically to the facilities of the Rockbrook Padel Club, which debuted on the circuit with the dispute of a fantastic Dublin Open with a marked Spanish flavor.
The brothers Cabello (Joe, president of the Federation), and his team showed that the sport of fashion in Spain has a very promising future in Ireland, where the work of the Federation begins to bear fruit with a large number Of practitioners of all ages. In fact, one of the great inducements of the weekend resided in the junior tournament that was disputed in the day of Friday. The young local promises exhibited their qualities in the grand showcase represented by the International Padel Experience by Madison.
Enrique Hidalgo and Javier Aragonés, from La Carlota, who traveled to Dublin to enjoy the only amateur paddle international circuit in existence, lifted the title in the men's competition, where Luis Barba and Antonio Saura (6 -2 and 6-1), and made the tickets to see the Estrella Damm Master Final live, as well as Bullpadel and the two hotel nights to compete in the last IPE by Madison tournament in Reserva del Higuerón Resort.
Beatriz and Marta Sainz won the same prize, who managed to stamp their seal in the top women's category of the Dublin Open. The Spaniards achieved the ax in the semifinals, where they beat the favorites Ana Beatriz and Nieves Ríos in one of the most balanced matches of the weekend that was solved in an exciting tie break (6-3, 4-6 and 7-6). In the final, Marta and Beatriz were measured to Laila and Paula Nevado, who surpassed Orla and Debbie Brown in the semifinals (6-2 and 6-3). And as they did in the penultimate duel, the Andalusians returned to smile in the epilogue and were crowned as brilliant champions of the Dublin Open after ending the battle in two sleeves (6-3 and 6-4).
In the men's category B, the winners were Jesus and Miguel, who defeated the Spaniards Jorge and Victor in two sets. The champions signed a 6-3 and 6-4 that grants them the title in the Dublin Open and certified the great dominion of the Spanish players throughout the match.