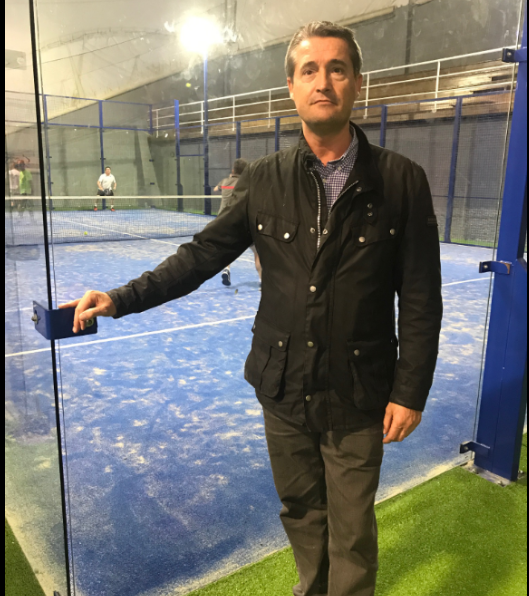 [:es]El International Padel Experience by Madison, patrocinado por Estrella Damm, hará su quinta parada del 26 al 28 de mayo en el Padel Serradels de Andorra.
Eduard Magrinyà, dueño del Padel Serradels, analiza la situación del pádel en Andorra y que supone la llegada del International Padel Experience by Madison.
Pregunta: ¿Qué servicios e instalaciones ofrece a sus usuarios en el club?
Respuesta: Ofrecemos 5 pistas de pádel, 4 de ellas dentro de un globo con mas de 20 metros de altura y 1 más de pádel exterior cubierta. También disponemos de la única pista de tenis de tierra batida de Andorra
P: ¿Cuántos aficionados acuden al club a practicar pádel?
R: Calculamos que al mes vienen mas de 250 practicantes.
P: ¿Qué perfil tienen los jugadores de pádel en Andorra?
R: El perfil suele ser Hombres de 26 a 58 años y mujeres de 25 a 55
P: ¿Cómo está evolucionando el pádel en Andorra?
R: Actualmente la oferta de pádel en Andorra está creciendo desmesuradamente, tenemos muchas pistas para pocos jugadores pero esperamos que con la entrada del International Padel Experience by Madison sean más personas las que se animen a probar y jugar a pádel.
P: ¿Qué supuso la llegada del IPE by Madison a la ciudad y a los clubes?
R: Una apuesta de torneo de calidad con una organización excepcional que nos honra que por segundo año consecutivo nos haya dado la organización de su evento en nuestras instalaciones.
P: ¿Está generando expectación el Andorra Open?
R: Mucha, este año además de las parejas de Andorra también tendremos parejas que vienen de España y una pareja de Egipto
P: ¿Cuáles son los objetivos del club en el futuro?
R: Nuestro objetivo es crecer día a día y que nuestro cliente se sienta en nuestro club como en casa, queremos ser un club de proximidad y ponemos todos los medios a nuestro alcance para conseguirlo.[:en]The International Padel Experience by Madison, sponsored by Estrella Damm, will make its fifth stop from 26 to 28 of May at Padel Serradels in Andorra.
Eduard Magrinyà, owner of Padel Serradels, analyzes the situation of the paddle in Andorra and  what suppose the arrival of the International Padel Experience by Madison.
Question: What services and facilities do you offer to your users in the club?
Answer: We offer 5 paddle courts, 4 of them inside a balloon with more than 20 meters of height and 1 covered paddle court outside. We also have the only clay tennis court in Andorra.
Q: How many fans come to the club to play paddle?
A: We estimate that there are more than 250 players per month.
Q: What profile do paddle players have in Andorra?
A: The profile is usually men from 26 to 58 years and women from 25 to 55.
Q: How is the paddle evolving in Andorra?
A: Currently, paddle tennis in Andorra is growing extremely large, we have many courts for a few players but we hope that with the entry of the International Padel Experience by Madison, more people will be encouraged to try and play paddle.
Q: What was the arrival of the IPE by Madison to the city and the clubs?
A: A quality tournament bet with an exceptional organization that honors us for the second consecutive year has given us the organization of the event in our facilities.
Q: Is the Andorra Open generating excitement?
A: A lot, this year in addition to Andorra couples we will also have couples coming from Spain and a couple from Egypt
Q: What are the goals of the club in the future?
A: Our goal is to grow day by day and that our clients feel in our club as at home, we want to be a proximity club and we always to get it.[:]