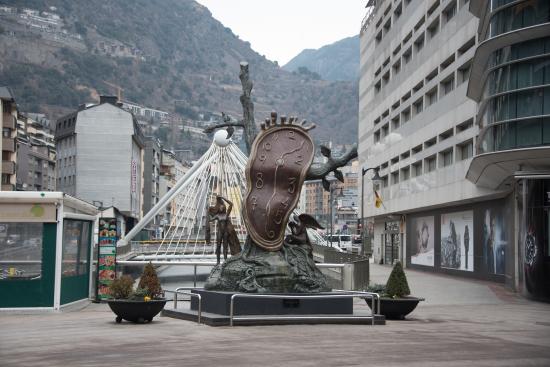 [:es]El International Padel Experience by Madison hace su quinta parada del circuito en la ciudad de Andorra. Qué mejor plan que, ya que vas a participar en el Andorra Open, aproveches para conocer una nueva ciudad. Dicen que viajar te hace crecer como persona y adquirir nuevos puntos de vista, así que… te dejamos los lugares más importantes de la ciudad para que no te pierdas nada y disfrutes de un gran fin de semana.
La Noblesse du Temps: esta escultura de Salvador Dalí es de visita obligatoria en la ciudad. Situada en pleno corazón de Andorra, un lugar de tránsito y agradable de visitar. La escultura fue donada en 1999 al estado andorrano y el propietario era su colaborador Eric Sabater.
Casa de la Vall situada en el centro de la ciudad, está considerada como parte importante de la historia de Andorra, ya que el edificio se convirtió en sede parlamentaria de una de las instituciones con más antigüedad de Europa, el Consejo General.
La Iglesia de San Esteban forma parte del Patrimonio Cultural de Andorra. El estilo de esta iglesia era originariamente romántico del siglo XII, pero actualmente ha sufrido varias modificaciones y ampliaciones.
Caldea situado en pleno centro urbano de Andorra, este balneario es uno de los más transitados de la zona. El diseño vanguardista del edificio, sus aguas termales y los distintos servicios que ofrece convierte a Caldea en un atractivo único en Andorra[:en]The International Padel Experience by Madison makes its fifth stop of the circuit in the city of Andorra. What better plan than, as you are going to participate in the Andorra Open, take advantage to know a new city. It is usually said say that traveling makes you grow as a person and acquire new points of view, so … we let you the most important places of the city so you do not miss anything and enjoy a great weekend.
La Noblesse du Temps This sculpture by Salvador Dalí is a must visit in the city. Located in the heart of Andorra, a place of transit and pleasant to visit. The sculpture was donated in 1999 to the Andorran state and its owner was his collaborator Eric Sabater.
Casa de la Vall located in the center of the city, is considered an important part of the history of Andorra, since the building became parliamentary seat of one of the oldest institutions in Europe, the General Council.
The Church of San Esteban is part of the Cultural Heritage of Andorra. The style of this church was originally romantic of century XII, but at the moment has undergone several modifications and extensions.
Caldea located in the heart of Andorra, this spa is one of the busiest in the area. The avant-garde design of the building, its hot springs and the various services it offers make Caldea a unique attraction in Andorra.[:]