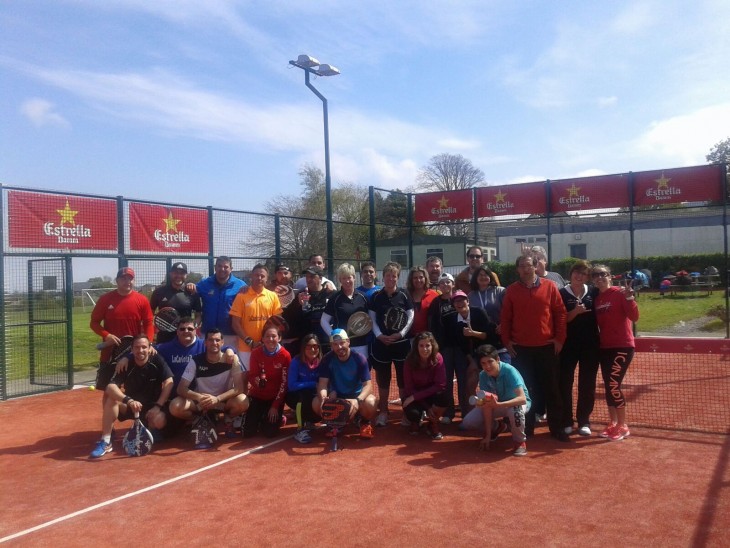 [:es]El Dublin Open echó el telón con un excelente fin de fiesta, en el que los jugadores españoles que se desplazaron a la capital irlandesa para disputar el torneo impusieron su ley en un desenlace, que dejó grandes momentos de pádel amateur en el Rockbrook Padel Club. La segunda parada del International Padel Experience by Madison, patrocinado por Estrella Damm, significó el debut del club irlandés en el circuito y el estreno no pudo ser mejor. Los hermanos Cabello (Joe -presidente de la Federación-, Jesús y Álvaro) y su equipo demostraron que el deporte de moda en España tiene un futuro muy prometedor en Irlanda, donde el trabajo de la Federación comienza a dar sus frutos con un nutrido número de practicantes de todas las edades. De hecho, uno de los grandes alicientes del fin de semana residió en el torneo júnior que se disputó en la jornada del viernes. Las jóvenes promesas locales exhibieron sus cualidades en el gran escaparate que representa el International Padel Experience by Madison.
Enrique Hidalgo y Javier Aragonés, cordobeses del club La Carlota que viajaron a Dublín para disfrutar del único circuito internacional de pádel amateur que existe, levantaron el título en la competición A masculina, donde se impusieron en la final a Luis Barba y Antonio Saura (6-2 y 6-1), y se hicieron con las entradas para ver en directo el Estrella Damm Máster Final, así como con las palas Bullpadel y las dos noches de hotel para disputar el último torneo del IPE by Madison, en Reserva del Higuerón Resort.
El mismo botín obtuvieron Beatriz y Marta Sainz, quienes consiguieron estampar su sello en la máxima categoría femenina del Dublin Open. Las españolas lograron la machada en las semifinales, donde superaron a las grandes favoritas, Ana Beatriz y Nieves Ríos, en uno de los partidos más equilibrados del fin de semana que se resolvió en un tie break apasionante (6-3, 4-6 y 7-6). En la final, Marta y Beatriz se midieron a Laila y Paula Nevado, que superaron en semifinales a Orla y Debbie Brown (6-2 y 6-3). Y como hicieron en el penúltimo duelo, las andaluzas volvieron a lucir sonrisa en el epílogo y se coronaron como brillantes campeonas del Dublin Open tras finiquitar la batalla en dos mangas (6-3 y 6-4).
En la categoría B masculina, los triunfadores fueron Jesús y Miguel, que doblegaron en dos sets a los también españoles, Jorge y Víctor. Los campeones firmaron un 6-3 y 6-4 que les concede el título en el Dublin Open y certifica el gran dominio de los jugadores españoles durante todo el torneo.
Con la disputa de las finales, el Dublin Open puso el mejor broche a un fin de semana inolvidable en el Rockbrook Padel Club, una magnífica instalación que ha abierto sus puertas de par en par para albergar la segunda etapa del International Padel Experience by Madison, cuyo tercer capítulo tendrá como escenario el Padel Club Serradells de Andorra, del 20 al 22 de mayo.
[:en]The Dublin Open threw the curtain with a great finale, in which the Spanish players to the Irish capital moved to contest the tournament imposed their law in an outcome that left great moments of amateur padel in the Rockbrook Padel Club. The second stop on the International Padel Experience by Madison, sponsored by Estrella Damm, marked the debut of the Irish club in the circuit and the release could not be better. Cabello brothers (Joe, president of the Federation-, Jesus and Alvaro) and his team showed that sport fashionable in Spain has a very promising future in Ireland, where the work of the Federation begins to bear fruit with a large number practitioners of all ages. In fact, one of the great attractions of the weekend resided in the junior tournament held on Friday evening. Local young promises showed their qualities in the great showcase representing the International Padel Experience by Madison.
Enrique Hidalgo and Javier Aragones Cordovan club La Carlota who traveled to Dublin to enjoy the unique international circuit of amateur padel there, lifted the title in the competition A male, where they were imposed in the final to Luis Barba and Antonio Saura (6 -2 and 6-1), and were made with tickets to see live Masters Final Estrella Damm and Bullpadel with shovels and two hotel nights to play the last tournament of the IPE by Madison in Higueron Resort.
The same booty obtained Marta Beatriz and Sainz, who managed to put his stamp on the top women's category of the Dublin Open. The Spanish machada achieved in the semifinals, where they outscored the favorites, Ana Beatriz and Nevis Rios, one of the most balanced games of the weekend that was decided in a tie break exciting (6-3, 4-6, 7-6). In the final, Marta and Beatriz were measured at Laila and Paula Nevado, who beat in the semifinals Orla and Debbie Brown (6-2, 6-3). And as they did in the penultimate match, the Andalusian smile again look in the epilogue and were crowned champions Dublin bright finalize Open after the battle in two sets (6-3, 6-4).
In the male category B, the winners were Jesus and Miguel, who bowed in straight sets to also Spanish, Jorge and Victor. The champions signed a 6-3 6-4 granting them the title in the Dublin Open and certifies mastery of the Spanish players throughout the tournament.
With the dispute of the finals, the Dublin Open put the best snap an unforgettable weekend in the Rockbrook Padel Club, a magnificent facility that has opened its doors wide to host the second stage of the International Padel Experience by Madison, whose third chapter will stage the Padel Club Serradells of Andorra, from 20 to 22 May.[:]