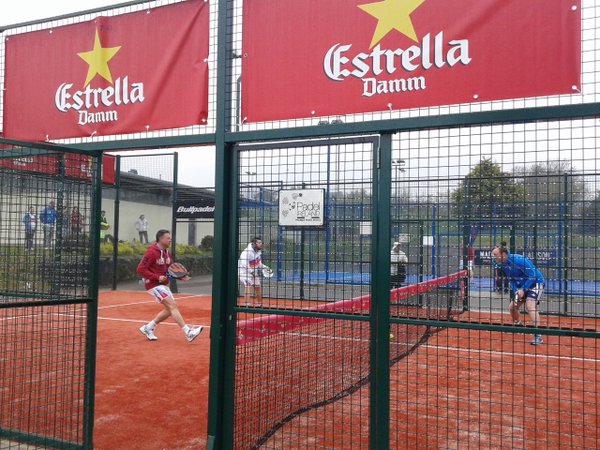 [:es]La segunda prueba del International Padel Experience by Madison, patrocinado por Estrella Damm ha vivido una jornada llena de espectáculo y grandes partidos, en un Rockbrook Padel Club de Dublín al que han acudido numerosos espectadores con ganas de disfrutar del deporte de moda en Irlanda.
El torneo comenzaba en el día de ayer con los partidos correspondientes a la categoría C masculina. Estos encuentros dejaron detalles de mucha calidad y levantaron el asombro de los presentes en la jornada de apertura del Dublin Open en la que destacaron dos parejas por encima de todas: la formada por la pareja José María-Miguel L y la compuesta por Eoghan-Patrick. 
Ambas duplas demostraron un gran nivel de juego y sus partidos derrocharon pasión por este deporte y ganas por seguir creciendo y mejorando. El partido decisivo cayó del lado de la pareja española José María y Miguel, de Valencia y Madrid, por un resultado de 6-3 y 6-1, ante la atenta mirada de los primeros espectadores del IPE by Madison en Irlanda.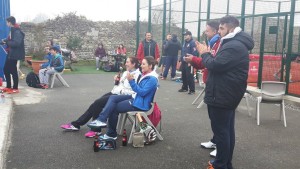 Sin interrupción, las dos pistas del Rockbrook Padel Club han vivido en la jornada de hoy los partidos de las categorías A y B masculinas y la femenina y de nuevo ha vuelto a quedar latente el gran nivel de juego que hay en esta ciudad, al igual que la expectación que hay por este deporte.
En la categoría A masculina la dupla formada por Enrique y Javier se han impuesto en todos sus encuentros sin ceder ni un set, liderando el grupo 1 con autoridad y demostrando ser una de las parejas más fuertes del campeonato. Se jugarán el pase a la final en el día de mañana frente al ganador de la liguilla de segundos, que saldrá de las parejas Kevin-James, Mike Marcel y David Álvaro.
La otra semifinal la jugarán los líderes de los grupos 2 y 3. Ronnie-Javier y Luis-Antonio se enfrentarán por la una plaza en la final tras ganar sus respectivos encuentros con solvencia y buen juego. Se espera un bonito cruce entre dos de las parejas que más aplausos han desatado entre los presentes.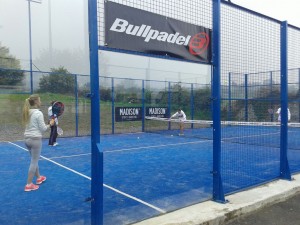 En cuanto a la categoría femenina, cabe destacar la gran afición del pádel en el sector femenino dentro de Dublín. El partidazo del día ha sido sin duda el que nos han brindado las parejas Paula-Laia frente a Ana Beatriz-Nieves, lleno de emoción, igualdad y puntos de gran nivel que han provocado una ovación final para ambas duplas. El resultado de este enfrentamiento ha sido de 7-6 y 7-5.
Ana Beatriz y Nieves han disputado los partidos del Dublin Open estrenándose como pareja y el resultado ha sido más que satisfactorio. Mañana se verán las caras en la semifinal frente a Beatriz y Marta, otra de las parejas más destacadas del día. En el otro partido por la final Paula y Laia se cruzarán con Orla y Debbie.
Por último, también se han jugado los partidos correspondientes a la categoría B masculina. Con emoción e intriga hasta pasadas las once la noche, las parejas han luchado por el paso a las deseadas semifinales de mañana. Finalmente, entre las parejas Jorge-Víctor, Carlos Vega-Antonio L, Leonardo-David y Jesús-Miguel estará la campeona de su categoría. Habrá un enfrentamiento por la final entre dos de las parejas procedentes de la expedición cordobesa de La Carlota, club que ha llevado a algunos de sus jugadores expresamente para este torneo que cuenta con la participación de parejas de Francia, Italia, Nigeria, Suiza, Inglaterra, España e Irlanda.
El tiempo ha respetado esta segunda jornada del Dublin Open y a pesar de comenzar con lluvias, desde las once de la mañana el día ha sido de lo más agradable.
Todas las cartas estarán sobre la mesa y Dublín verá mañana cómo tres de estas parejas se alzan con el título en la segunda prueba del International Padel Experience by Madison.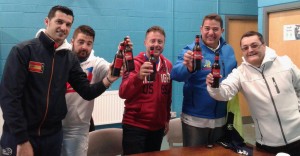 [:en]The second test by the International Padel Experience Madison, sponsored by Estrella Damm has lived a day full of entertainment and great parties in a Rockbrook Dublin Padel Club which have come numerous spectators eager to enjoy the fashionable sport in Ireland.
The tournament began yesterday on the parties under Category C male. These encounters left details of high quality and raised the astonishment of those present at the opening day of the Dublin Open in which highlighted two couples above all: the one formed by the couple José María-Miguel L and composed by Eoghan-Patrick .
Both pairs demonstrated a high level of play and their parties lavished passion for the sport and desire to continue growing and improving. The decider fell on the side of the Spanish partner Jose Maria and Miguel, Valencia and Madrid, by a score of 6-3, 6-1, under the watchful eye of the first viewers of IPE by Madison in Ireland.
Without interruption, the two tracks of Rockbrook Padel Club have lived in the day today games male A and B categories, and female and again has again become dormant the high level of play there is in this city, like the expectation there for the sport.
In category A male the pairing of Enrique and Javier have been imposed on all their matches without dropping a set, leading the gr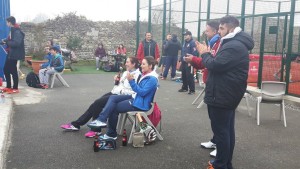 oup 1 with authority and proving to be one of the strongest couples championship. the pass to the finals tomorrow will play against the winner of the second round robin, which goes from Kevin-James, Mike Marcel and David Alvaro couples.
The other semifinal will be played by the leaders of the groups 2 and 3. Ronnie-Javier and Luis-Antonio will meet for a place in the final after winning their respective matches with solvency and good game. a nice cross between two of the couples who have unleashed more applause among those present expected.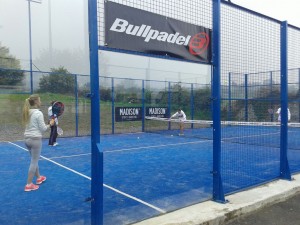 The women's category included the great love of paddle tennis in the women's sector in Dublin. The great match of the day was undoubtedly they have given us the Laia Paula-couples against Ana Beatriz-Nevis, full of emotion, equality and high-level points that have led to a final ovation for both pairs. The result of this confrontation was 7-6 and 7-5.
Ana Beatriz and Nevis have played matches Dublin Open debuting as a couple and the result has been more than satisfactory. Tomorrow will face in the semifinal against Marta Beatriz and another of the most prominent couples day. In the other game by the final Paula and Laia they will cross with Orla and Debbie.
Finally, the parties have also played under Category B male. With excitement and intrigue until after eleven at night, couples have fought for the move to the desired semifinals tomorrow. Finally, among couples Jorge-Victor Antonio Carlos Vega-L, Leonardo-David and Jesus-Miguel will be the champion in its class. There will be a showdown for the final between two of the couples from the Cordoba expedition of La Carlota, club that has led to some of his players specifically for this tournament has the participation of partners from France, Italy, Nigeria, Switzerland, England , Spain and Ireland.
Time has respected this second day of the Dublin Open and despite starting with rains, from eleven o'clock the day was most enjoyable.
All the cards are on the table and Dublin will see tomorrow how three of these couples stand with the title in the second round of the International Padel Experience by Madison.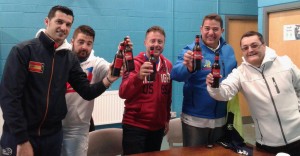 [:]