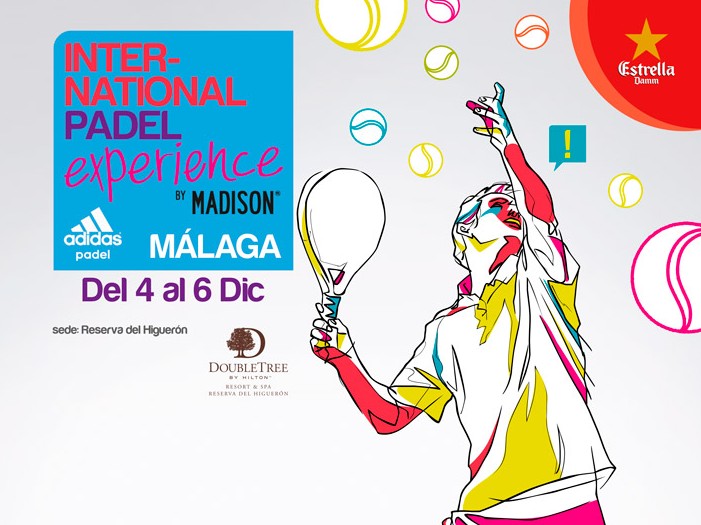 Todas las parejas ganadoras de cualquier categoría en los torneos del International Padel Experience adidas by Madison 2015 han sido invitadas al último torneo del año. Más de 30 campeones de los 6 torneos que se han disputado hasta la fecha tendrán la oportunidad de medir su verdadero nivel en el adidas Málaga Open, la última parada del circuito amateur más importante del mundo del pádel.
Milán, Valladolid, Turín, Berlín, Amsterdam y Birmingham han sido las ciudades a las que el IPE adidas by Madison se ha trasladado a lo largo del año. Los ganadores en estas ciudades podrán tener acceso al torneo final y desde la organización del mejor circuito amateur del mundo ya nos hemos puesto en contacto hacerles llegar la invitación.
La final se disputará en el prestigioso club Reserva del Higuerón, cercano a la localidad de Fuengirola. Sus más de 10 pistas de pádel y sus exclusivas instalaciones, dedicadas al bienestar de los jugadores que participen en el torneo, hacen que uno de los mejores clubes de la Costa del Sol albergue el torneo que cerrará la edición 2015.
Anímate y participa, ya que además de los ganadores, cualquiera puede disputar el adidas Málaga Open los días 4,5 y 6 de diciembre.All winning couples of any category in the International Padel Tournament Experience Madison adidas by 2015 have been invited to the last tournament of the year. More than 30 champions of the 6 tournaments that have been played so far will have the opportunity to measure their true level in the adidas Málaga Open, the last stop of the most important world amateur circuit paddle.
Milan, Valladolid, Turin, Berlin, Amsterdam and Birmingham were the cities that the IPE adidas by Madison has moved throughout the year. The winners in these cities will have access to the final tournament and the organizers of the world's best amateur circuit we have already contacted them get the invitation.
The final will be played at the prestigious club Higueron, near the town of Fuengirola. Its 10 paddle and exclusive facilities, dedicated to the welfare of the players participating in the tournament, make one of the best clubs in the Costa del Sol hostel tournament that will close the 2015 edition.
Go ahead and participate, as well as the winners, anyone can dispute the adidas Málaga Open on 4,5 and 6 December.