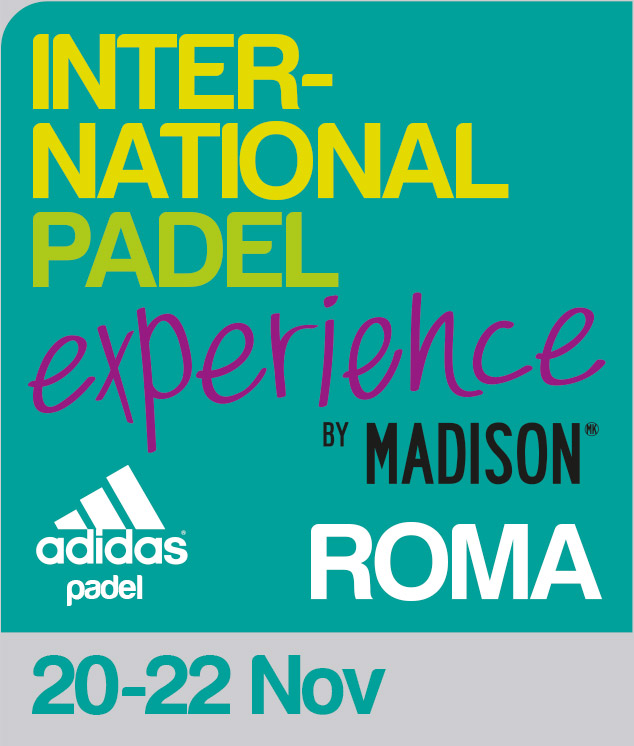 Los próximos 20,21 y 22 de noviembre tienes una doble cita con el mejor circuito amateur del mundo del pádel. Tras abrir el período de inscripción para el adidas Madrid Open, llega la última cita fuera de España del International Padel Experience adidas by Madison 2015. El Helios Village de la vía Ostense, situada en la capital italiana, será la sede que albergará el adidas Roma Open.
El Helios Village es una de las mejores escuelas de formación del tenis italiano. Cómo explicamos en este artículo,  se trata de una de las canteras mque más incide en la formación y, por fortuna, se han sumado a la moda del deporte más adictivo. La estructura incluye 7 campos en Terra Rossa, 1 campo en el Campo-Green set y 1 cubierta de goma más, una Zona Locker dedicada sólo a las actividades.
Prepara ya tu fin de semana en Roma e inscríbete en el adidas Roma Open. El mejor circuito de pádel amateur te está esperando.
Toda la información en http://internationalpadel.com/roma2015/The next 20,21 and 22 November have a double date with the best amateur circuit in the world of paddle. After opening the registration period for the adidas Madrid Open, reached the final round out of Spain the International Padel Experience Madison adidas by 2015. The Helios Village of Ostense track, located in the Italian capital will host that will host the adidas Rome Open .
The Helios Village is one of the best training schools of Italian tennis . As explained in this article, it is one of the quarries Mque greatest impact on training and , fortunately , have joined the fashion of the most addictive sport. The structure includes 7 fields in Terra Rossa , 1 golf at the Golf -Green set and one rubber cover over a Locker Zone dedicated only to activities.
Prepares and your weekend in Rome and sign up for the adidas Rome Open . The best amateur circuit paddle awaits.
All information on http://internationalpadel.com/roma2015/