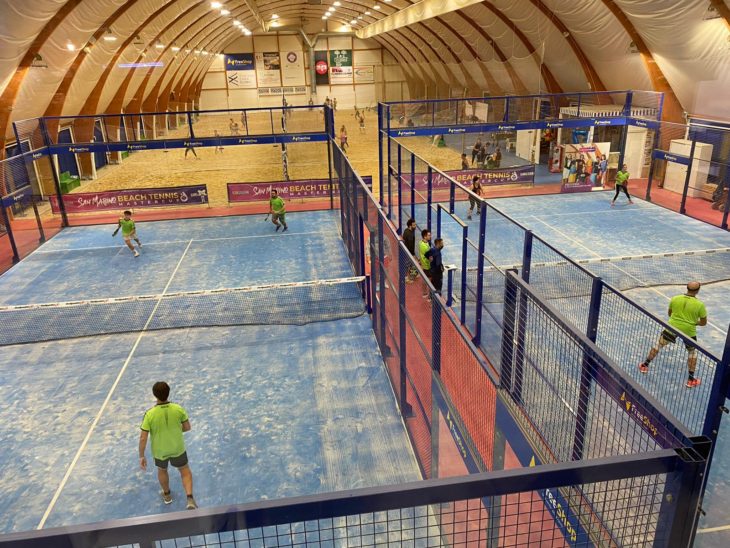 [:es]
El Pádel es, sin lugar a duda, el deporte de moda. No solo por el crecimiento exponencial que ha experimentado en todo el panorama internacional, sino porque cada vez son más los participantes que quieren formar parte de esta comunidad. Prueba de ello es el International Padel Experience by Madison, un claro ejemplo de desarrollo de este deporte desde su creación hasta la actualidad, batiendo récords año tras año.
No es casualidad que este deporte esté en auge, pues trae consigo factores clave que hacen de esta actividad una atracción para todo tipo de públicos y nuevos adeptos que encuentran en el Pádel numerosos beneficios para el que lo practica. ¿Sabes cuáles son?
UN DEPORTE PARA TODOS.
Es un deporte sin fronteras, ni barreras. Da igual de dónde seas, si acabas de empezar o incluso la edad con la que lo practicas, siempre encontrarás a alguien del mismo nivel de juego y un lugar dónde poder disfrutar de la experiencia.
CUIDA LA FORMA FÍSICA Y EL CORAZÓN
Como toda actividad deportiva, la práctica del pádel ayuda a tonificar los músculos, especialmente piernas y glúteos, aunque otras partes del cuerpo también se verán fortalecidas con los diferentes movimientos necesarios para realizar las jugadas, como son brazos, cintura y espalda. Además, al ser un ejercicio aeróbico también ayudará a fortalecer y mantener joven el corazón.
Este deporte es muy completo y puede ayudar a mantenerte en forma.
MENTE SANA IN CORPORE SANO.
No solo la parte física es trabajada. Los beneficios de este deporte incluyen la eliminación del estrés, la prevención de la ansiedad y la mejora de la coordinación y los reflejos, gracias a la práctica de estas cualidades durante el juego.
En el pádel encontrarás la fórmula perfecta para la desconexión y liberación de la mente de todas las preocupaciones rutinarias y todos estos aspectos trabajados se verán reflejados en tu día a día, tanto de manera física como mental.
VÍA DE SUPERACIÓN PERSONAL
Con la práctica de este deporte podrás marcarte tus propias metas y objetivos a conseguir en el plazo que mejor te encaje, por lo que es una vía perfecta para superarte a ti mismo, además de la disciplina que seguro ayudará en otros aspectos de tu vida diaria.
ESPÍRITU DE EQUIPO, SOCIABILIDAD Y DIVERSIÓN.
Al ser un deporte en pareja, el pádel refuerza las relaciones sociales. Antes, durante y después de los partidos se pueden estrechar lazos con los compañeros, así como conocer gente nueva. Es un juego tan sociable que encontrar gente con quien echar un partido es muy fácil y, además de sociabilizar, es muy divertido. Un juego dinámico que permite hacer deporte, conocer gente y disfrutar al mismo tiempo.
Esperamos que estos beneficios sean razón suficiente para hacer del pádel tu deporte favorito y, a través de esta actividad, poder disfrutar de la experiencia.
#EnjoyTheExperience
[:en]
The padel has become the trendy sport. Not only due to the exponential growth that it has developed throughout the international scene, but currently more members want to be part of this community. Proof of this is the International Padel Experience by Madison, a clear example of development from its inception to the present, breaking records year after year.
The rise of this sport is not a coincidence, as it brings with it key factors that make this activity an attraction for all kind of audiences and new followers who seek the benefits of the practice. However, do you know what are the main benefits of practicing padel?
A SPORT FOR EVERYONE
The padel has no borders or barriers. It does not matter where you come from, if you have just started or even how old you are; you will always find someone at your same level to play and a place where you can enjoy the experience.
HELP BODY AND HEART
Like all Sports, the practice of this activity helps to tone the muscles, especially the legs and buttocks, although other parts of the body will also be strengthened such us, arms, waist and back, due to the different moves necessary to play. Moreover, it is an aerobic exercise, which will also help to keep your heart strong and young.
Padel is a comprehensive sport, which can aid you staying in shape.
MENTE SANA IN CORPORE SANO.
The benefits of this sport include not only the physical side but the mind too, reducing the stress, preventing anxiety and improving coordination and reflexes, thanks to the practice of these qualities during the game.
You will find in this sport the perfect asset to disconnect and liberate the mind from all worries and these aspects worked on will be reflected in your daily routines, both physically and mentality.
HELP PERSONAL OVERCOMING
With the practice of padel you will mark your own goals and objetives to achieve in the term that best suits you. It is the perfect way to improve yourself and creating a discipline that will be transferred to every aspect in your life.
TEAMWORK, SOCIAL LIFE AND FUN.
It is a social sport and playing with a partner make the activity reinforcing social relationships, bonding with your teammates, as well as meeting new people during the whole experience. It is a sociable game and finding someone to play with is very easy and fun. Padel is a dynamic game which allows playing a sport, meeting people and enjoying yourself, all at the same time.
We hope that the benefits exposed before offer good reasons to make this activity your favourite one and being able to #EnjoyTheExperience with us.
[:]