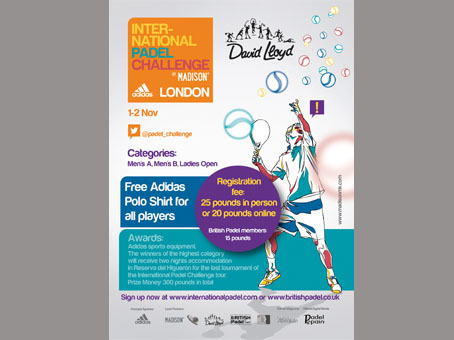 Londres ya cuenta las horas para que aterrice el adidas International Padel Challenge by Madison. El adidas London Open está a la vuelta de la esquina y mañana se cierra el plazo de inscripción para la penúltima prueba del curso, justo la que precede al adidas Málaga Open, que reunirá en Reserva del Higuerón a los mejores jugadores locales y a los campeones de los torneos disputados esta temporada.
El David Lloyd Chigwell será el escenario en el que los jugadores británicos y del resto de países que se desplacen a la capital londinense se batirán en duelo para coronarse como campeones de una de las pruebas con más solera del adidas International Padel Challenge by Madison.
Como viene siendo habitual, los participantes obtendrán un polo oficial adidas del circuito y los ganadores se llevarán material deportivo de la firma alema
na como premio, además de que los campeones recibirán invitación para la última parada del circuito, en Reserva del Higuerón.
Londres vivirá un fin de semana mágico con la llegada del único circuito internacional de pádel amateur que existe.

London and counts the hours to land the adidas International Paddle Challenge by Madison. The adidas London Open is just around the corner and the deadline for registration for the penultimate round of the course is closed tomorrow, just preceding the adidas Málaga Open, which meet in Higueron to the best local players and champions tournaments played this season.
The David Lloyd Chigwell be the scene in which the British and other countries traveling to the London capital dueling players will battle to be crowned champions of one of the most authentic evidence of adidas International Paddle Challenge by Madison.
As usual, participants will gain an official adidas polo circuit and the winners of the German sporting goods firm as a reward will be in addition to the champions will receive an invitation to the last stop of the circuit in Fig Tree Reserve.
London live one magical weekend with the arrival of the only international amateur circuit paddle there.