Solo quedan 24 horas. Es el tiempo que tienes para inscribirte en el adidas Valladolid Open Trofeo Universidad de Valladolid. Una entrada para los dieciseisavos de final del Estrella Damm Valladolid Open, el 17 de junio en la Plaza Mayor, una mochila adidas y excelentes premios te esperan. No te lo pienses más y apúntate a un torneo único. Solo tienes que pinchar en este enlace http://internationalpadel.com/inscripcion-valladolid/ y pasarás a formar parte del International Padel Experience adidas by Madison. Hay un alto número de inscritos en este sprint final para participar en la segunda prueba de un circuito internacional de pádel amateur único.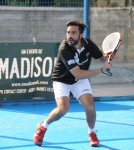 Tan solo queda un día, únicamente 24 horas, así que los más rezagados tienen una última oportunidad para inscribirse en un evento ideal para que jugadores amateur desarrollen su juego. La prueba de Milán fue un gran ejemplo de esto y ahora Valladolid coge el testigo. La fecha límite es el viernes 29 de mayo a las 12:00. Aprovecha este último sprint y comparte con todos los aficionados al pádel que conozcas este último día de inscripciones. Cuantas más parejas participen mejor ambiente habrá.
There are only 24 hours. Is the time you have to sign up for the adidas Open Trophy Valladolid University of Valladolid. A ticket to the knockout phase of Estrella Damm Open Valladolid, June 17 at the Plaza Mayor, a backpack adidas and great prizes await you. Do not hesitate and sign up for one tournament. Just click on this link http://internationalpadel.com/inscripcion-valladolid/ and you will become part of the International Padel Experience adidas by Madison. There is a high number of entries in this final sprint to participate in the second round of an international circuit only amateur paddle.
Just one day is only 24 hours, so the laggards have a last chance to register for an ideal place for amateur players develop their game event. Proof of Milan was a great example of this and now Valladolid take the witness. The deadline is Friday, May 29 at 12:00. Take this last sprint and share with all paddle fans to know this last day of registration. The more partners will participate better environment.