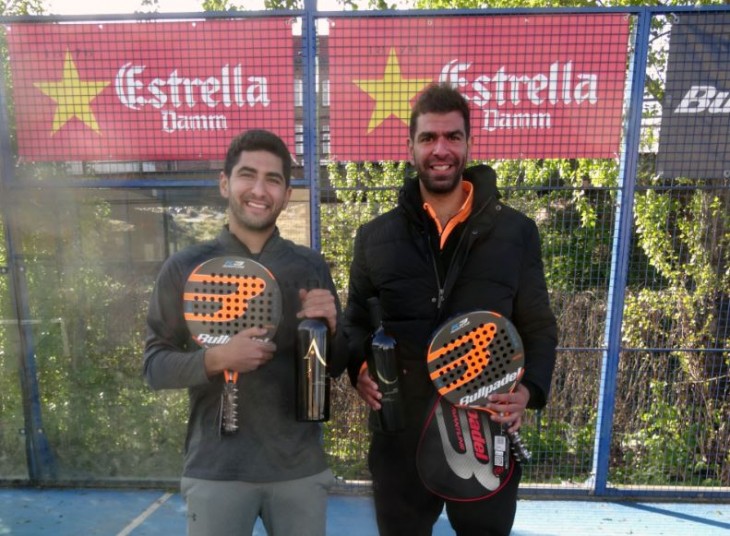 [:es]Los egipcios Khaled Nagy y Seifalla Abousenna, campeones del Berlin Open, nos acompañan para contar de primera mano cómo vivieron el fin de semana de su primer torneo internacional de pádel amateur.
Pregunta: ¿Qué sensaciones tenéis tras ganar el Berlin Open?
Respuesta: Bien, este es nuestro primer torneo internacional. La final fue muy ajustada ya que tuvimos muchos puntos muy críticos. Es una mezcla de sensaciones; mucha felicidad, muy orgulloso e ¡impactado supongo! Esperábamos tener partidos muy competitivos pero no creíamos que podíamos ganar el torneo.
P: ¿Hay mucha diferencia entre el nivel de pádel de las competiciones en Egipto y el International Padel Experience by Madison? 
R: Desafortunadamente en Egipto no hay muchos jugadores que practiquen este deporte.  No podríamos decir si hay una gran diferencia en el nivel ya que es nuestra primera toma de contacto fuera de nuestro país. Pero por supuesto, cuando juegas contra jugadores de otros países, te das cuenta de que hay mucho que aprender. Pero, por supuesto, el International Padel Experience nos ayuda a poder viajar por el mundo y vivir el pádel de diferentes maneras.
P: ¿Qué objetivo os marcáis para el torneo final del circuito?
R: Bueno, no lo sabemos, suponemos que al ser el último estará lleno de jugadores de todas partes y habrá mucha competitividad en todas las categorías. Estoy seguro de que va a ser un torneo muy emocionante.
P: ¿Repetiríais la experiencia del Berlin Open? ¿Y en otra ciudad distinta?
R: ¡Claro, porque no! Siempre nos ha encantado Berlín. También los jugadores locales fueron muy amigables y simpáticos.  Y respecto a la segunda pregunta, ¡por supuesto! Nosotros siempre comprobamos el calendario de torneos para planificar próximos destinos en los que poder competir en el International Padel Experience by Madison.
P: Un resumen de la experiencia en el International Padel Experience by Madison
R: Como he dicho anteriormente, las sensaciones no pueden ser mejores. Estamos muy contentos de haber participado en el circuito. Alex, el propietario de Padel Berlin hizo un gran trabajo de organización incluso cuando todas las condiciones se pusieron en su contra como por ejemplo las condiciones meteorológicas. Tuvimos ratos soleados, lluviosos e incluso con nieve. El ambiente fue realmente bueno en todo momento, todos los jugadores vivieron un gran experiencia.
[:en]Question: What kind of feelings do you have after winning the Berlin Open?
Answer: Well, this is our first international tournament. Our final was a really close and had a lot of critical points.  It's a mix of feelings; happy, proud and shocked I guess! We expected very competitive matches but we didn't expect to win the tournament.
Q: Is there much difference between the level of Egyptian professional padel competitions and the International Padel Experience?
A: Unfortunately in Egypt, there aren't  a lot of players with Advanced Level.  But I couldn´t say there's a huge difference because it´s our first padel experience out of our country. But of course when we played against different players from different countries, there is still a lot to learn. But of course that's one of the things that The International Padel Experience helps us to travel around the world and experience Padel in different ways.
Q: What expectations do you have for the final tournament of the circuit?
A: Well, we don't know, We hope since it's the last one it will be full of Players from everywhere and has a huge draw for all the categories. Im sure it's going to be a really successful tournament.
Q: Would you repeat the Berlin Open Experience? And in another city?
A: Yeah, why not! I always loved the city of Berlin. Also, the players there were extremely nice and friendly.Yes of course! We always check the calendar and open the tournaments and try to plan ahead so we can play more than one tournament in the  International Padel by Madison Experience.
Q: Are you happy about the tournament organization and the environment of the competition?
A:  Yes as I said extremely happy. Alex the owner of PadelBerlin did a great job organizing the tounament even when all the odds were against him. As the weather was really funny, sometimes it's sunny then rainy then a bit of snow. The competition environment was really good, all the players who participated in Berlin Open Experience were very happy.[:]