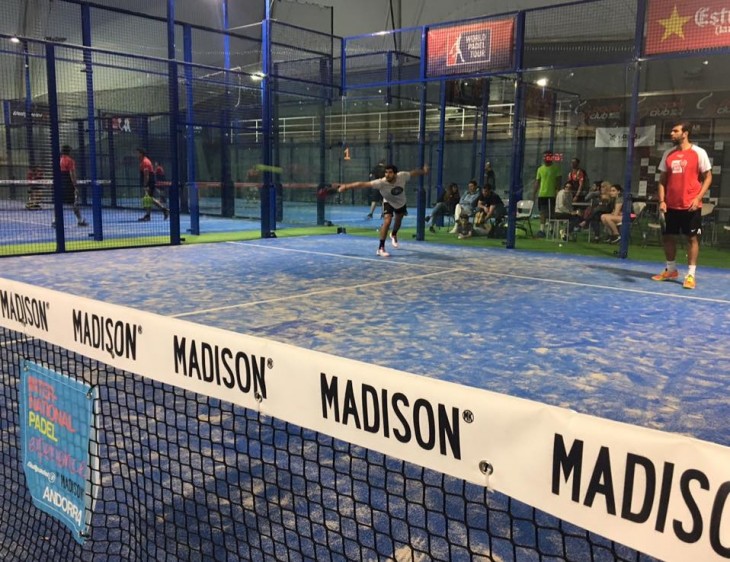 [:es]El Internatinal Padel Experience termina su primera jornada en el Padel Serradels, donde se está disputando el Andorra Open.
La categoría A masculina trajo 5 grandes partidos de los octavos de final. En ellos pudimos disfrutar de grandes golpes y una gran intensidad. Pereira-Busquet, Lopez-Romero, Bagilet-Otal, Fernández-Sahijwami y Abou-Nagy se convierten en los primeros clasificados para los cuartos de final.
Las categorías masculina B y mixta también dieron lugar a dos partidos en el día de hoy. En la competición masculina se enfrentaron Calvente y Juste contra Bailen y Galindo, con la victoria de los primeros y, en la categoría mixta, Matas y Boldu no pudieron vencer a Dannunzio y Navarro.
Mañana seguirán disfrutando de grandes partidos en las pistas de Padel Serradels.
Para ver todos los resultados, solo tienes que hacer click en el siguiente enlace.
[:en]The Internatinal Padel Experience ends its first day at Padel Serradels, where the Andorra Open is being played.
The men's category A brought 5 big matches from the round of 16. In them we could enjoy great strokes and great intensity. Pereira-Busquet, Lopez-Romero, Bagilet-Otal, Fernández-Sahijwami and Abou-Nagy become the first qualifiers for the quarterfinals.
The men's B and mixed categories also led to two matches today. In the men's competition Calvente and Juste faced Bailen and Galindo, with the win of the first and, in the mixed category, Matas and Boldu could not beat Dannunzio and Navarro.
Tomorrow they will continue to enjoy great matches on the Padel Serradels tracks.
To see all the results, just click on the following link.[:]