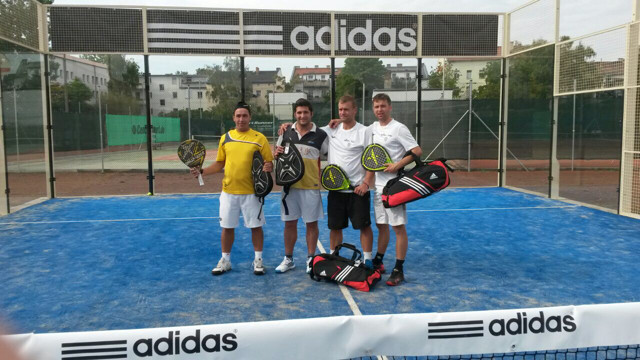 El II adidas Berlin Open ha sido un gran éxito de participación. Esta prueba del International Padel Challenge adidas by Madison, el único circuito internacional amateur que se incorpora este año al calendario oficial de la European PadelFederation, ya tiene preparada su segunda prueba, el adidas Berlin Open. El circuito eligió Berlín para que los participantes puedan conocer una de las ciudades más bellas de Europa, con sus grandes avenidas y su gran vida cultural que hizo que los jugadores disfrutasen de la vida cultural y de ocio de la capital alemana.
Los campeones polacos se volvieron a llevar el torneo en la categoría masculina tras vencer a Mauricio Muñoz y Agustín por 6-3 y 6-0 en una final con grandes puntos a pesar de lo abultado del resultado. La rapidez en las voleas y la capacidad de respuesta del equipo polaco superó en casi todo momento a la pareja argentina afincada en Dinamarca y Alemania. Así que los polacos han conseguido su plaza para el torneo final que se jugará en Reserva del Higuerón (Fuengirola)
El torneo mixto se tuvo que celebrar entre semana debido a las condiciones metereológicas. En semifinales la dupla compuesta por Fran y Belén venció a Klaus y Martina por 3-6, 6-4 y 6-2 En la otra semfinal, Darek y Martina se impusieron 6-0 y 6-0 al Señor y Señora Schmidt. La final fue claramente para los mejores del torneo: Darek y Martina, que nuevamente vencieron 6-0 y 6-0 a Fran y Belén.
The Berlin adidas II Open has been a great success of participation. This test Padel International Challenge adidas by Madison, the only international amateur circuit this year incorporated the official calendar of the European PadelFederation, has already prepared its second test, adidas Berlin Open. The circuit chosen Berlin for participants to know one of the most beautiful cities in Europe, with its wide avenues and its cultural life that made players from enjoying the cultural and entertainment life of the German capital.
Polish champions were returned to the tournament in the men's category after beating Mauricio Muñoz Agustín 6-3, 6-0 in a final with great points despite the inflated results. The fast volleys and responsiveness of the Polish team exceeded almost all times to Argentina couple settled in Denmark and Germany. So the Poles have made their place in the final tournament to be played in Higueron (Fuengirola)
The mixed tournament had to be postponed until tomorrow due to the weather, as the male semifinals were played raining.