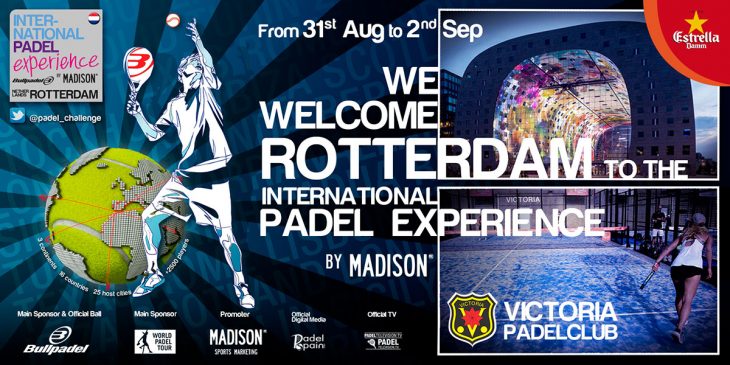 [:es]El International Padel Experience by Madison sigue sumando sedes a su temporada más internacional.
La ciudad portuaria de Rotterdam se une al único circuito internacional de pádel amateur por segundo año consecutivo y tras el éxito cosechado en la pasada edición, en la que la ciudad portuaria fue una de las más atractivas para los participantes, que viajaron no solo desde ciudades vecinas, sino también desde países como España, Italia, San Marino, Suiza e incluso Argentina.
Con esta incorporación ya son 22 las ciudades que el circuito visitará en 2018 y que contará en sus filas con nuevos destinos tan atractivos como Miami, El Cairo, Querétaro (México), Faro (Portugal), San Marino, Vincenza (Italia) o Atenas, donde los jugadores que se desplacen de otros países podrán disfrutar de los valores históricos que destila la capital griega al tiempo que disputan uno de los torneos más singulares del curso.
En los próximos días el International Padel Experience by Madison desvelará nuevas sedes que completarán un calendario muy completo, que llevará el mejor pádel amateur por hasta tres continentes del globo terráqueo y que comenzará el día 8 de marzo con la celebración del Bilbao Open, cuyas inscripciones están todavía abiertas.
¡Seguimos, pádel lovers!
[:en]The International Padel Experience by Madison continues adding venues to its most international season.
The port city of Rotterdam joins the only international amateur padel circuit for the second consecutive year and after the success of the last edition, in which the port city was one of the most attractive for participants, who traveled not only from cities neighbors, but also from countries such as Spain, Italy, San Marino, Switzerland and even Argentina.
With this addition, there are 22 cities that the circuit will visit in 2018 and that will include new destinations as attractive as Miami, Cairo, Querétaro (Mexico), Faro (Portugal), San Marino, Vincenza (Italy) or Athens, where players who move from other countries can enjoy the historical values ​​that distill the Greek capital while playing one of the most unique tournaments of the course.
In the next few days, the International Padel Experience by Madison will unveil new venues that will complete a very complete calendar, which will bring the best amateur padel for up to three continents on the globe and that will start on March 8 with the celebration of the Bilbao Open, wich inscriptions are still open.
We continue, padel lovers![:]