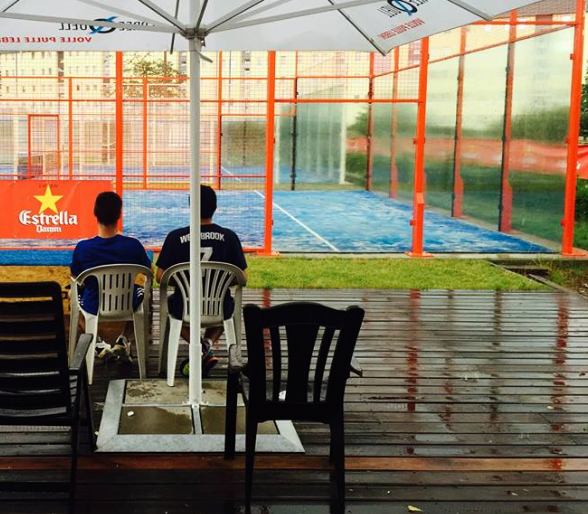 [:es]El International Padel Experience by Madison, patrocinado por Estrella Damm, hará su cuarta parada en el Padel club Berlin International, del 10 al 12 de junio.  La capital alemana acogerá por cuarta vez una prueba del único circuito internacional de pádel amateur en un país que vive en la actualidad un gran crecimiento del deporte de la paleta, por lo que la expectación es máxima.
Para que vayáis abriendo boca de esta gran cita, hoy echamos la vista atrás para recordar cómo fue la prueba alemana en 2015:
El Berlín Open fue sin duda, un fin de semana muy intenso de buen pádel amateur.
La tercera prueba del International Padel Experience by Madison 2015 patrocinado por Estrella Damm, celebrado en las magníficas instalaciones como son las del Padel Club Berlín International e.V, coronó a la pareja Justus-Fabián como campeones en la categoría A masculina. La dupla, que salió victoriosa gracias a su entrega, la intensidad de su juego, y por supuesto, a su depurada técnica, superó en la final a la pareja formada por Maxim-Claudius.
En la categoría masculina B tampoco faltó la emoción y el buen juego. La pareja vencedora fue Jasper-Christoph, que impusieron sus golpes sobre Jordi-Jaime por (6-3,6-4).
La categoría mixta tuvo un protagonismo especial. Prueba de esto es la celebración de la final en esta categoría, la cual se prolongó hasta altas horas de la noche del último día de competición, sin que ningún aficionado abandonase las instalaciones del Padel Club International e.V.
El encuentro estuvo muy competido y contó con un nivel excepcional. La entrega de ambas parejas provocó que el partido se fuese a las dos horas, siendo uno de los más largos de todo el fin de semana. La dupla formada por Anita-Fran impuso finalmente su pádel a la pareja Laura-Juanfer por (5-7,6-4, 6-1).
Si quieres participar en la prueba de Berlín del International Padel Experience by Madison 2016, aún estás a tiempo. Las inscripciones siguen abiertas y pueden participar todos los jugadores y jugadoras que lo deseen, sea cual sea su nivel, ya que el circuito es amateur.
http://internationalpadel.com/berlin2016/
[:en]The International Padel Experience by Madison, sponsored by Estrella Damm, will make his fourth stop at the Berlin International Padel club from 10 to 12 June. The German capital will host for the fourth time a test of the only international amateur circuit paddle in a country that is currently experiencing a great growth of paddle sport, so the expectation is maximum.
For you to see them in this great event, today we look back to remember how was the German event in 2015:
The Berlin Open was definitely a very intense weekend of good amateur paddle.
The third round of the International Padel Experience 2015 Madison sponsored by Estrella Damm, held in the magnificent facilities as are those of Padel Club Berlin International e.V, he crowned the Justus-Fabian couple as champions in category A male. The duo, who emerged victorious thanks to his commitment, the intensity of their game, and of course, technically gifted exceeded in the final pairing of Maxim-Claudius.
In the men's category B also lacked emotion and good game. The winning couple was Jasper-Christoph, who imposed his punches on Jordi-Jaime by (6-3,6-4).
The mixed category had a special role. Proof of this is the celebration of the end in this category, which lasted until late at night on the last day of competition, with no amateur abandon facilities Padel Club International e.V.
The meeting was very competitive and had an exceptional standard. The delivery of both partners caused the game was two hours, one of the longest of the entire weekend. The duo formed by Anita-Fran finally imposed his paddle to the couple by Laura-Juanfer (5-7,6-4, 6-1).
If you want to participate in the test Berlin International Padel Experience by Madison 2016, there's still time.The inscriptions are still open and can participate all players and players who wish, whatever their level, as the circuit is amateur.