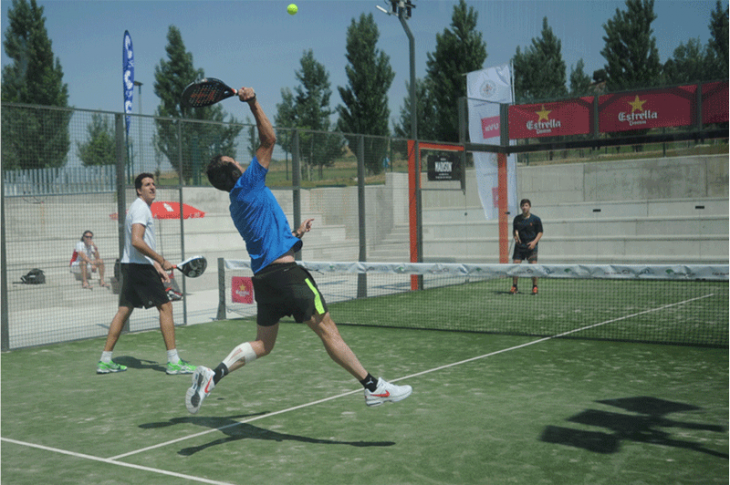 [:es]El International Padel Experience by Madison, patrocinado por Estrella Damm, hará su quinta parada en el Club Raqueta Valladolid, del 29 de junio al 3 de julio. La capital castellano-leonesa acogerá de nuevo una prueba del único circuito internacional de pádel amateur en una ciudad que vive en la actualidad un gran crecimiento del deporte de la paleta, por lo que la expectación es máxima.
Como en todos los torneos del International Padel Experience by Madison, la inscripción es abierta y pueden participar todos los jugadores y jugadoras que lo deseen, sea cual sea su nivel, ya que el circuito es amateur. Te recomendamos que te apuntes ya y prepares con tiempo una experiencia única mezclando el mejor turismo y tu deporte favorito.
http://internationalpadel.com/valladolid2016/
El Club Raqueta Valladolid abrió sus puertas el pasado 26 de marzo del 2015 y nace como una nueva alternativa para el pádel y tenis en Valladolid.
Dispone de 9 pistas de pádel cristal, una central con graderío para 400 personas y 8 pistas cubiertas. Como complemento a las instalaciones deportivas, el Club Raqueta ofrece servicio de cafetería-restaurante, gimnasio, sala polivalente, sauna y unos magníficos vestuarios. Parking propio para 175 plazas. Las instalaciones permiten la posibilidad de practicar tenis y pádel para personas de movilidad reducida.
Sin duda, un recinto que presenta unas condiciones idóneas para disfrutar de un gran torneo de pádel como lo es el Valladolid Open.
La competición en este caso comienza el miércoles 29 de junio y finaliza el domingo 3 de julio, aunque la organización, como en el resto de las citas, adaptará horarios para que aquellos jugadores que se acerquen al torneo desde otros países puedan competir sin problemas.
Os recordamos que los premios para los campeones de la máxima categoría de todos los torneos serán dos noches de hotel para disputar la final en el DoubleTree by Hilton Resort & Spa Reserva del Higuerón, productos Gripping Gel, palas de alta gama de Bullpadel y dos entradas para el Estrella Damm Master Final.
Además, el resto de vencedores recibirán material deportivo de Bullpadel y todos los jugadores podrán saborear las virtudes de la cerveza Estrella Damm, que estará presente en todas las etapas del circuito. Y solamente por participar en el circuito los jugadores recibirán un magnífico welcome pack, compuesto por un cómodo gymsack y el polo oficial del International Padel Experience by Madison 2016. [:en]The International Padel Experience by Madison, sponsored by Estrella Damm, will make its fifth stop at the Club Raqueta Valladolid, from 29 June to 3 July. The Castilian-Leonese capital will host again a test of the only international amateur circuit paddle in a city that is currently experiencing a great growth of paddle sport, so the expectation is maximum.
As in all tournaments Padel International Experience by Madison, registration is open and can participate all players and players who wish, whatever their level, as the circuit is amateur. We recommend you notes and prepare with time and a unique experience blending the best tourism and your favorite sport.
http://internationalpadel.com/valladolid2016/
The Club Raqueta Valladolid opened its doors on March 26, 2015 and born as a new alternative to the paddle tennis and tennis in Valladolid.
It has 9 glass padel courts, a center with stands for 400 people and 8 indoor courts. In addition to the sports facilities, the Club Raqueta Valladolid offers a café-restaurant, gymnasium, multipurpose room, sauna and magnificent costumes. Private parking for 175 seats. The facilities allow the possibility of practicing tennis and padel for disabled guests.
Undoubtedly, a site that presents ideal to enjoy a great tournament padel as is the Valladolid Open conditions.
The competition in this case begins on Wednesday, June 29 and ends on Sunday July 3, although the organization, as in the rest of the appointments, adapt schedules for those players who come to the tournament from other countries can compete without problems.
We remind you that the prizes for champions of the highest category of all tournaments are two hotel nights for the final at the DoubleTree by Hilton Resort & Spa Higueron, products Gripping Gel, shovels high-end Bullpadel and two tickets for the Estrella Damm Master Final.
In addition, other winners will receive sports equipment Bullpadel and all players can enjoy the virtues of beer Estrella Damm, who will be present at all stages of the circuit. And only for participating in the circuit players will receive a great welcome pack, consisting of a comfortable Gymsack and the official pole of the International Padel Experience Madison by 2016.[:]