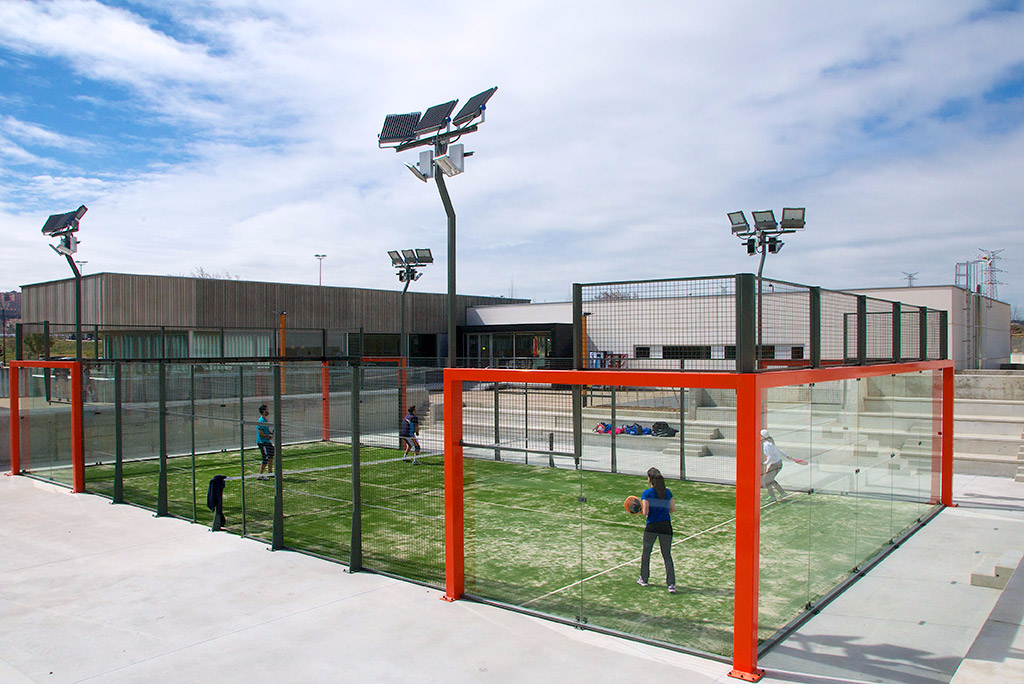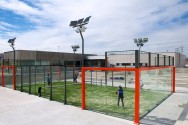 El gerente del Club Raqueta de Valladolid, Federico Arias, ha contestado a las cuestiones acerca de su club y la celebración de los próximos torneos. Su cita más importante del curso y su puesta de largo antes de acoger las previas de World Padel Tour será el adidas Valladolid Open, segunda parada del International Padel Experience adidas by Madison.
¿Cómo nace el Club Raqueta Valladolid?
Club Raqueta Valladolid nace como una iniciativa privada, bajo la figura de concesión municipal, cuyo objetivo es dotar a Valladolid de unas instalaciones de tenis y pádel, referencia en la ciudad y en Castilla y León.
¿Cuál es el valor del club que dirige?
Después de un cuidado estudio arquitectónico, hemos querido dotarnos de unas instalaciones punteras, donde la práctica del pádel y del tenis se pueda hacer a cualquier hora del día y en cualquier fecha, protegiéndonos de las inclemencias del tiempo. En Invierno contra lluvia y frío, y en verano contra el calor. Disponemos también de instalaciones complementarias como gimnasio, sauna y cafetería para que los usuarios y abonados tengan también otra manera de disfrutar de nuestras instalaciones.
¿Cuántas personas trabajan en el club?
Actualmente contamos con 6 personas en plantilla, más dos Administradores de la sociedad propietaria del Club.
¿Ha notado un incremento en el interés por el pádel en Valladolid?
Indudablemente la afición al pádel es una realidad en nuestra ciudad y en España, prueba de ello es la cantidad de eventos y torneos que se organizan alrededor de dicho deporte. Está afición ha llevado a masificar su práctica y también al surgimiento de mucho intrusismo con instalaciones de muy baja calidad, que de alguna manera pueden frenar la afición y desprestigiar este deporte.
¿Qué tiene este deporte que ha alcanzado un número tan elevado de personas que lo practican?
En principio la afición al deporte de la gente  y las recomendaciones  hacia una vida sana y deportiva  que recibimos todos en general desde todos los medios. Su práctica es de alguna manera asequible a todo tipo de persona y edad así como la cantidad de instalaciones que existen, hacen del pádel un deporte asequible para todo el mundo. Otra cosa es  alcanzar niveles de juego, digamos de alta competición , lo cual está reservado para unos pocos. Pero en general su práctica es fácil, cómoda, y barata para aquel que quiera practicarlo.  Hay que destacar la afición femenina por este deporte, lo cual creo que es una de las razones de su incremento.
¿Qué tipo de iniciativas o medidas de promoción están desarrollando en el club para atraer jugadores?
Primero la potenciación de nuestra Escuela, nuestra idea es fomentar el pádel, pero a través de una práctica bien orientada, conocedora de la técnica de juego y de su reglamento. Para ello, la Escuela dirigida por personal cualificado es parte de nuestra promoción. Así mismo, estamos organizando eventos y Torneos, donde el pádel es el centro de la actividad, permite que el jugador compita, conozca nuestro Club y vea sus ventajas.
 ¿Qué supone para el club acoger torneos como el International Pádel Experience adidas by Madison?
Para nosotros, primeramente es un reto, pues estamos al principio de nuestra andadura y poder acoger un torneo de estas características, supone una motivación y un desafío para todos los que componemos el Club Raqueta. WPT supone también una gran experiencia que una vez transcurrido podremos asegurar que nuestras instalaciones están preparadas para albergar este tipo de evento a nivel nacional. Esperamos que no sea la última vez.  Es una oportunidad que se nos brinda nada más nacer como club y esperemos estar a la altura de las circunstancias.
¿Qué actividades paralelas al torneo pueden realizar los participantes?
Disponemos de 7 pistas de Tenis, gimnasio y sauna dentro de nuestros vestuarios, además disponemos de servicio de cafetería-restaurante donde podrán disfrutar de nuestro menú y terrazas. Nuestra ubicación, en el Parque Forestal de las Contiendas, brinda  a los participantes de un entorno inigualable y digno de disfrutar, para participantes y visitantes.
¿Qué objetivos tiene a corto y medio plazo del club?
Club Raqueta Valladolid se plantea fomentar sus escuelas de tenis y pádel, formar jugadores y formar nuestros propios equipos de competición.  Nuestro sistema de uso, está basado en el abonado, que por un precio mensual, puede disfrutar de nuestras instalaciones. Nuestro objetivo es disponer de un número determinado de abonados que sean la base de nuestros ingresos y que nos permitan el correcto funcionamiento del club. Nos gusta la competición y queremos tener nuestros propios equipos, aunque es algo que organizaremos más adelante.
¿Cómo trabaja su club con la cantera, con la base?

Disponemos de Escuela de Pádel y Tenis, ambas dirigidas por profesionales vallisoletanos de reconocido prestigio, y por supuesto, como hemos indicado, debe ser la base de todas nuestras actividades. Primero formar a los más pequeños en una práctica deportiva y posteriormente perfeccionar su juego. Hemos organizado Campus de Verano 2015, precisamente para niños para iniciar a los asistentes en ambos deportes.
The manager of the Racquet Club Valladolid, Federico Arias has answered the questions about his club and holding the upcoming tournaments.
How did the Racquet Club Valladolid?
Valladolid Racquet Club was created as a private initiative, under the guise of municipal concession, which aims to provide a facility Valladolid tennis and paddle reference in the city and Castilla y Leon.
What is the value of the club going?
After a careful architectural study, we wanted to give ourselves art facilities, where the practice of paddle tennis and can be done at any time of day and at any time, protecting us from the weather. Winter against rain and cold, and in summer the heat. We also have additional facilities such as a gym, sauna and cafeteria for users and subscribers also have another way to enjoy our facilities.
How many people work or have worked in the club?
Currently we have 6 people on staff, plus two directors of the company that owns the club.
Do you think there's a lot of love for the paddle in Spain? And in Valladolid? Do you notice an increased interest in the paddle in Valladolid?
Certainly the fans paddle is a reality in our city and in Spain, the proof is the number of events and tournaments that are organized around the sport. This hobby has been scaling up their practice and also the emergence of much intrusion with poor quality facilities that can somehow stop the fans and discredit sport.
What is the sport that has reached such a high number of people who practice it?
In principle, the love of sport of the people and the recommendations towards a healthy and sporting life we get everyone in general from all media. His practice is somewhat affordable way to all kinds of people and age and the number of facilities that exist, make the paddle sport affordable for everyone. Another thing is to achieve levels of play, say high competition, which is reserved for the few. But in general practice it is easy, convenient, and inexpensive for anyone who wants to practice. Of note is the female love of the sport, which I think is one of the reasons for its increase.
What kind of initiatives or are developing measures to promote the club to attract players?
First empowerment of our school, our idea is to encourage the paddle, but through well-targeted practice, knowing the playing technique and its regulations. For this, the school run by qualified personnel is part of our promotion. Also, we are organizing events and tournaments, where the paddle is the center of activity, allows the player to compete, knows our club and see its advantages.
What does the club to host tournaments like the International Paddle Experience adidas by Madison or Paddle World Tour Valladolid?
For us, it is primarily a challenge, because we are at the beginning of our journey and be able to host a tournament of this nature, it is a motivation and a challenge for all who make up the Racquet Club. WPT also is a great experience that once elapsed can ensure that our facilities are prepared to host this type of event nationwide. Hopefully not the last time. It is an opportunity given to us at birth as a club and hopefully live up to the occasion.
What activities parallel to the tournament participants can perform?
We have 7 tennis courts, a gym and sauna in our costumes, we also have a cafeteria-restaurant where you can enjoy our menu and terraces. Our location, in the Forest Park Bates, gives participants a unique and dignified environment to enjoy, for participants and visitors.
What are the objectives in the short and medium term the club?
Racquet Club Valladolid arises promote their schools and paddle tennis, train players to form our own race teams. Our system use, is based on the subscriber, for a monthly fee, you can enjoy our facilities. Our goal is to have a certain number of subscribers who are the basis of our revenues and allow us the proper functioning of the club. We like the competition and we want to have our own equipment, but it is something that will organize later.
What activities developed to promote sport among children? Do you have paddle schools? Is it ensured the future of the sport?
We have and Tennis Paddle School, both directed by renowned professionals Valladolid, and of course, as we have indicated, should be the basis of all our activities. First train a smaller sport and subsequently improve your game. We have organized Summer Camp 2015, precisely for children to start attendees in both sports.