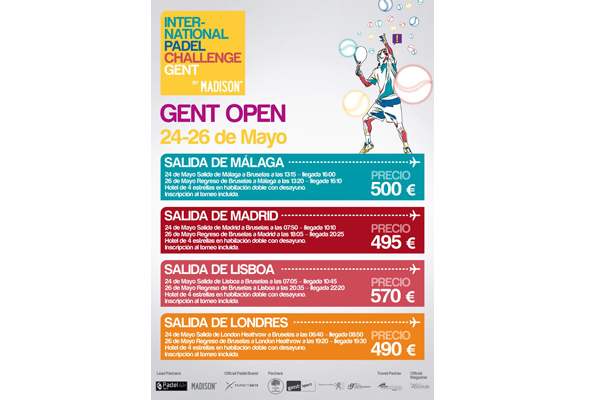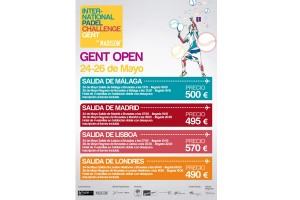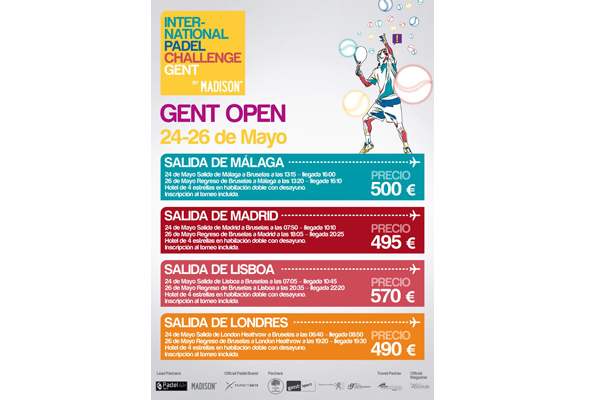 El inicio del International Padel Challenge by Madison está a la vuelta de la esquina y a algo más de diez días vista del inicio del Gent Open las plazas se van agotando para competir en la primera prueba del único circuito de pádel amateur que existe en el mundo. Los jugadores y grupos de pádel procedentes de toda Europa que no hayan realizado aún su pre-reserva de plaza deben darse prisa porque hay un número limitado de parejas. Inscribirse es tan fácil como entrar en el apartado del GENT OPEN de esta misma web y cumplimentar el formulario o elegir la opción de viaje más adecuada a las necesidades de cada pareja.
Como novedad, el GENT Open contará con la presencia de dos jugadoras profesionales como son Valeria Pavón y Esther Lasheras, que además de competir con las parejas de mayor nivel del torneo, tanto masculinas como femeninas, impartirán clases magistrales para los socios del Padel4U2 y para los jugadores/as que se apunten a la prueba.
Drop Shot aportará material deportivo de alta gama para los campeones y obsequiará a los jugadores con un polo oficial del circuito. Ya está todo listo para que comience en Gante el International Padel Challenge by Madison. No te quedes fuera.
The start of International Paddle Challenge by Madison is just around the corner and just over ten days ahead of the start of Gent Open squares are depleted to compete in the first round of the amateur paddle only circuit that exists in the world. The paddle players and groups from all over Europe who have not yet completed their pre-reservation fee must hurry because there are a limited number of partners. Signing up is as easy as entering the GENT OPEN section of this website and complete the form or choose the most appropriate travel option to the needs of each couple.
As a novelty, the GENT Open will feature two professional players such as Valeria Pavon and Esther Lasheras that besides couples compete with higher level of the tournament, both male and female, taught master classes for Padel4U2 partners and to players / as who sign up for the test.
Drop Shot sports equipment provide high-end champions and will award players with official pole circuit. Everything is ready to start in Ghent on International Paddle Challenge by Madison. Do not stay out.