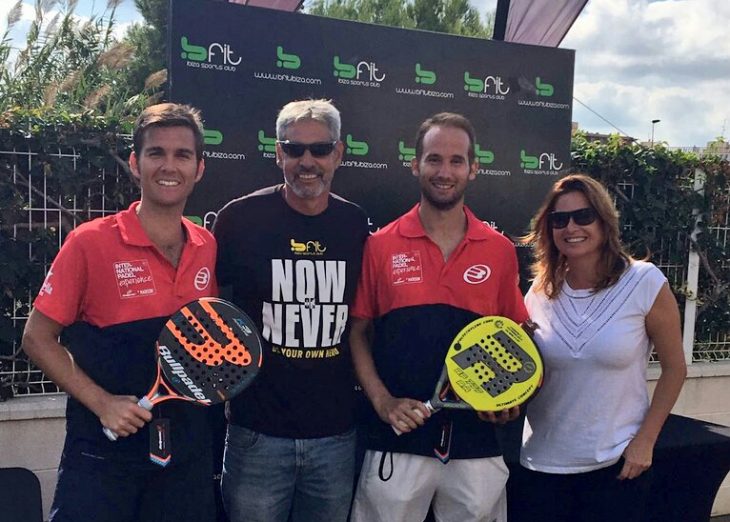 [:es]El Ibiza Open, decimosexta parada del International Padel Experience by Madison llegaba a su última jornada del domingo 15 de octubre.
El sol y el buen tiempo daban la bienvenida a los jugadores que, durante toda la mañana, competían en las grandes finales del torneo para luchar por la victoria en sus respectivas categorías.
Los primeros en saltar a la pista eran los jugadores de categoría mixta. Carlos Tur/Lorena Barbero se enfrentaba a Marcos Tur/Celeste Paz en un ajustado partido que se resolvía 6-7/6-2/6-2 a favor de los segundos.
A continuación llegaba el momento para las categorías masculinas B y C. Francisco Roldán y Alain Hernán se coronaban vencedores de categoría B mientras que Jony Brasero y Joni Moreno se hacían con la victoria en masculina C.
Roldán/Hernán conseguían el triunfo tras derrotar 6-2/6-2 a Adrián Rodríguez/Óscar María. Por su parte Juanjo Martínez y Gabino Grosso no conseguían imponerse al juego de Brasero/Moreno, que les vencían 6-1/6-4.
El broche de oro de la competición llegaba de la mano de la final de máxima categoría masculina. Tras un intenso partido, muy aplaudido por los espectadores y jugadores que se daban cita en las instalaciones del bFit Ibiza, la pareja Marcos Tur/Peré Tarrés se alzaba con la victoria al derrotar 6-4/6-2 a la dupla Marc Sifré/Raúl Ramírez. Con esta victoria, Tur/Peré se metían en el Máster Final de Málaga.
Concluidas las finales se procedía a la entrega de premios de la mano de Bullpadel, Estrella Damm y Bodegas de Alberto.
El único circuito internacional de pádel amateur continua su camino y se dirige a Londres donde se celebrará la 17a parada del Circuito.
See you soon pádel lovers![:en]The Ibiza Open, sixteenth stop of the International Padel Experience by Madison celebrated its last day on Sunday 15th October.
The sun and the good weather welcomed the players who, throughout the morning, competed in the big finals of the tournament to fight for the victory in their respective categories.
The first to jump on the court were mixed category players. Carlos Tur/Lorena Barbero faced Marcos Tur/Celeste Paz in a tight match that was solved 6-7/6-2/6-2 in favor of the seconds.
Next came the time for the male categories B and C. Francisco Roldán and Alain Hernán were crowned winners of category B while Jony Brasero and Joni Moreno won in men C.
Roldán/Hernán obtained the victory after defeating 6-2/6-2 Adrián Rodríguez/Óscar Marí. Juanjo Martinez and Gabino Grosso did not manage to impose themselves on the game to Brasero/Moreno, who defeated them 6-1/6-4.
The finishing touch of the competition came with the final of maximum male category. After an intense game, very much applauded by the spectators and players that were in the facilities of bFit Ibiza, the pair Marcos Tur/Peré Tarrés was crowned with the victory after defeat 6-4/6-2 to the pair Marc Sifré / Raúl Ramírez. With this victory, Tur / Peré got into the Final Master of Malaga.
At the end of the finals, prizes were handed out by Bullpadel, Estrella Damm and Bodegas de Alberto.
The only international amateur padel circuit continues its journey and heads to London where the 17th Circuit stop will be held.
See you soon padel lovers![:]